Turkey Adventure Tours
Introduction
Turkey Adventure Tours – Turkey has become a Mecca for adrenaline junkies. Read on for our complete guide to Turkey's most adrenaline-inducing adventure sports. Beyond the ever popular hot air balloons of moonscape Cappadocia, below the dizzy heights of paragliding over the blue lagoon of Ölüdeniz, Turkey's menu of exciting adventure experiences caters to all interests, ages, and budgets. Here are some of  incredible adventures you might be surprised to know were possible in Turkey. And don't forget to buy your travel insurance that covers more than 130 sports during your trip.
Diving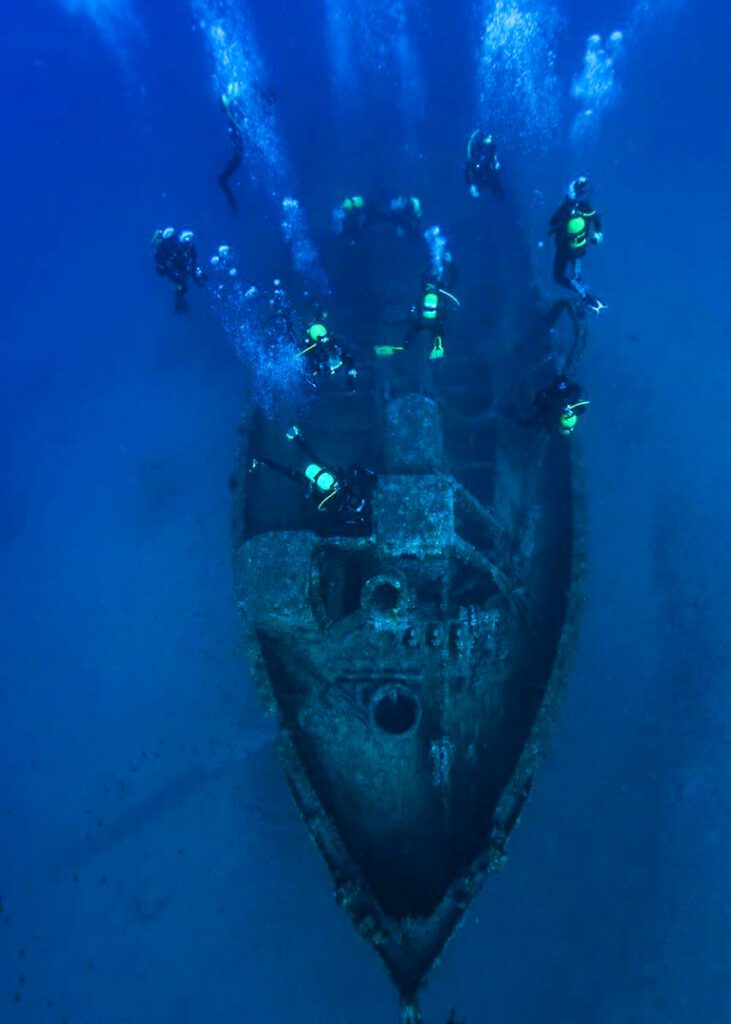 For beginners, the first few breaths taken underwater have to be one of the weirdest sensations ever. But once we get past that initial surprise, a whole other world opens up to us. Gliding weightlessly through crystal clear waters, observing a myriad of sea creatures in their natural habitat, is an unforgettable experience and one that can be repeated again and again. Diving has come a long way since the spaceman-like suits of yesteryear. Today's modern scuba (self-contained underwater breathing apparatus) gear doesn't quite have the feeling of a second skin, but it is certainly a little less clunky. Freediving, on the other hand, takes diving to the next level by shedding the equipment and relying solely on the diver's ability to hold their breath underwater for an impressive length of time.
Where to do it
Adrasan: The sleepy neighbor of the backpacker hotspot Olympos, Adrasan also has 20 different dive sites within a 40-minute boat journey.
Kalkan: This is a boutique holiday destination not far from Kaş, with at least 15 dive sites that include reefs, islands, and walls. Like its neighbors, there's a decent chance of seeing turtles, moray eels, octopus, squid, and even dolphin pods, with good visibility that often reaches down to 25-30 meters.
Kaş: This is the undisputed top destination for scuba diving in Turkey. Located on the turquoise Mediterranean coast between Antalya and Fetihye, it has a number of good dive sites. Emre Çevikel of the Diving In Kaş Team on the Bougainville Boat told us his favorite sites: Heybeliada (two islands where you can see a portion of a wreck, trigger fish, and turtles), Three Rocks (a reef with an incredible number of ancient amphora and underwater life), Canyon (descending into the narrow mouth of the canyon to around 25 meters with a variety of coral until you reach the wreck of a sunken cargo vessel), and Dakota Plane Wreck (a WWII C-47 Dakota aircraft, lying in under 20 meters of water, where you can encounter barracudas, turtles, jackfish, and more).
Dive down to a Dakota DC-3 aeroplane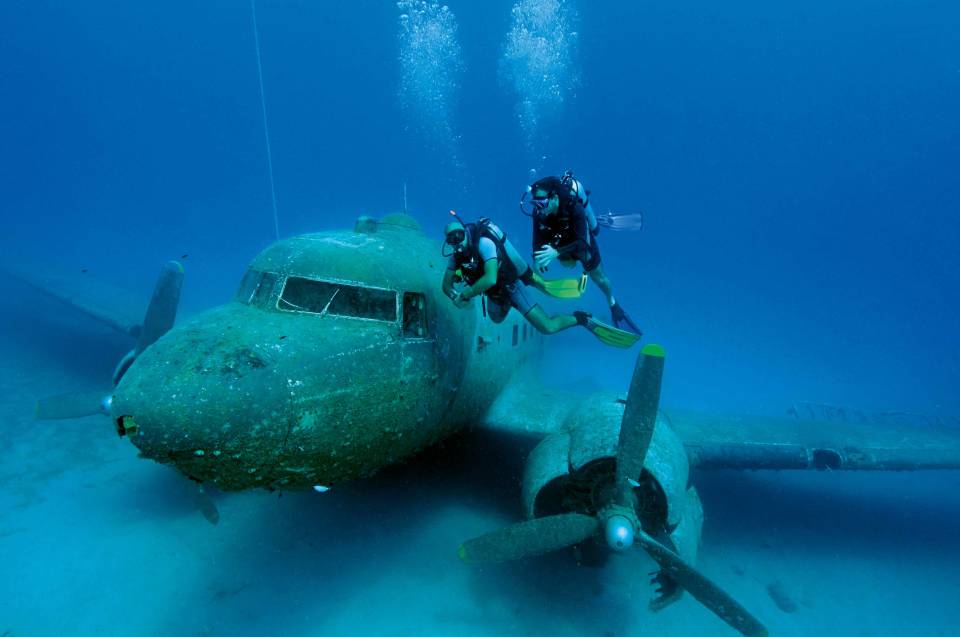 Submerged in the azure waters of the Mediterranean and just a 10-minute boat ride from Kaş, one of Turkey's premier diving destinations is the intact, 65ft, fixed-wing Dakota DC-3 aircraft — complete with twin engines, propellers, landing gear, and cockpit instruments. Manufactured during WWII, and deliberately sunk here in 2009, the 12.25-ton aircraft with its 95ft wingspan was once used by the Turkish Air Force to transport paratroopers. Now, some 70 feet undersea, the wreck is host to a variety of marine life including stingrays, loggerhead turtles, and octopuses, as well as scuba divers seeking subaquatic adventures. Divers can enter the cargo hold of the plane, eerily perched skyward as if ready for another takeoff.
Top tips
Always make sure to dive with a PADI (Professional Association of Diving Instructors) affiliated organization, where beginners can choose from a 'Discover Scuba Diving' experience or enroll in an 'Open Water Certificate Course.'
Climbing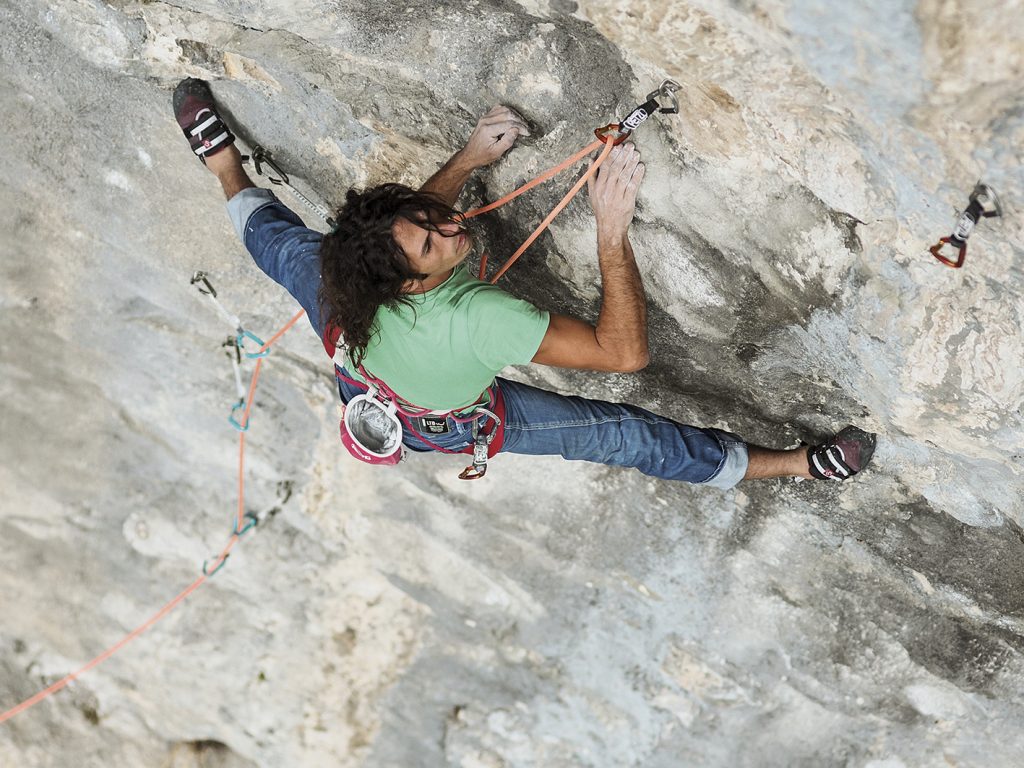 Perhaps the most rock 'n' roll of all the adventure sports, climbing attracts old-school daredevils, fuelled by the thrill of the climb and the sense of satisfaction at having reached the top. Scaling rock faces may be the name of the game, but there are many different disciplines of climbing. The following are the most common:
Trad (traditional) climbing – working in pairs, the lead climber fixes some kind of secure protection to the rock face as he ascends, and the second climber removes it as they follow.
Sport climbing – similar to trad climbing, but generally safer, as the protection is pre-secured in the wall, allowing for more acrobatic and gymnastic moves.
Bouldering – a type of 'free climbing' (without ropes) practiced on low walls, where climbers can usually jump back to safety in case of difficulties.
Where to do it
Geyikbayırı: Turkey's largest sport climbing area, Geyikbayırı has more than 1,000 routes divided into 43 areas of different types and levels. It's been described as one of the climbing world's best-kept secrets and has been included on National Geographic's Ultimate Adventure Bucket List.
Olympos: This is already a popular holiday destination for backpackers and alternative types. There are more than 300 routes for climbers, covering all levels, some just a few hundred meters from its beautiful pebble beach. There are also walls suitable for deep water soloing, in which the Mediterranean Sea acts as the daring free climber's safety net.
Akyarlar: Located on the seafront close to Antalya, Akyarlar contains around 20 routes in a beautiful secluded bay, acting as something of a climbers' hangout.
Paragliding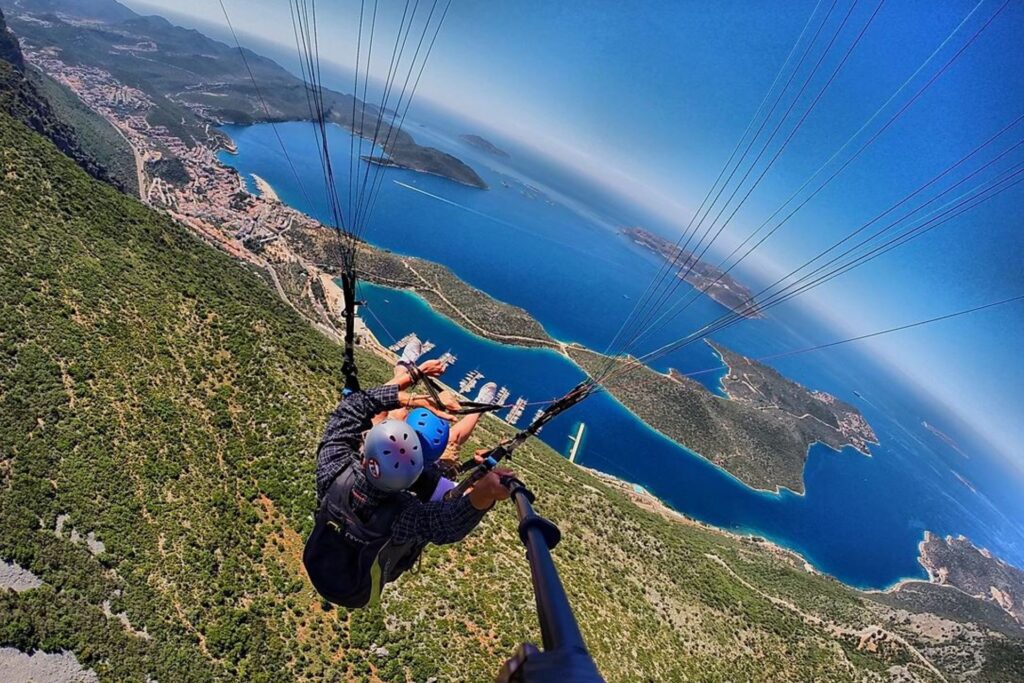 Is it a bird? Is it a plane? No, it's a paraglider floating in the air above our heads. Paragliding is the purest feeling of freedom and the most natural way of flying like a bird. With no engine and no fuel, it is also one of the greenest, most environmentally-friendly sports. You can fly for hours and hours, and you can fly really long distances in the right conditions. Taking to the skies has long been something that humans have sought to achieve. Even back in the early 17th century, intrepid Ottoman aviator Hezârfen Ahmed Çelebi purportedly attached wings to his arms and flew from the top of the Galata Tower to Üsküdar on the other side of the Bosphorus. Exploiting natural lifts in the air, paragliding involves sitting in a harness suspended below a fabric wing. Beginners looking for a taster can try a tandem flight, which only requires 10 minutes' training and is done in conjunction with an experienced instructor pilot. Once gliders have the taste, they can then embark on a solo course. Other aerial activities you can try in Turkey include hang-gliding, sky-diving, and parasailing.
Where to do it
The most exciting spot is Tahtalı Mountain close to Kemer, Antalya, because of its high altitude (2,365 meters), which enables you to enjoy a long flight over the Mediterranean coast. This is also quite a new location and will no doubt be one of the best spots in the world in the future. Flight duration: 30-45 minutes.
The most popular is Babadağ, Ölüdeniz (1,965 meters). This has been Turkey's best-known spot for paragliding for the past 20 years, with its famously beautiful view of the blue lagoon. Flight duration: 15-25 minutes
The most historic is Pamukkale, Denizli (350 meters) where you'll fly over the ancient Roman cemetery and famous travertine rocks. Flight duration: 10-15 minutes.
Surfing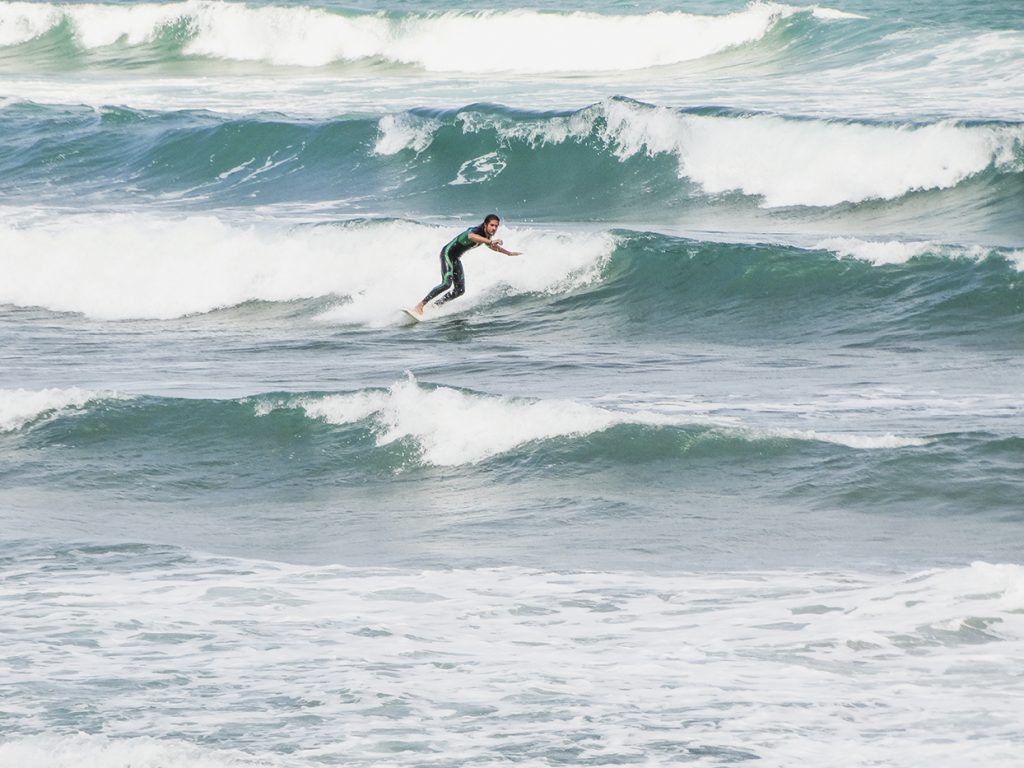 Surfing may be a sport we associate more with Hawaii or California, but in fact Istanbul has a long history of it. Local fishermen have been bodysurfing the waves of the Black Sea since the Ottoman period, a sport known as viya. It's a tradition that is passed down through the generations, steeped in local legend and history, originating from the Greeks who have inhabited this region. To see for yourself, head out to Rumeli Feneri, just to the north of Istanbul, which has been described as an epicenter for the sport.
Where to do it
You know Turkey is surrounded by water on three sides. And if there's water, there's surfing. There are differences in the conditions between ocean surfing and sea surfing, but if you want to surf, you can find a way. After eight years of experience, we've seen that the Mediterranean and the Black Sea have really good conditions for improving your surfing, and there are many places that are good for both beginners and advanced.
Alanya: this area is perfect for high-level surfing in winter and fall, because it's warm with good swells from southern winds. But the season there is just three months, as the summer can be calm and flat.
Kerpe: located on the Black Sea, Kerpe is really good for surfing all year round, but winter is very cold. However, that's just four months, and the rest of the year is warm and good for surfers of all levels. But you can also find so many undiscovered spots, even one the Mediterranean and Black Sea coasts – they both need more exploration.
Windsurfing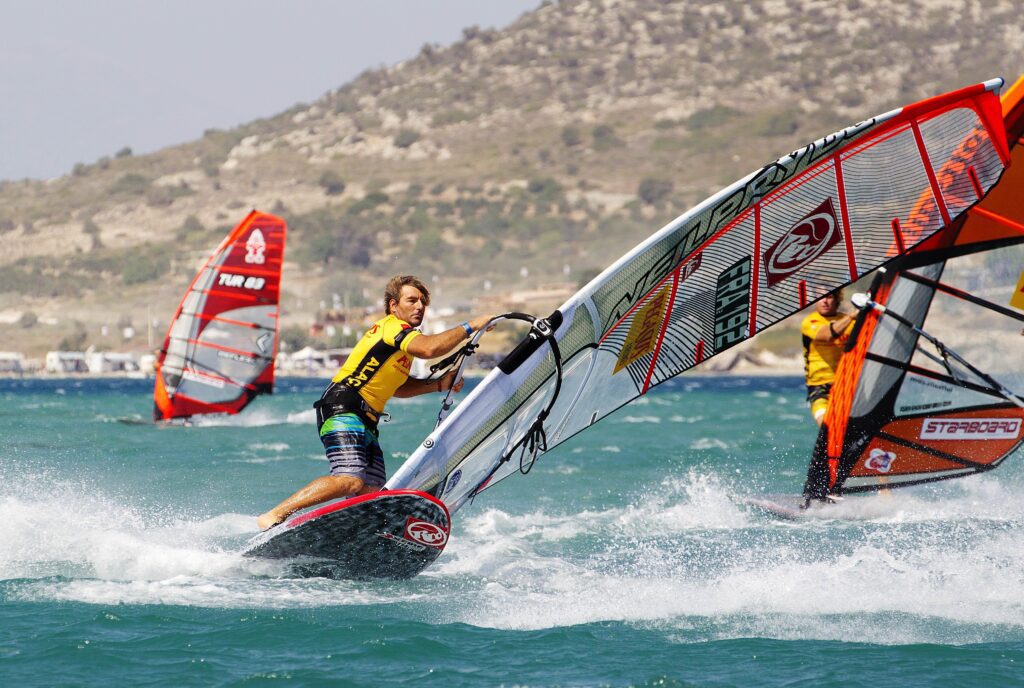 We've all seen the mini sails just offshore being effortlessly controlled by wetsuited types. Windsurfing is another sport that combines the elements. Like kitesurfing, wind is the driving force here that pulls windsurfers across the waves. Unlike kitesurfing, it uses a sail rather than a kite, and the sail is connected to a two to three-meter-high board with a mast and a two-sided boom.
Where to do it
Istanbul Kalamış/Caddebostan: this is a really hard place to learn, unless you are stubborn and have strong immunity. You have to go quite far from the shore because the water is so dirty, and it's not advised to fall off frequently!
Çanakkale/Kabatepe: this place has the cleanest seawater and most beautiful nature. Memories of soldiers who lost their lives during the Battle of Çanakkale have protected the area from human garbage invasion. Less people are aware of this little Caribbean-style paradise, and there is only one little school (Storm Windsurfing), so the prices are low and the people are sincere. But if there is high wind, it has really great conditions. This protected area only has one hotel to stay in, but if you have an explorer's soul and are able to camp, you can ask around to find a place.
Gökçeada: there are two spots on this island. The first is Kefalos Bay, which has calm water conditions and a beautiful sand beach that's good for beginners. The second spot is Eselek Bay, which has more wavy conditions. For advanced wave riders, if there's a good wind forecast, Eselek Bay is a pretty rocking place.
Muğla/Bodrum/Fener/Bitez/Ortakent: these are all nice spots that suit people from beginners to advanced. It's always important to find the right conditions that fit your skill level.
Çeşme/Alaçatı:  An hour's drive west of cosmopolitan İzmir lies Turkey's greatest destination for kite and windsurfers seeking high speeds on the Aegean Sea. The Poyraz and Lodos winds that once aided (and hindered) trade to ancient Anatolia make the Çeşme Peninsula one of the world's top destinations for wind-powered surf enthusiasts. Beginner and intermediate surfers can take to the calmer seas and shallow waters of Alaçatı Bay and Urla, while more experienced kite surfers should seek out the strong winds and white caps of Pırlanta Beach. And, when the sails come down, there's plenty to explore in the up-market boutiques, swanky bars, and gourmet restaurants that line the narrow cobbled streets of Alaçatı, an inland town of vine-clad greystone houses dating back to the 19th century that also happens to host the annual PWA Windsurfing World Cup.
Kitesurfing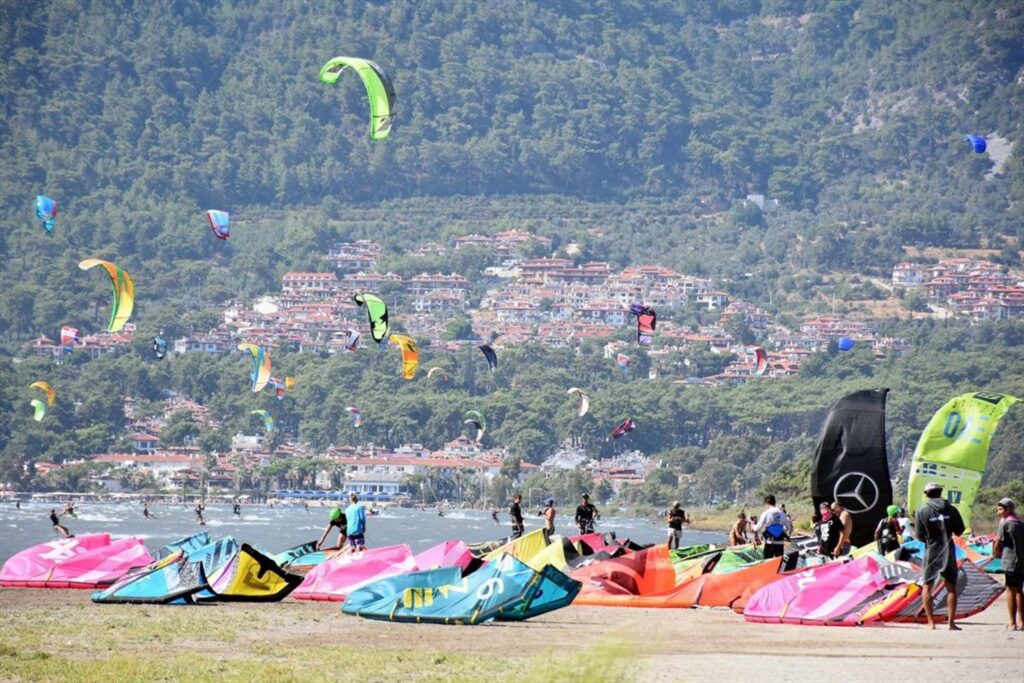 Managing to combine a salty taste of the sea and the air, kitesurfing is a sport that's been growing in popularity for some years, and Turkey is now firmly on the international map as a kitesurfing destination. A kite is attached to the surfer's waist, who then controls it by using wind power to pull himself along the surface of the water with his feet on a small surfboard or wakeboard. Once a kitesurfer has mastered the basics, there's then the opportunity to progress to freestyling, bringing in jumps, turns, and grabs. The beginner course takes around eight to 10 hours and provides a chance to learn how to control the kite and take to the water, as well as mastering the safety basics.
Where to do it
Burc Beach, Kilyos: The choppy water means that while it's a good place to learn to control the kite, it's not the best place for beginners or those who are more used to flat water.
Akyaka/Gökova: With a stable thermal wind from 12-7pm every day during the season, it's a great place to start. There are two kitesurfing beaches; one is large and suitable for beginners, while the other is smaller and more suitable for freestyle (or advanced-level riders). There's also a new park perfect for practicing tricks.
Gökçeada: This sleepy island has countless beautiful spots, where your kites can take to the skies with various types of winds both on and offshore, 300 days per year. It's also possible to surf in the lake within the island.
Çeşme/Alaçatı: The charming town of Alaçatı close to Çeşme may attract boutique holidaymakers, but its beaches attract a whole different crowd. The flat waters and reliable meltemi wind paired with beautiful beaches and good nightlife options make this an enjoyable place to learn.
Sea kayaking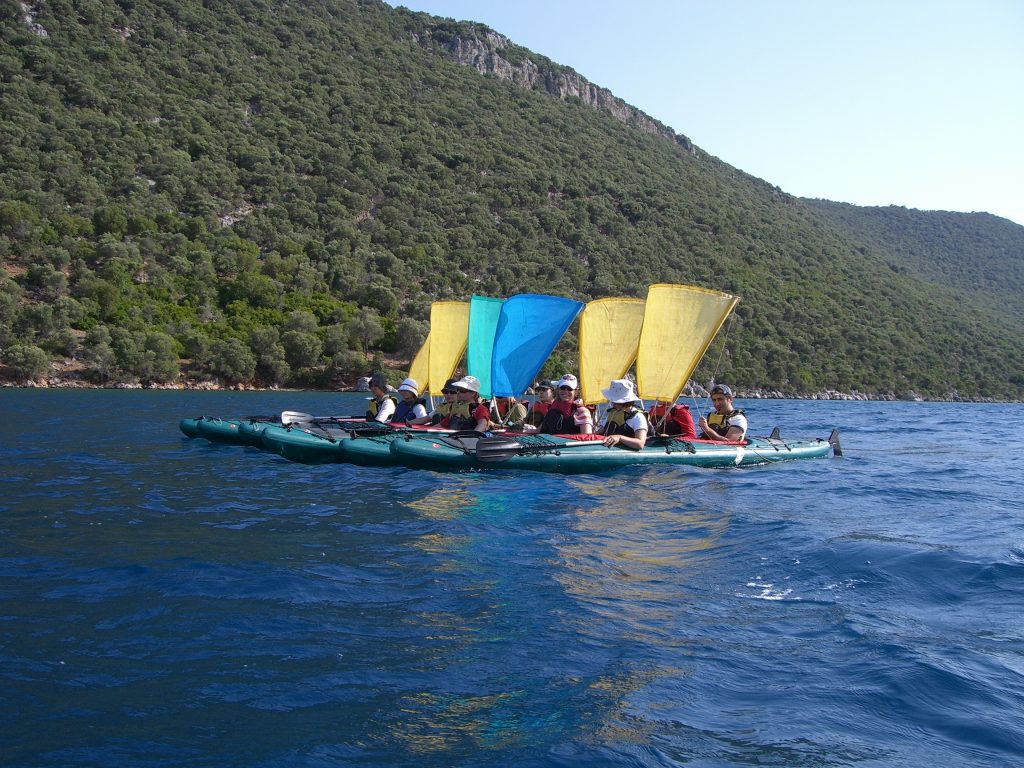 Concealed in the depths of the Mediterranean between Kekova Island and Kaleköy are the foundations of a sunken Lycian urban center. In the 2nd century AD an earthquake shook the city, pulling its buildings below the water's surface. Today, the remnants of residential houses, staircases, and shipyards can be seen above and below water as they seemingly slide down the side of Kekova Island. Travelers can either motor past the sunken city with the throngs of day-trippers on all-inclusive cruises, or opt for a self-paced, more intimate view by kayaking over the submerged ruins.
Ski Touring

Turkey's adventure options may be synonymous with summer, surf, and beaches, but from December to April, the mountains are most definitely where it's at. Local snowboarders and skiers know to get their ride on at Kartalkaya resort — 3 hours from Istanbul and 1,500 meters above sea level in the Köroğlu Mountains, this is a sweet winter esacpe. Good to know: Dorukkaya Snowpark is the place to drop in for snowboarders. It's Turkey's only snowpark. And it's amazing.  But the best and the extreme is a ski touring in Cappadocia region
Rafting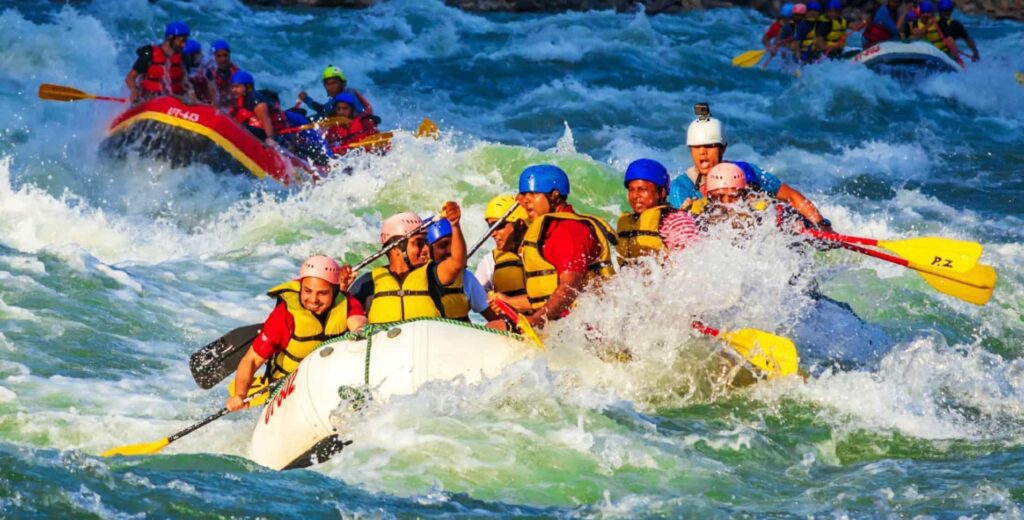 This has to be one of the most thrilling adventure sports that a novice can partake in. However, it's important to remember that when people are this exposed to the elements, there are real risks involved. Always go with a reputable company and check them out before you sign up. Don't be put off by safety warnings though, as hurtling down the river is also a real buzz. Rafting involves working as a team to safely steer an inflatable dinghy down fast-flowing water, with everyone doing their best to stay afloat and prevent the untamed river from capsizing the raft.
Where to do it
The most popular ones are those with easy access from holiday destinations. The busiest river in Turkey is Köprüçay in Antalya, as it is in the middle of the most touristy area of Turkey. It is a medium-volume grade two river sitting in a beautiful valley. As it's technically easy and a low-risk route, the quality of the service should be questioned before you choose a guide. Make sure you go with a professional company, otherwise you could end up in the river with a cigarette-smoking guide wearing a gold necklace telling you what to do!
Another popular spot is Dalaman River in Muğla, although it has lost some popularity due to the dams built on it. The main rafting section is now underwater because of the dam, but there are still other available sections. Companies from Marmaris or Fethiye can arrange transferred trips. Dalaman is more technical, with a higher grade river of three-four, reaching up to five depending on the water levels, so the guides and overall standards are higher compared with Köprüçay. There is also a grade two section available on Dalaman River.
The next river to talk about is Melen River in Düzce. The river mostly serves people in Istanbul, as it's a day trip away from the city. A few companies from outside Düzce operate there, but they're mostly local. The river is grade three-four and is good early in the spring and also after rain in autumn or early winter. Cold weather and water conditions require neoprene wetsuits in high seasons; summer rafting is also available, but the water level drops dramatically. The companies there are quite successful, and the overall standard is good.
Çoruh River is a large-volume river with massive grade-five sections and great multiday courses, but since the dams built there, it's been divided and lost some of the great gorges. Rafting is still available in different sections of the river, and you can find local companies in Yusufeli to go with.
Fırtına River in Rize is a grade three-four river with rising water levels and fast and continuous sections. Fun rafting is available all year round in the Ardeşen district.
Zamantı River of Cappadocia is also a grade three-four river and has a beautiful valley right at the start of the Aladağlar Mountains. There are no daily tour operations on the river, but multiday trips can be easily organised by rafting companies on demand.
Karasu/Fırat is a grade-three river, but it goes up to grade five with high water levels in spring. Daily trips are available from Erzincan on demand.
These are the most well-known rafting rivers in Turkey. There are some other rivers as well, but as they are away from today's tourism areas, they are not known yet!
Coruh River's Class 5 rapids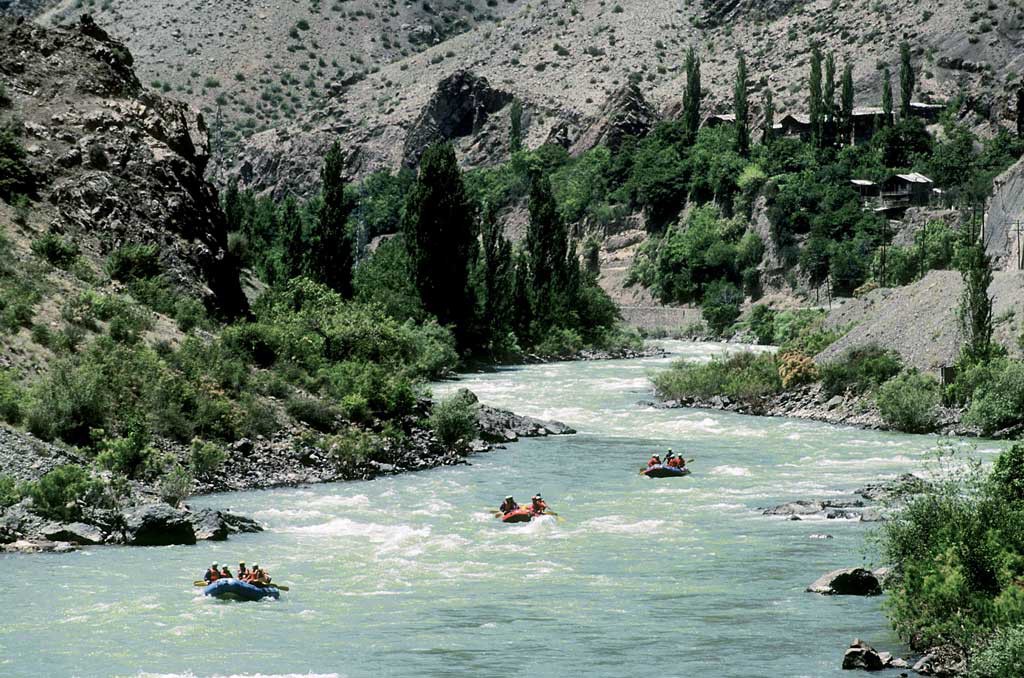 Take on the Çoruh River's Class 5 rapids Touted as one the top whitewater rafting destinations in the world, the fast-flowing Çoruh River runs 272 miles from northeast Turkey's Mescit Mountains right down to the Black Sea coast of Georgia. It's a remote river that hurtles rafters and extreme kayakers through deep gorges and green valleys, past rice paddies, orchards, villages, and ruined fortresses in an area that's been left relatively untouched by tourism. The best — and most challenging — time of year to go is from May to June, when the mountain snowmelt flows in abundance to feed the fury of those mighty rapids. Get after it.
Trekking & Hiking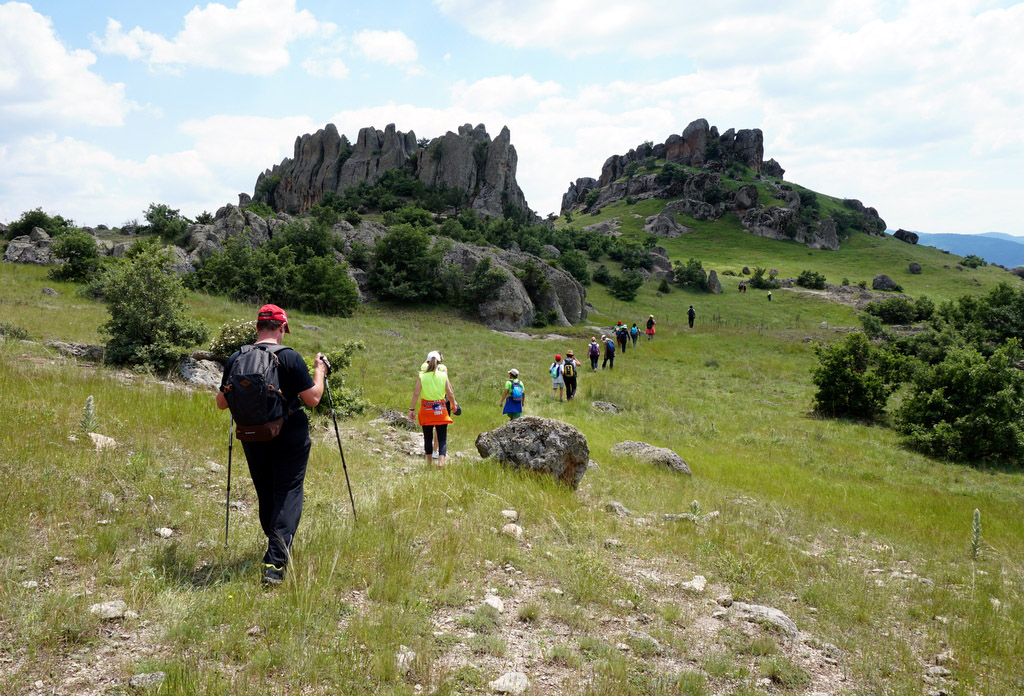 Whether trekkers are in the mood for a coastal jaunt or mountainous slog, there's something for everyone in Turkey. The Culture Routes Society has worked tirelessly to open up themed routes across the country, getting themselves covered in red and white waymarking paint in the process. Don't feel put off by the length of these walks – just choose a section that suits you and take it day by day. There are pansiyonlar (guesthouses) and campsites along parts of the Lycian Way and some of the most popular routes, but the most adventurous can always find a spot to wild-camp.

Where to do it
Lycian Way: The most famous (and the most popular) of Turkey's long-distance walks, this runs some 500 kilometers along the turquoise coast between Fethiye and Antalya. It's easy to do short sections, and there are plenty of ancient sites and beautiful beaches to enjoy on the way.
St. Paul's Trail: This connects the Mediterranean coastline around Antalya to the Lake District in the mountains to the north, and follows the journey that the man responsible for spreading Christianity in Europe took on his first journey into Asia Minor.
Kaçkar Mountains: The northeast of Turkey is dominated by the Kaçkar mountain range that towers over the Black Sea. With alpine lakes and wildflowers a plenty, this is one for real nature lovers. But beware – the walking here can be quite challenging at times, and the weather can quickly take a turn for the worse, so make sure to go prepared.
Evliya Çelebi Way: Following in the footsteps of the eponymous legendary Ottoman traveler, this reasonably gentle 330-kilometer route connects Istanbul with the interior of Turkey, going via Kütahya and Afyonkarahisar and finishing in Simav.
Carian Trail: Another one for the beach lovers, this 820-kilometer trail links the Aegean to the Mediterranean in the southwestern corner of Turkey. Named after the Carian state that existed between the 11th and 6th centuries BC, there's also plenty to keep history lovers entertained.
Cappadocia: If all that sounds a bit heavy, you could also visit one of the country's most popular and unique regions. Cappadocia is full of marked walks through its stunning valleys, more suitable for day hikers.
Read more  : Best trails in Turkey,
Mountain biking

Just as learning to ride a bike can be an integral stepping stone in most children's development, learning to ride a mountain bike down a near-vertical trail should be part of every thrill seeker's sporting education. Whether downhill, cross-country, or trail riding, mountain biking is an exciting version of cycling that heads off-road into (sometimes) rough terrain. Endurance, balance, strength, and agility are all required to keep riders from 'stacking it'. Once the basics are mastered, riders can move on to learning the tricks, style, and technique exercised by mountain bike free riders.
Where to do it

This is one sport that is truly free. While there might not be trails everywhere, if riders are truly prepared to go off-road, Turkey is one giant mountain biker's playground. Besides the coastal or mountainous areas around Istanbul, Antalya, Kaş, and Bodrum, there are several options close to Istanbul too, such as Belgrade Forest, Yalova, and Şile.  One of the most unique options, though, has to be Cappadocia. Cappadocia has world class, easily accessible single-tracks that suit all abilities. Combine these smooth, free flowing trails with awesome cave hotels, delicious food, and a wealth of historical and geographical interest, and you have your answer. Although mountain biking in Turkey is an adventurous activity, there areriders from 8 to 72 years old hit the trails! It's also super social.. In addition, it's a great opportunity to learn or develop your trail skills – we offer expert tuition in all of our holiday packages and always see great progress over the course of the program.
Canyoning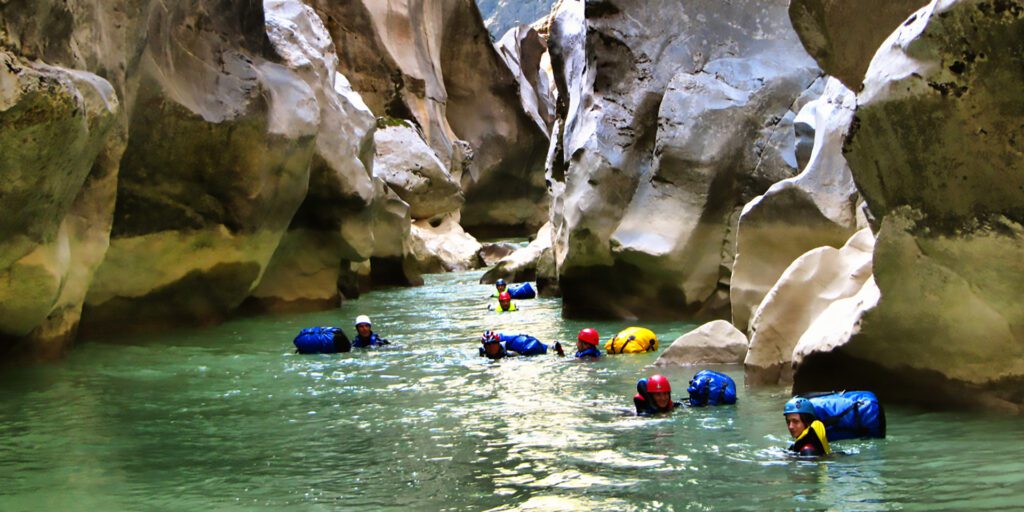 If walking, abseiling, climbing, or swimming alone doesn't seem quite high-octane enough, adventurers might want to try a sport that combines the lot! Sometimes referred to as canyoneering, it's the popular activity of making one's way through narrow gorges, led by expert guides. Wearing safety gear, such as lifejackets, helmets, and wetsuits, canyoneers place all their trust in a fearless leader and jump when he says jump, abseil when he says abseil, and climb when he says climb. There are options for complete beginners and for the experienced outdoorsy type. The only provision is that they don't mind getting a bit wet! Not only are there the beautiful Taurus Mountains to explore, but with no other groups in the canyons, you can really enjoy the silence and unspoiled nature. Also the canyons are close to the coast, meaning transfers from many of the holiday resorts are relatively short.
Where to do it
The best places in Turkey are on the south coast, because the adventure companies here have nearly 20 years' experience of guiding people. Running east to west, here are a few of my favorites:
Ahmetler: this canyon is close to Manavgat-Side and only reachable via a two-hour hike. The tour takes five-six hours with a lot of jumping and swimming on the way.
Göynük Canyon: this is an easy-access hike with a 5TL entrance fee. There is a mid-section where you have to rent helmets to enter further into. There are no daily tours offered here, instead our company organize tours for private groups.
Kuzdere Canyon: recommended as a very good canyon for beginners, this has several jumps and a nice waterfall abseil. Tours take about four hours.
Kıbrıs Canyon: tours take about six hours in this medium-level canyon. There are several exciting abseil points and jumps, and it's about 90 minutes from Kaş and Kalkan.
Hacıoğlan: this is a pretty little stream above Kaş with a lot of jumping and nice pools.
Kaputaş: both beautiful and technical, this canyon has a big hike to approach and five waterfalls to abseil down. The last one is 40 meters high. The tour finishes at the famous Kaputaş Beach.
Saklıkent: this canyon is a great 16 kilometers long. This includes two days of canyoning with an overnight stay in a bivouac inside the gorge. Technical rappels and climbs make this canyon difficult and advanced.
Butterfly Valley: there are two big waterfalls here, each one over 60 meters. It's technical, with a lot of adrenaline, but finishes on the beautiful beach.
Toparlar: close to Dalyan and Dalaman, this is a pretty stream with non-technical climbing and jumping. The tour regularly takes three hours.
İçmeler: this is a technical canyon near Marmaris with several abseils and jumps. Various tours are offered by companies based in Turunç.
Top tips
Besides a sense of adventure, make sure to bring a good pair of sports shoes, ideally with high ankles and a strong grip. Don't bring the snazziest sneakers in the closet, as they will get mucky.
Abseiling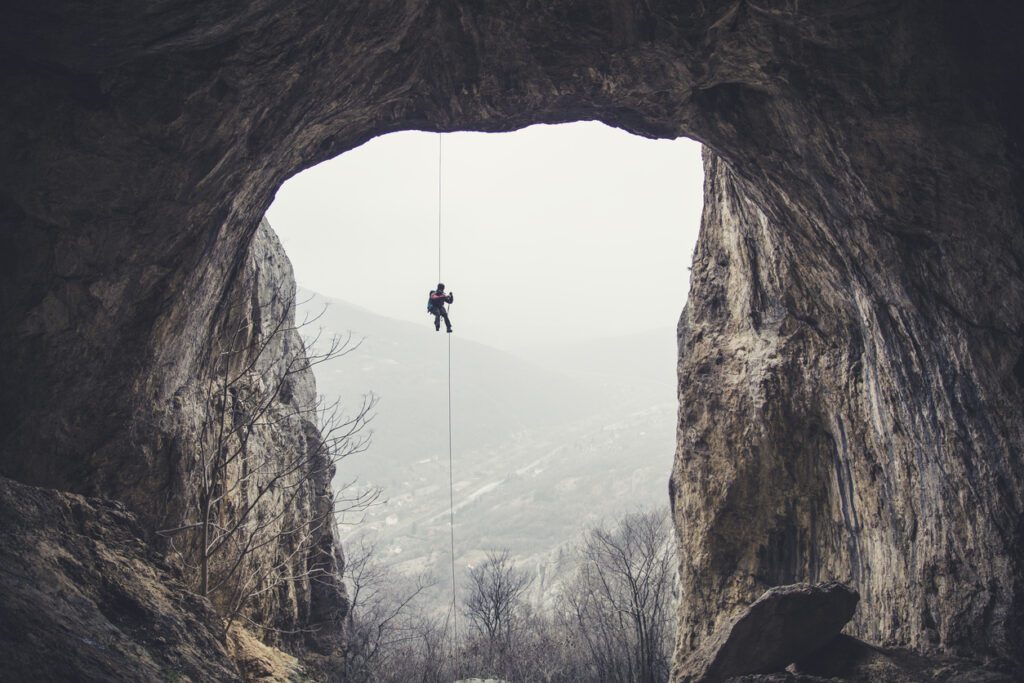 Abseiling is a recreational activity that involves descending down using a rope in controlled conditions from a mountain, cliff or a man-made structure and also known as rappelling in the United States. Its origin dates back to 1879 in the Alps to reach its highest peaks and since then, it became a popular recreational activity both indoors and outdoors.  If you are new to abseiling, it is recommended for you to try it indoors. For beginners, it is possible to get a sense of the sport in indoors mountain climbing gyms. In outdoors, there must be a fixed abseil point on the top to keep you safe during sliding and probably is the most crucial part of the sport since if it fails you are most likely to fall. Try to observe experienced abseilers while they are descending and knotting.
Where to do it
Geyikbayırı village (Antalya) is an amazing place for abseiling which is located just outside of Antalya city center and is reachable with public transportation. There are more than a thousand routes in Geyikbayırı for abseiling and the village is also home to many concerts, workshops and social gatherings during summer.
Çıtdibi village (Antalya) is one of the fastest developing abseiling centers in the world with its challenging routes. The village is 40 kilometers away from Antalya city center and 25 kilometers away from Geyikbayırı village.
Datça  is one of the popular summer destinations of Muğla province and also is a growing abseiling center. Abseiling routes are located 10 kilometers uphill from the waterfront near Hızırşah village.
Kaynaklar village is located in Buca district of İzmir and short bus ride away from the city center. The abseiling route is walking distance away from Kaynaklar village.
Cappadocia is one of the most visited attractions in Turkey and is located in the central part of the country. There is an amazing abseiling route in Cappadocia which is meant for beginners.