Turkey Adventure Tours
Beyond the ever popular hot air balloons of moonscape Cappadocia, below the dizzy heights of paragliding over the blue lagoon of Ölüdeniz, Turkey's menu of exciting adventure experiences caters to all interests, ages, and budgets. Here are some of  incredible adventures you might be surprised to know were possible in Turkey. Related: Turkey Adventure Tours
Turkey Adventure Tours – Dive down to a Dakota DC-3 aeroplane
Submerged in the azure waters of the Mediterranean and just a 10-minute boat ride from Kaş, one of Turkey's premier diving destinations is the intact, 65ft, fixed-wing Dakota DC-3 aircraft — complete with twin engines, propellers, landing gear, and cockpit instruments. Manufactured during WWII, and deliberately sunk here in 2009, the 12.25-ton aircraft with its 95ft wingspan was once used by the Turkish Air Force to transport paratroopers. Now, some 70 feet undersea, the wreck is host to a variety of marine life including stingrays, loggerhead turtles, and octopuses, as well as scuba divers seeking subaquatic adventures. Divers can enter the cargo hold of the plane, eerily perched skyward as if ready for another takeoff.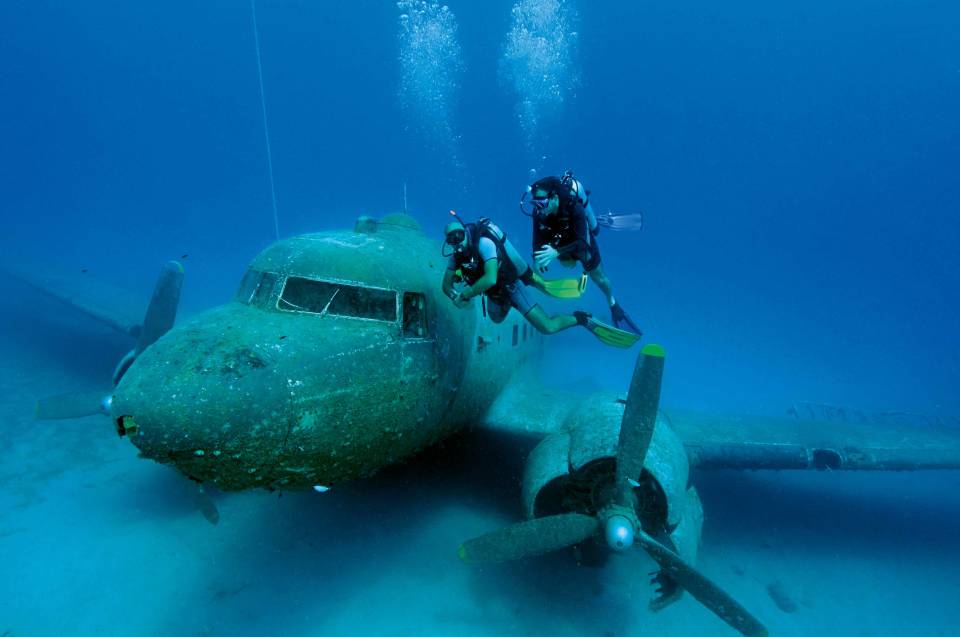 Turkey Adventure Tours – Windsurf Holidays
An hour's drive west of cosmopolitan İzmir lies Turkey's greatest destination for kite and windsurfers seeking high speeds on the Aegean Sea. The Poyraz and Lodos winds that once aided (and hindered) trade to ancient Anatolia make the Çeşme Peninsula one of the world's top destinations for wind-powered surf enthusiasts. Beginner and intermediate surfers can take to the calmer seas and shallow waters of Alaçatı Bay and Urla, while more experienced kite surfers should seek out the strong winds and white caps of Pırlanta Beach. And, when the sails come down, there's plenty to explore in the up-market boutiques, swanky bars, and gourmet restaurants that line the narrow cobbled streets of Alaçatı, an inland town of vine-clad greystone houses dating back to the 19th century that also happens to host the annual PWA Windsurfing World Cup.
Turkey Adventure Tours – Sea kayak over a sunken Lycian city
Concealed in the depths of the Mediterranean between Kekova Island and Kaleköy are the foundations of a sunken Lycian urban center. In the 2nd century AD an earthquake shook the city, pulling its buildings below the water's surface. Today, the remnants of residential houses, staircases, and shipyards can be seen above and below water as they seemingly slide down the side of Kekova Island.
Travelers can either motor past the sunken city with the throngs of day-trippers on all-inclusive cruises, or opt for a self-paced, more intimate view by kayaking over the submerged ruins.
A hard and extre advenventure : Ski Touring in Turkey
Turkey's adventure options may be synonymous with summer, surf, and beaches, but from December to April, the mountains are most definitely where it's at. Local snowboarders and skiers know to get their ride on at Kartalkaya resort — 3 hours from Istanbul and 1,500 meters above sea level in the Köroğlu Mountains, this is a sweet winter esacpe. Good to know: Dorukkaya Snowpark is the place to drop in for snowboarders. It's Turkey's only snowpark. And it's amazing.
But the best and the extreme is a ski touring in Cappadocia region
Take on the Çoruh River's Class 5 rapids
Touted as one the top whitewater rafting destinations in the world, the fast-flowing Çoruh River runs 272 miles from northeast Turkey's Mescit Mountains right down to the Black Sea coast of Georgia. It's a remote river that hurtles rafters and extreme kayakers through deep gorges and green valleys, past rice paddies, orchards, villages, and ruined fortresses in an area that's been left relatively untouched by tourism.
The best — and most challenging — time of year to go is from May to June, when the mountain snowmelt flows in abundance to feed the fury of those mighty rapids. Get after it. Related words: Turkey Adventure Tours
See : Best trails in Turkey,