Best Things To Do in Mykonos
Best Things To Do in Mykonos – Nowhere conjures visions of an idyllic Greek holiday quite like Mykonos. Beaches and nightlife have assumed legendary status on an island synonymous with style and sophistication. But so too does it offer peace and escape. So as well as celebrating everything stellar about Mykonos, we'll introduce you to a side to the Cycladic island that you've never imagined.
Stroll around the one-and-only Hora
When you first dreamed of Greece, this is probably what you had in mind. Purple bougainvillea and sugar-cube houses with doors and balconies painted the colour of the Aegean. Strolling around the cobblestone alleyways of the main town (or Hora) encapsulates everything magical about Mykonos.  From celebrities to fashionistas, Mykonos' catwalk of visitors won't need convincing of the Instagrammable beauty of perhaps Greece's most iconic Aegean island. But what happens when you look beyond the clubs and cocktails, and glitz and glamour? Well the answer is that it takes just a few steps to discover that Hora (as the main town is known) has a deeply authentic pulse. And once you've found it, you won't want to let go. You'll know all about the Cycladic beauty of Hora from the images of cascading bougainvillea and snow-white houses with blue window frames and balconies. But what about the captain's houses, full of nobility and grandeur? Or the story behind the Town Hall, built in the 1870s to house a Russian count during the Russo-Turkish wars, now housing a library? And do you know the name of the female revolutionary ('la Bella Greca') who played a pivotal role in Mykonos' successful uprising against the Turks in the 1820s and who has a square named after her?
You'll visit museums that tease out Mykonos' history, and visit centuries-old churches, as well as hearing the stories behind the island's famous windmills and Little Venice. And how about an insider's tip on where to experience the best sunset in town? All before you've ordered yourself that well-deserved cocktail!
Don't Miss
The Archaeological Museum
It's worth starting at the very beginning. Located by the Old Harbour, the Archaeological Museum takes you as far back as the 9th and 8th centuries BC, with a special focus on ancient ceramics and pottery excavated in Mykonos and Delos (the archaeological treasure trove island a short boat ride away). Another of the museum's highlights are the remnants of a 2nd-century BC statue of Hercules, made of Parian marble.
Manto Square
At the end of the Old Harbour, you'll arrive at a square with an elegant bust that includes a short introduction to Manto Mavrogenous. Known in social circles as 'la Bella Greca', because of her beauty and finesse, she was born in 1796 in Italy to a wealthy Greek family and arrived in Mykonos in 1821. She brought not just her cosmopolitan charm and knowledge of multiple languages, but also a burning passion to take part in the liberation of Greece from the Ottomans. She is said to have funded (and even participated in) several naval operations and supported the training of local revolutionary forces.
Matogianni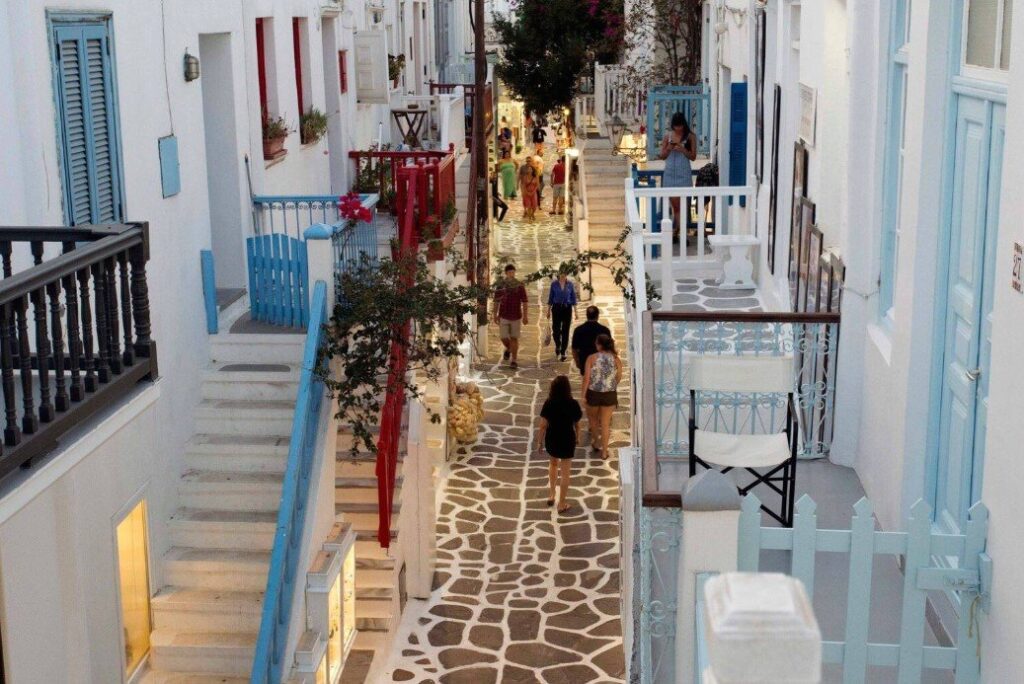 Known for its boutiques and finery, the Matogianni district of Mykonos also has a number of historical treasures. You'll find three identical wells, which were the island's main water supply into the 18th century. Interestingly, they are only around 5m deep. The Maritime Museum of Mykonos is also here, with models of ships from the early Minoan period all the way up to the 20th century, as well as other nautical memorabilia such as manuscripts and photos. You'll also pass the home of Manto Mavrogenous' mother.
The windmills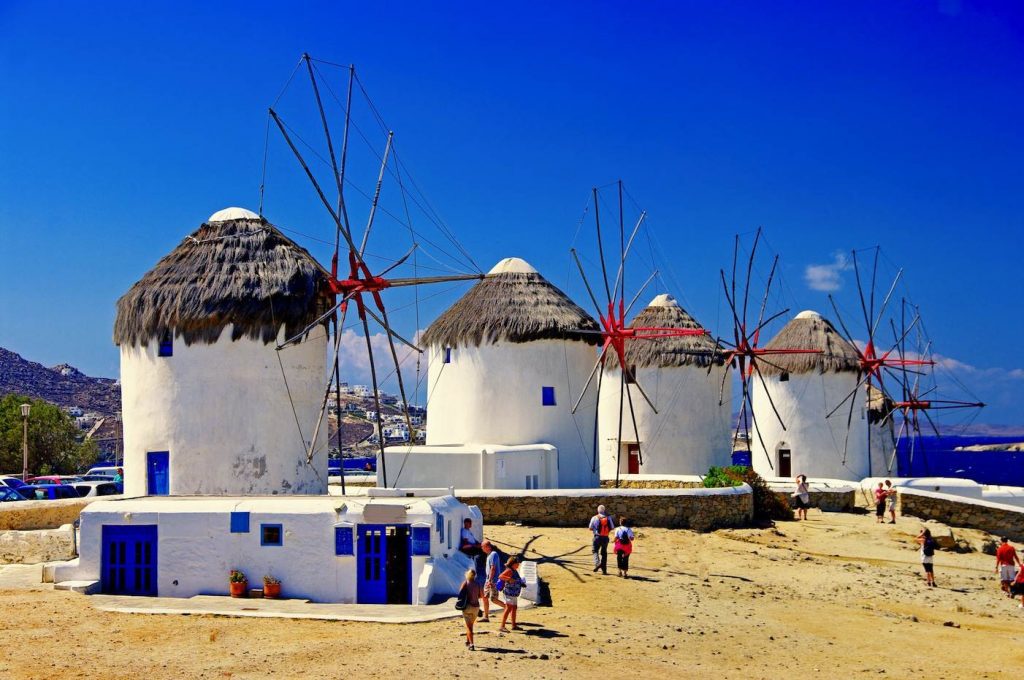 Mykonos' windmills, on the hill above the harbour, need no introduction. Built by the Venetians in the 16th century, their thatched roofs and wooden sail frames are emblematic of the island, and of Hora in particular. Their construction revolutionised the agricultural landscape of the island, here and in locations such as Ano Mera, allowing communities to expand and export grains.
Little Venice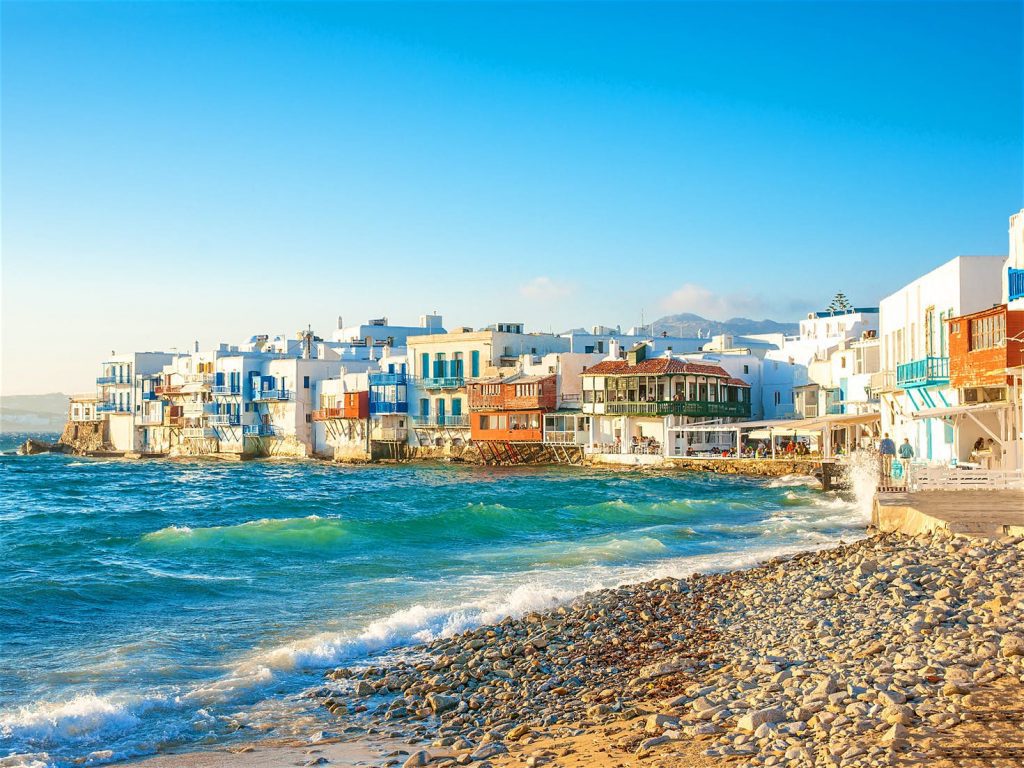 Along with the windmills, Little Venice is the most photographed spot in Hora. The line of colourful, interconnected homes was built in the 18th century. What makes them special is that their foundations are in the sea. It is said that pirates stored their loot here but, nowadays, they are mostly restaurants and bars – as well, of course, as a romantic backdrop to an evening stroll.
Panagia Paraportiani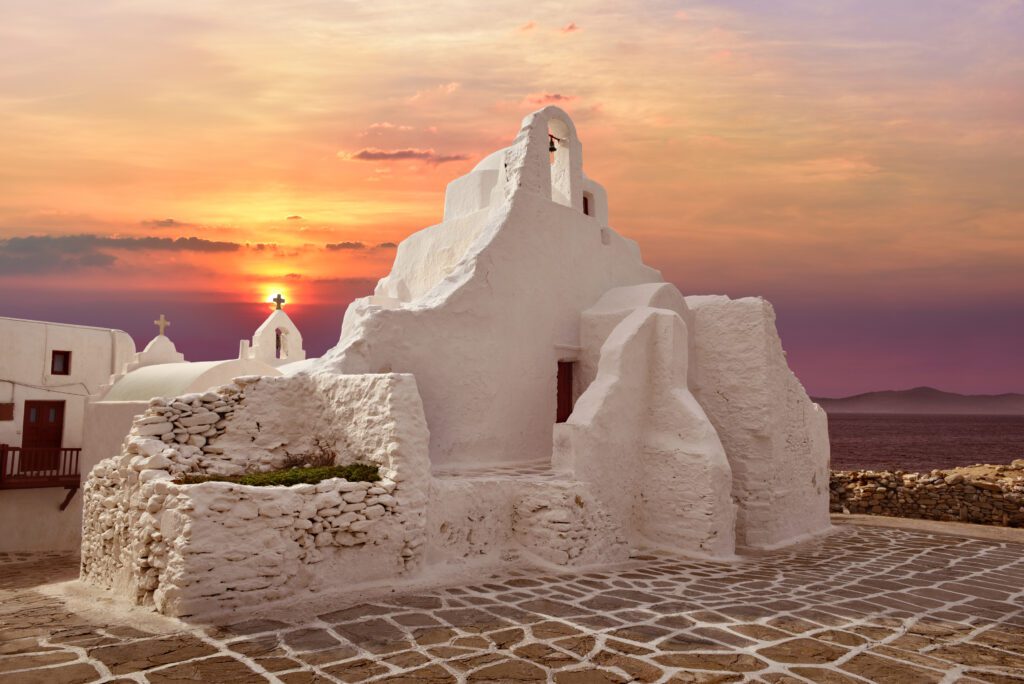 And finally, to the insider's tip for a magical sunset spot to end your day: the most photographed church in Mykonos, Panagia Paraportiani. Sculpted into the rock and painted the most radiant white, its name translates as 'Our Lady of the Side Gate' because its entrance was found in a small side entrance to the Kastro area. It has stood in this spot for 600 years, with construction starting in 1425 and completed in the 17th century. What isn't immediately obvious is that it is actually five churches, with four built at ground level and a fifth, Byzantine church, one floor up.
Choose your world-famous beach
Equally deserving of iconic status are the beaches. Party and beach club, family fun, sport and adventure, some more cosmopolitan and some relaxed… Whatever your beach style, you'll find it on Mykonos. From Psarou and Panormos to the aptly named Paradise and Super Paradise, the sand is silky smooth, the service flawless and the atmosphere legendary. If it's boho chic you're looking for, Paraga and Kalo Livadi cater to every taste, or perhaps head to Ftelia and Agios Ioannis. Meanwhile, the umbrella- and sunbed-free Agios Sostis manages to be both chilled and full of Mykonian lifestyle at the same time. But that's just scratching the surface. Most are in the protected south, but it's also worth exploring the quieter north coast.
Iconic Beaches of Mykonos
Long sandy bays with pulsating beach bars and partying into the night; luxury sunbeds and first-class waiter service; fine dining or traditional taverna; calm, clear water perfect for water sports… whatever beach perfection is for you, you'll find it on Mykonos.  Exploring the more sheltered and popular southern coast, we reveal what you'll love about each of them. And we pop up to Panormos in the north, where there are alternative beaches with a very different vibe. Starting with the superstars, we move to the quieter but equally iconic beaches on Greece's ultimate luxury isle.
Psarou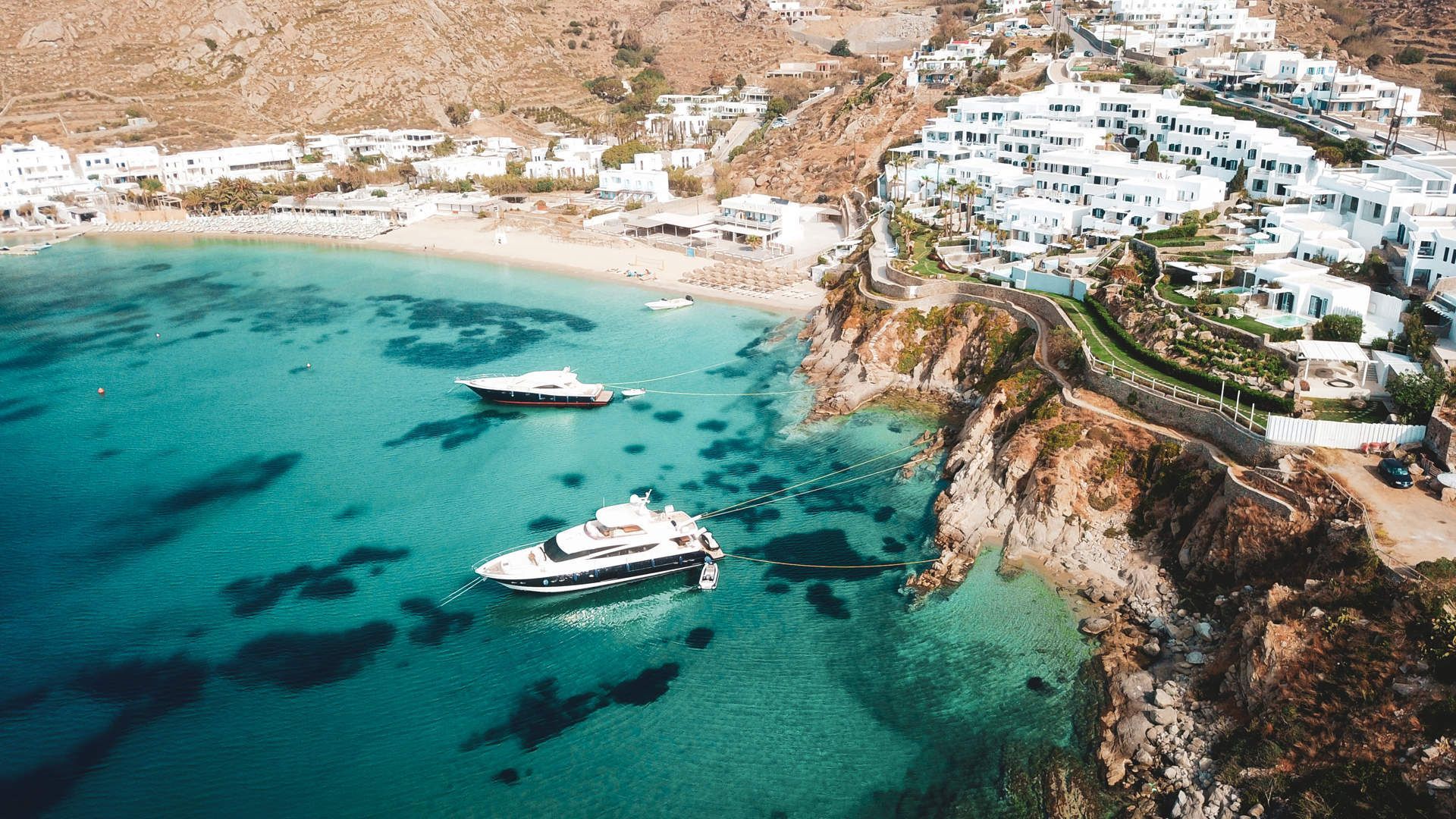 It's difficult to know where to start when it comes to Mykonos' beaches, but Psarou – just 4km from Hora (the main town) – gets the nod. It's a celebrity magnet, with fine (almost white) sand, clear blue water and beach bars renowned for their epic parties. Want a taste of fame and luxury? Just say the word. There's a choice of restaurants nearby where you'll get VIP service and a high-end menu to match as well as boutique shops with Greek and international brands. But don't let that distract you from the fact that Psarou is also a great swimming spot, with a diving school and water sports.
Paradise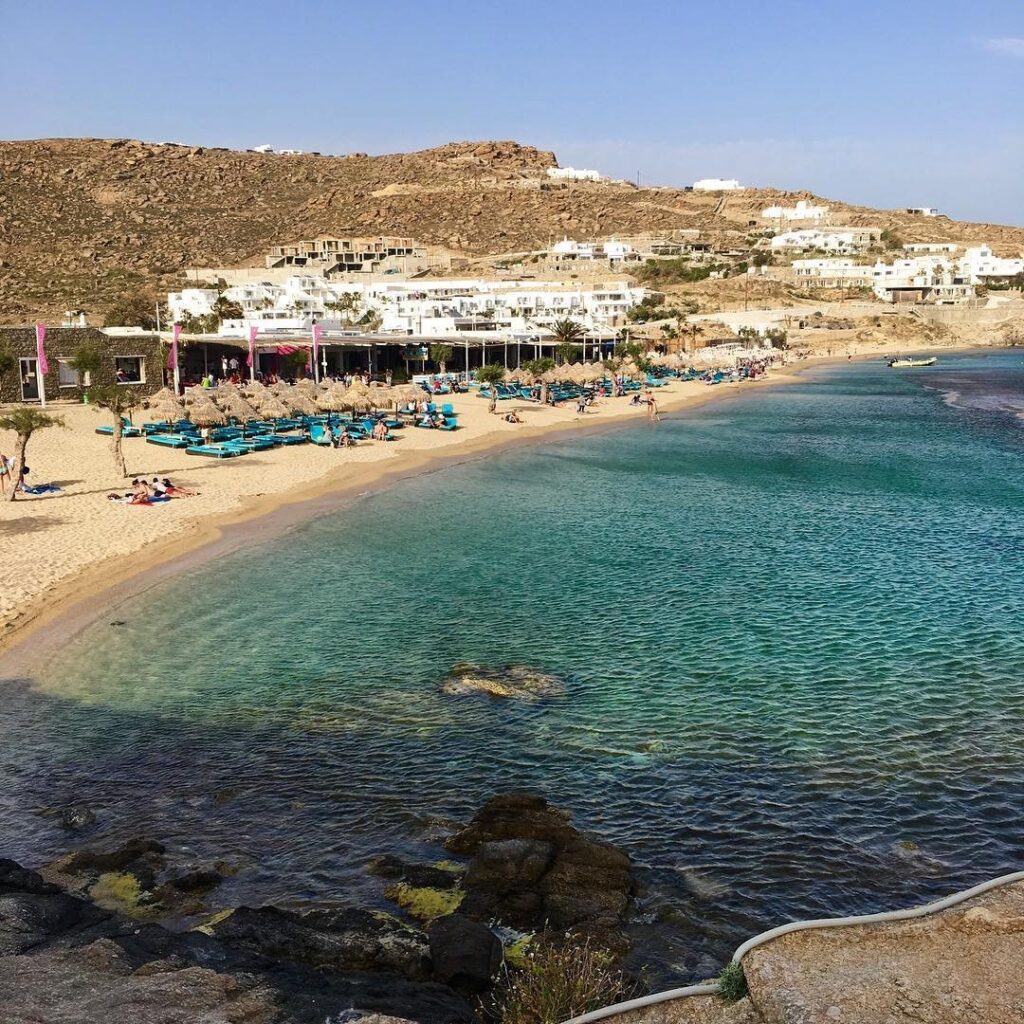 This is where it all began! It's hard now to imagine Paradise beach as a once quiet stretch of sand, attracting 70s hippies looking for fun, love and freedom. Restaurants, bars and international DJs were added and – along the way – the legend that is Paradise beach was established as a destination in its own right. The mood is relaxing in the morning, before the music kicks in and, before you know it, it's party time long into the night. And if you're looking for added water fun, you'll find a water sports and diving centre on the beach.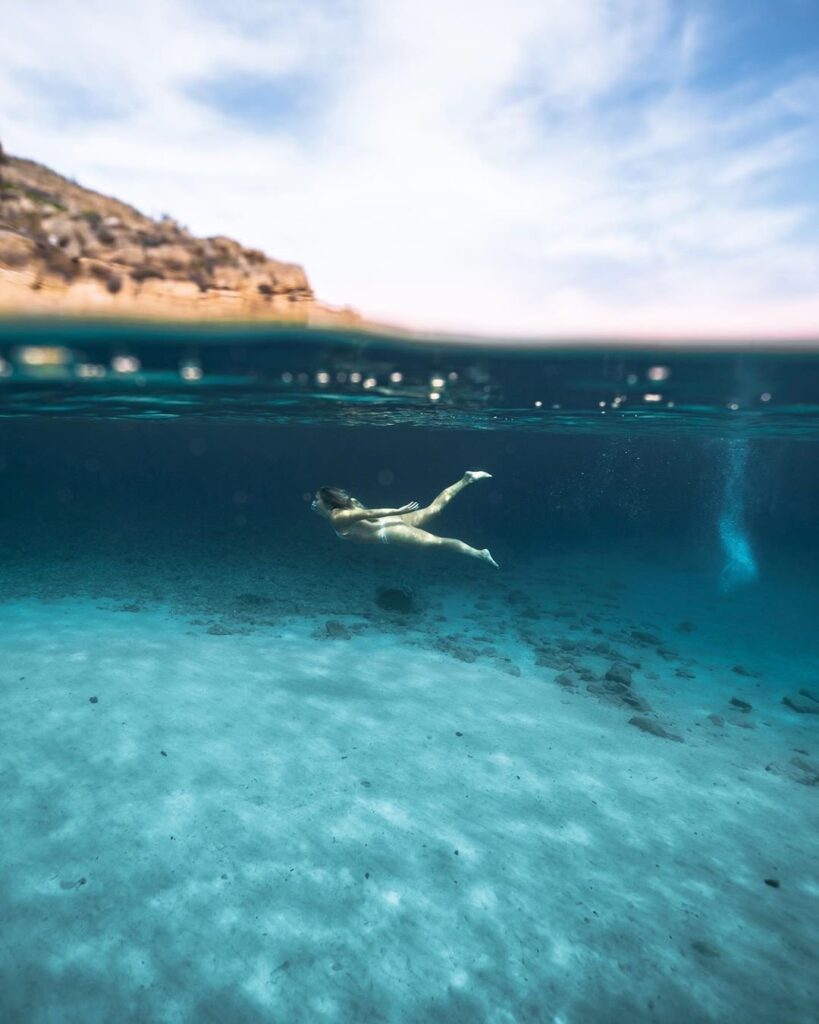 It takes something special to pull off being called Super Paradise. Just around the bay from Paradise, the party mood continues at the beach bars here, but Super Paradise takes the swimming experience a notch higher. The water is especially clear and the sand is fine and golden, attracting a more chic ambience. There are exquisite dining options to cap the experience.
Paraga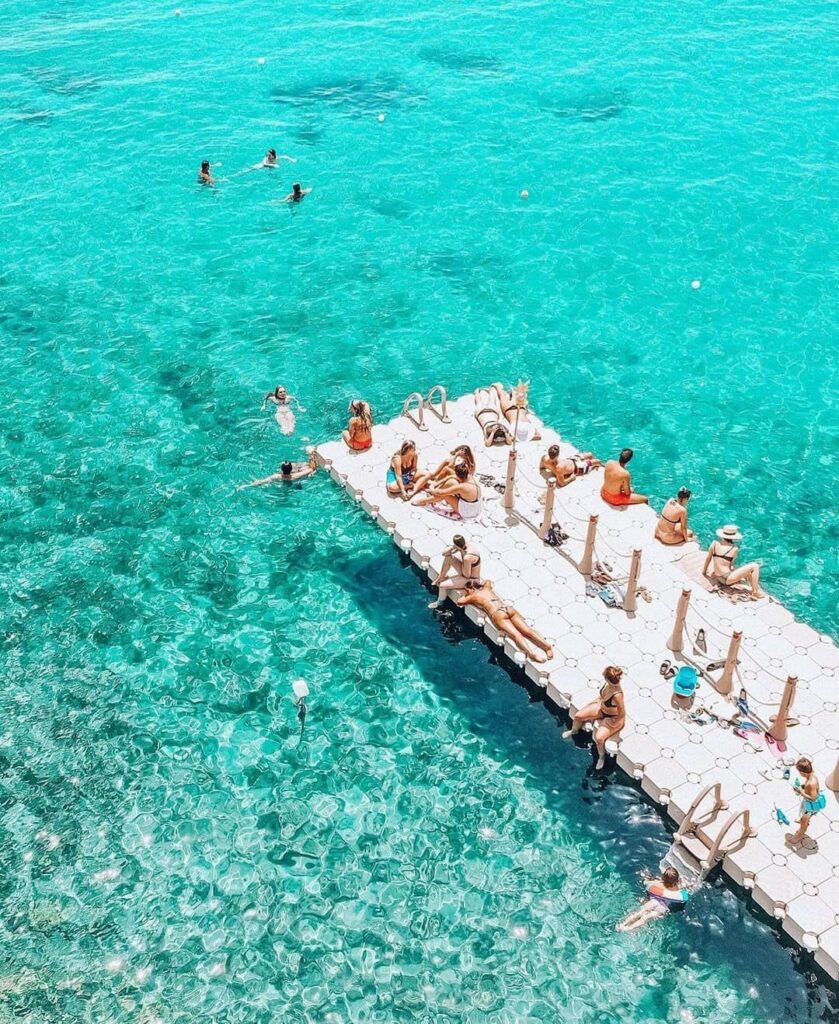 Between Psarou and Paradise, we have Paraga beach. You'll adore the restaurant and extraordinary beach club scene here too – stylish, sophisticated and intimate, perfectly blending in with the surroundings. The water is shallow and inviting and the bay is protected from the summer winds that can affect other beaches. It's worth staying till sunset.
Kalo Livadi
There's another cluster of beaches on the south coast, this time further east, starting with Kalo Livadi. One of Mykonos' biggest beaches, it caters to every taste. Again there are trendy beach bars and restaurants that turn heads. But there's also a long stretch with nothing on it and a water sports centre. It's shallow, making it a big favourite with families and there's a handrail that's helpful for anyone needing a little support getting into and out of the sea.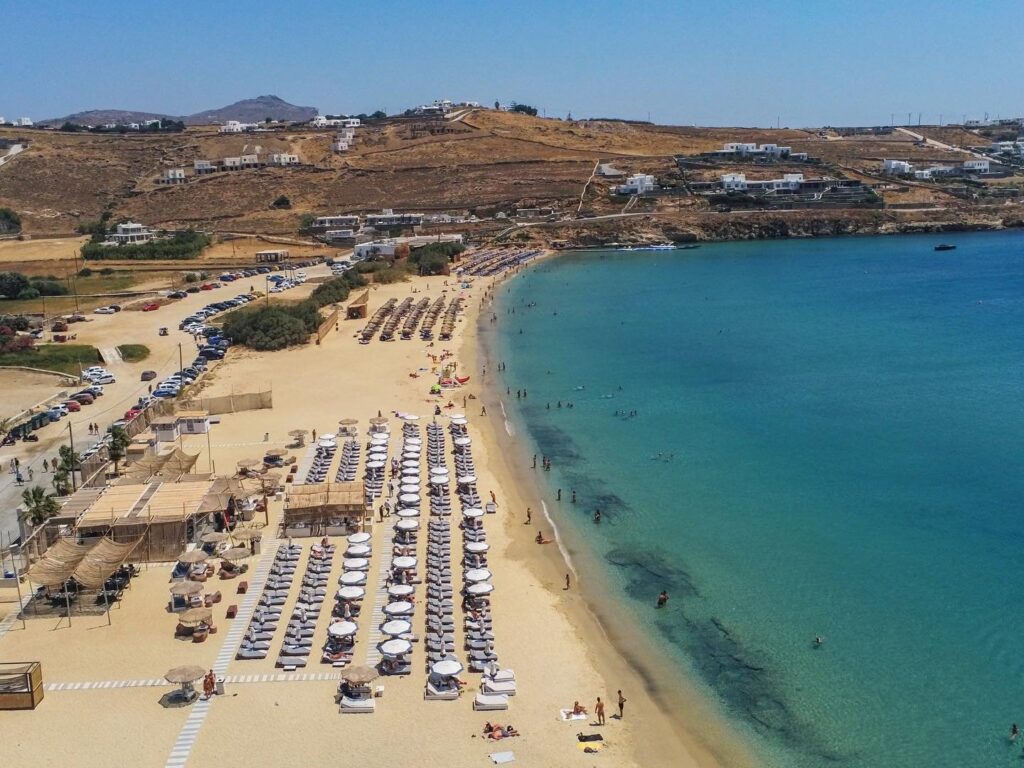 Agia Anna (Kalafatis)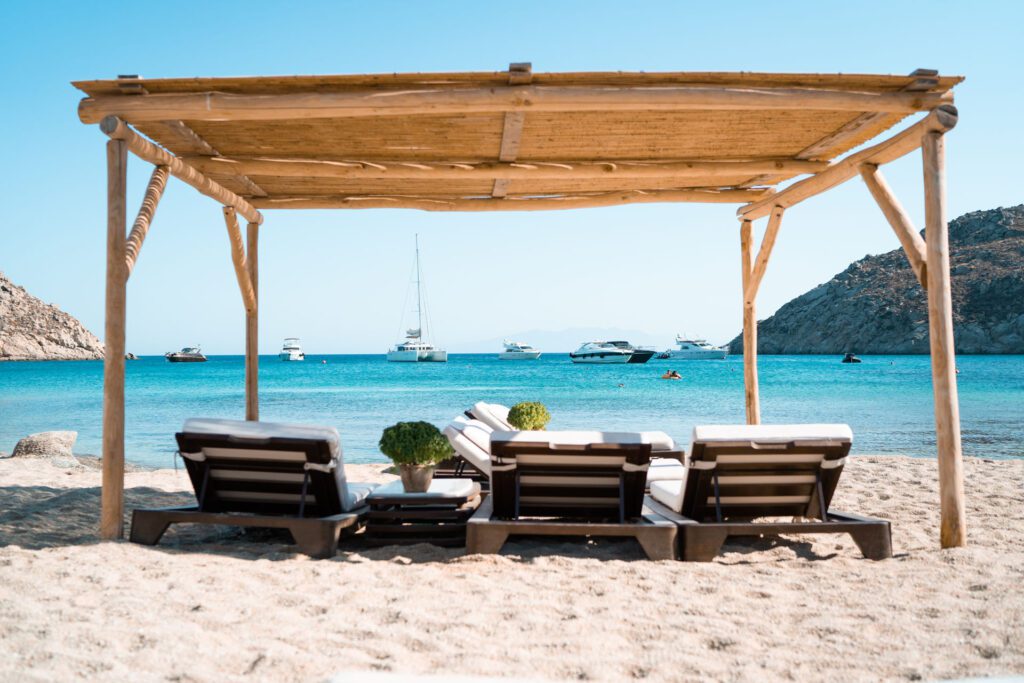 Not to be confused with the Agia Anna beach near Paraga, this small, sandy cove, near Kalafatis is one of the more exotic settings on Mykonos' southeastern coast, next door to picturesque Divounia Bay.
Elia Beach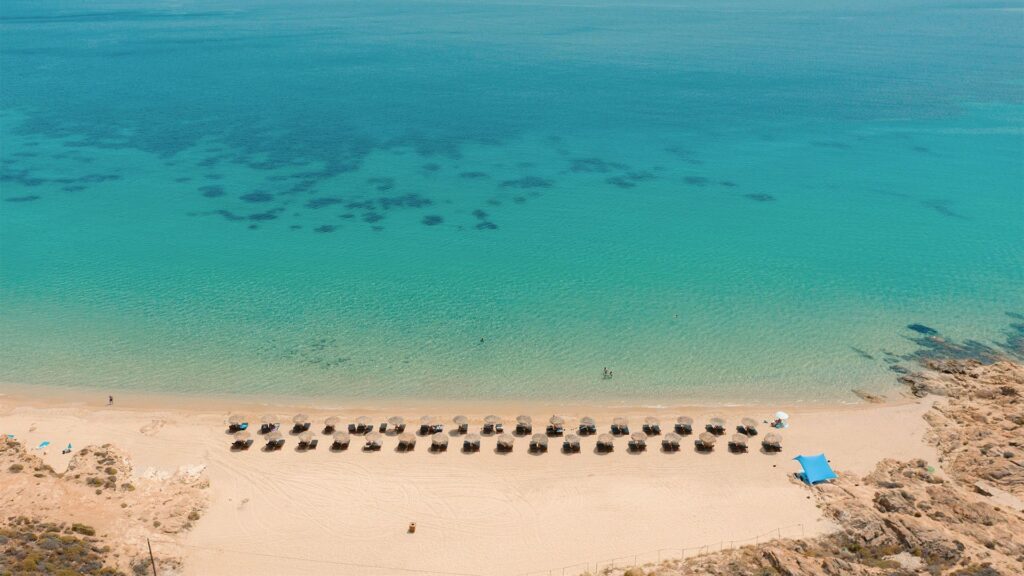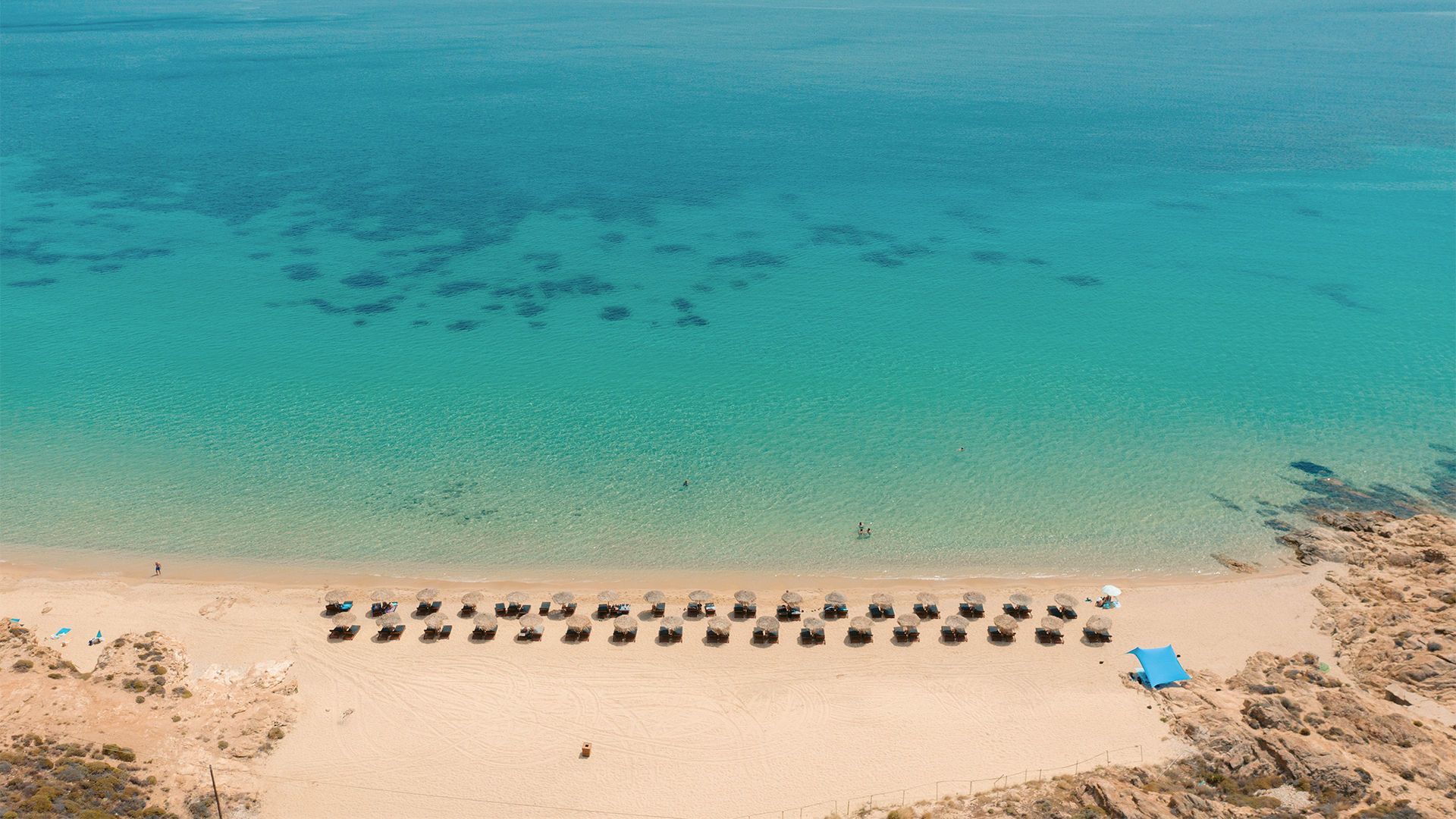 You'll find everything you could wish for on Mykonos' longest sandy beach. Celebrities and VIPs mingle right next to honeymooning couples and families. And there's a choice of traditional taverna and upscale restaurant, beach bar and even a water sports centre where you can try everything from waterskiing to parasailing and jet skiing. Elia has the perfect mix and it knows it.
Take a bit of glitz home with you
A holiday on Mykonos wouldn't be a holiday without some shopping. The alleyways of Hora ooze style when it comes to the shops, nowhere more so than on and around Matoyianni Street. You'll be surrounded by designer labels, elegant beach- and nightwear, jewellery, leather goods, artwork and local crafts… much of it inspired by the island. Most are open from morning till late, but if you really get the urge, there are even luxury shops by Psarou and other beaches.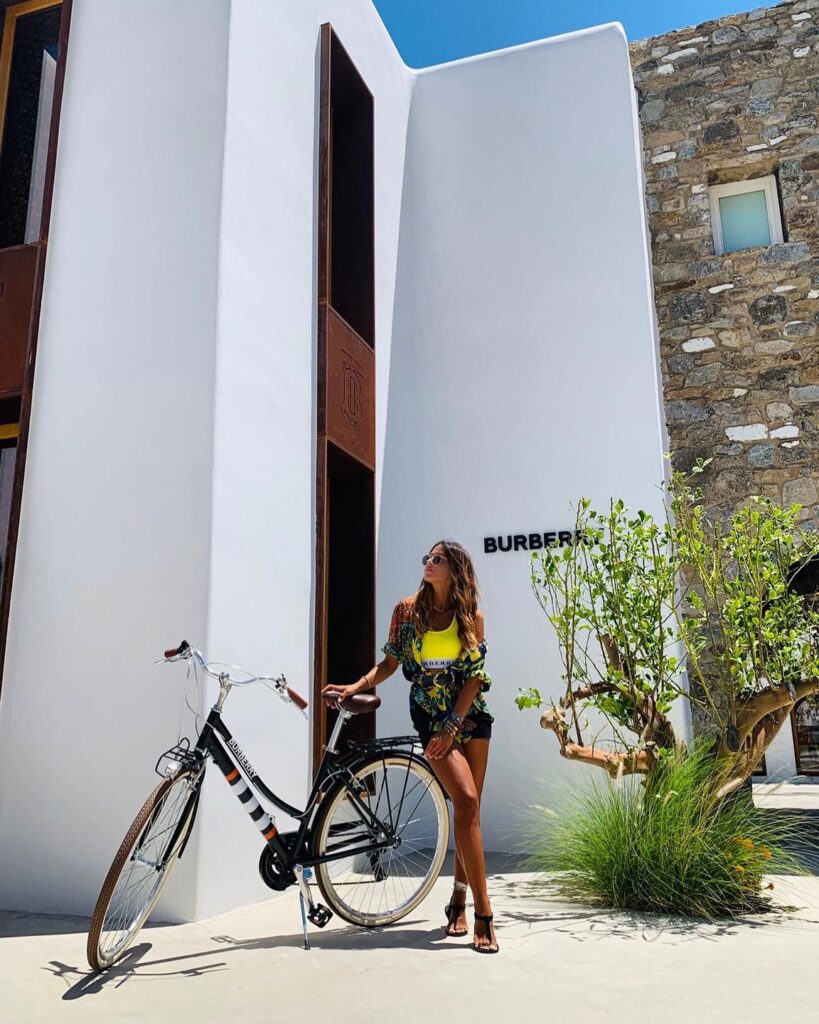 Prepare for legendary nightlife
Don't pretend this isn't one of your main reasons for choosing Mykonos. It doesn't matter if you're in a cocktails-and-bubbly state of mind, or in the mood for a perfectly chilled glass of wine, it's time to sample the legendary Mykonian nightlife. Some places are institutions and others are cute and tucked away, but most have outdoor space that will make you feel as radiant as the stars above you. From sundown to dancefloor, the mood carries you as late into the night as you like. Nights out don't get any more legendary. Signature cocktails as the sun begins to set. A seafood meal that sends your taste buds to heaven and back. Or perhaps you're in a luxury beach bar mood… sushi, wagyu beef, internationally renowned DJs – that sort of thing. Now add that you're in Mykonos and, that's it, your imagination moves into overdrive.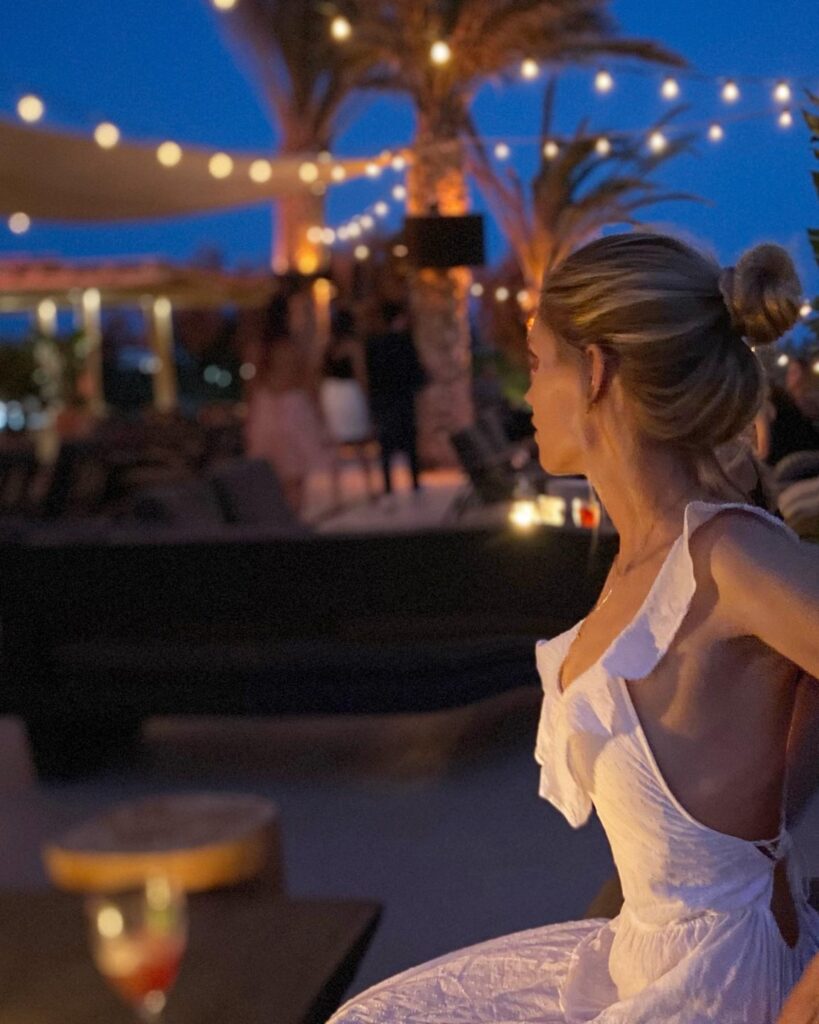 Every night out on this fabled Cycladic island is an occasion. From a meal in a traditional Greek taverna to the most refined international tastes, there's an elegance and style to the food that sets Mykonos apart. Not just from other Greek islands but all other destinations. You could be lounging on cushions outside a gorgeous little bar in one of the alleyways in town, surrounded by all that Cycladic blue-and-white, or somewhere more extravagant. Either way, you'll feel like a celebrity. Or perhaps you are a celebrity. It comes to the same thing in Mykonos.
From refined to homely, dishes you'll never forget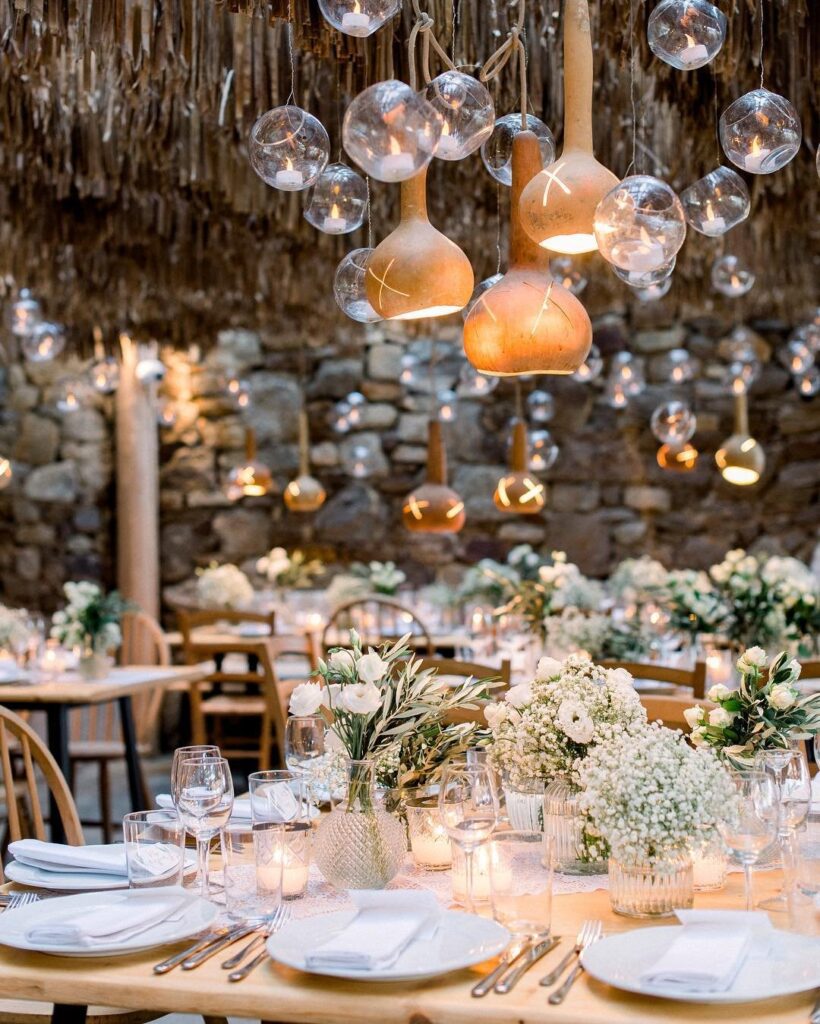 Food is an experience in itself in Mykonos, not just in Hora but all around the island. At the top end, there's perhaps nowhere more refined in Greece, whether it be Mediterranean or international cuisine. It's the sort of place world-renowned chefs don't just grill octopus… they might turn it into octopus carpaccio; and the humble panna cotta could be given a savoury spin, with goat's cheese, dried figs and prosciutto (all locally sourced). You'll find tavernas where classics have been given an unforgettable modern twist as well as home-cooked local dishes and plenty more. Read more on Gastronomy in Greece , Greek Cheese, Greek Wine, Greek Gastronomy
A day cruise to Delos and Renia islands
Visiting the island of Delos will be one of the cultural highlights of your stay. Located a short boat trip away, the whole island is an archaeological wonder, said to be the birthplace of the twin gods Apollo and Artemis. You'll walk amongst the remains of temples, marketplaces, houses, statues and sculptures – most dating from the 6th century BC – 1st century AD, the glory years of Delos. And don't just leave it at that. A day cruise will also take you to nearby Renia for a spot of snorkelling and a cooling swim?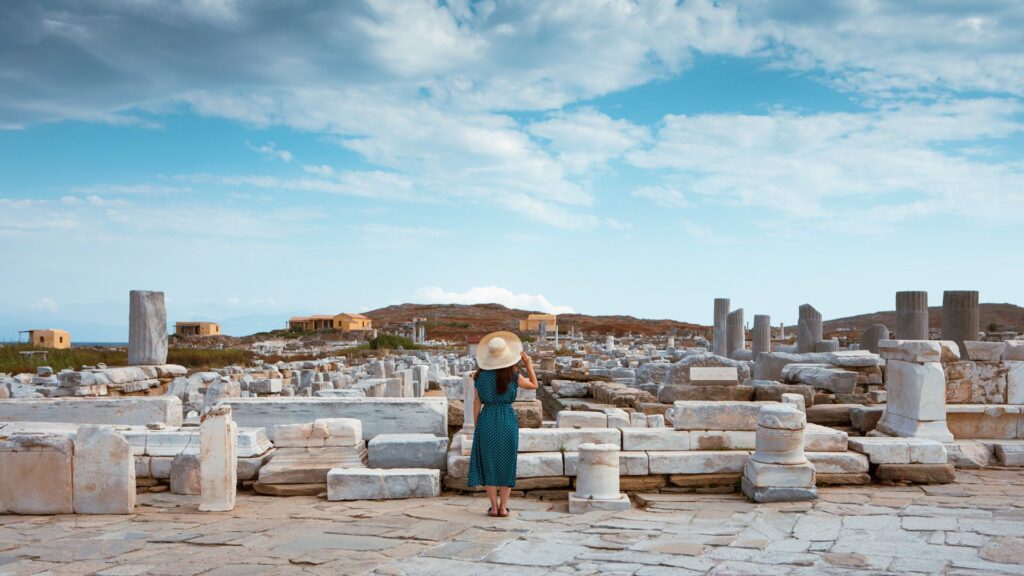 You could spend half a lifetime exploring the UNESCO-protected World Heritage Site of Delos and still be thirsty for more. The birthplace of the god Apollo and his twin sister Artemis is not only one of the most important Greco-Roman settlements but also one of the most extensive. It's an extraordinary insight into power struggles, religion, art, commerce and everyday life in antiquity. The island itself is an open-air museum. To walk amongst its remains is to pick your way through history dating from Mycenaean times, in the 3rd millennium BC. However, Delos' peak was from the 6th-1st century BC, amidst a constant interplay of Athenian and Roman domination – interspersed by the influence of powerful Cycladic neighbours, such as Naxos and Paros. It's a story now told through of a bewildering number of sanctuaries and statues, as well as public and private buildings and the artefacts they once contained. To put it all into context, there's a hill on Delos called Kynthos. Climb it and take a look around you. Extraordinary!
Village life and the other side of Mykonos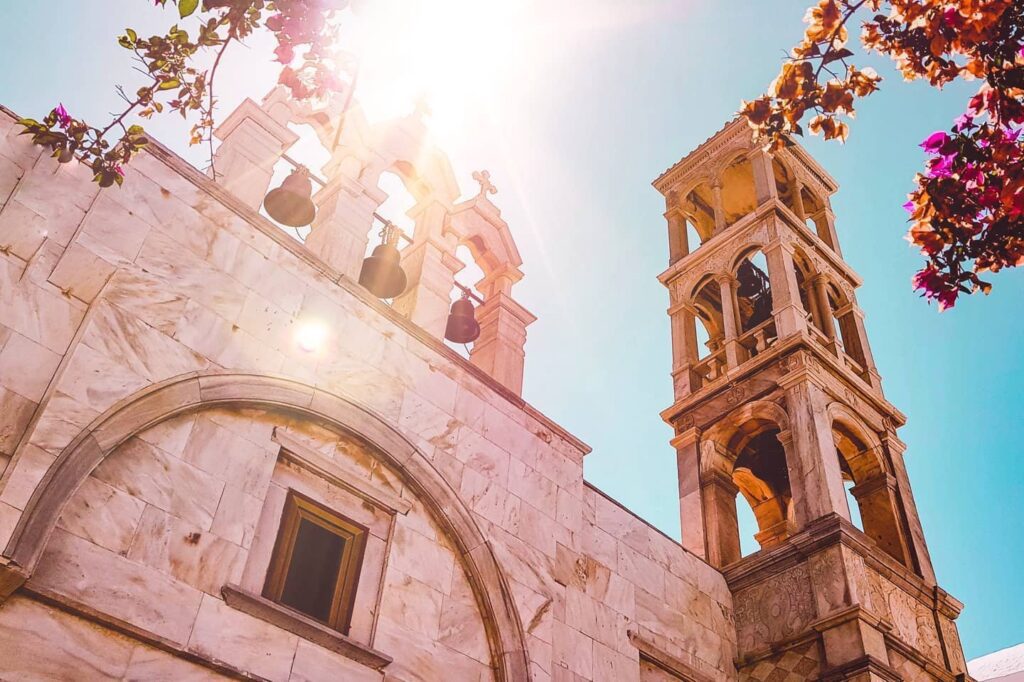 It's time to really change your impression of Mykonos now as we head inland. Ano Mera is the second-largest settlement and a wonderful contrast to the buzz of Hora or a day on the beach. You'll find traditional Mykonian homes and a community keeping local traditions very much alive. There are also a couple of handsome monasteries to visit, including Panagia Tourliani and its well-preserved bell tower.
Visit the dairies and farmsteads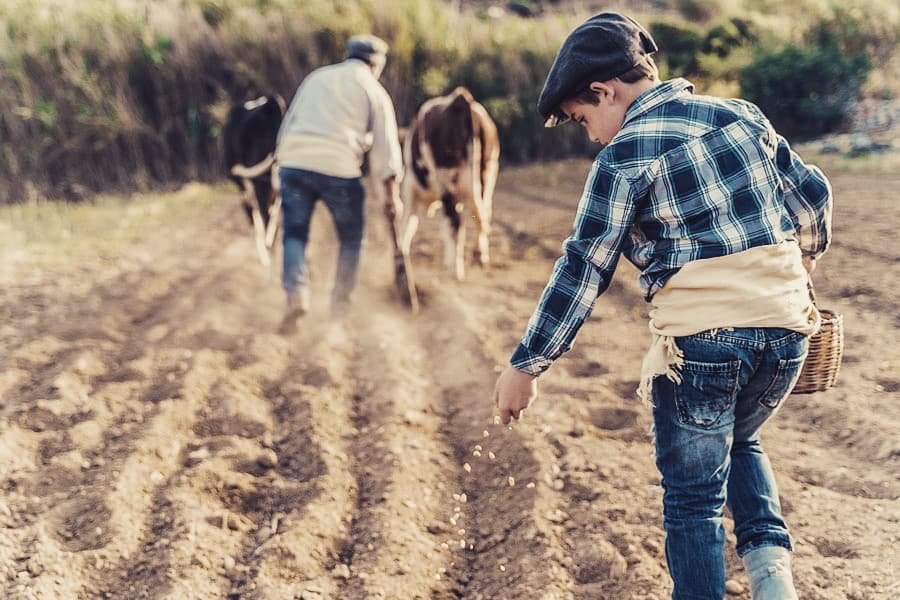 And once you've been to the villages, why not go the whole hog and visit Mykonos' dairies and farms? Behind all the whitewashed luxury and glamour of Mykonos, you'll find a scene of authenticity that's completely in tune with nature. Farm-to-fork dining experiences, where you pick your produce and cook a traditional meal with a local,  cheese-makers, apiaries … the list goes on. It's all Mykonos, but not as you know it.
Live nature to the fullest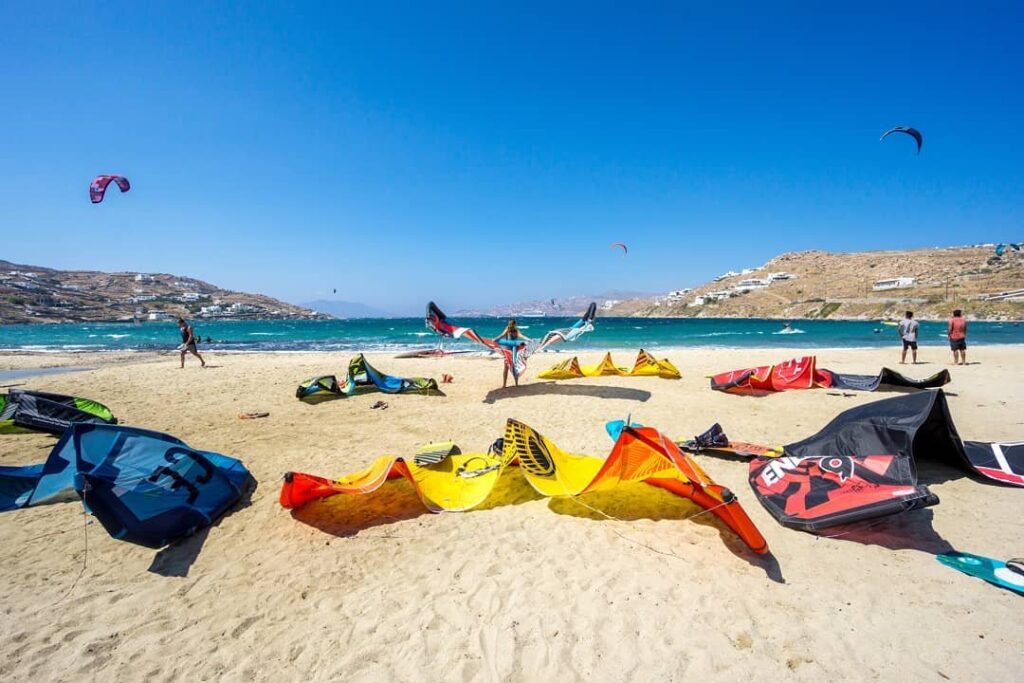 You'll have been smitten by the beauty of the sea and the landscape, so you'll need no second invitation to get active. You can enjoy kite- and wind-surfing, or perhaps scuba diving is more your thing. There's horse riding in the countryside and cycling (individually or as part of a group) on paths between villages or around the coast. Whenever you get the urge, pull into a cove and go for a swim. It's that kind of island.
Best Package Tours to Mykonos