What to Buy in Greece – Unique Gifts and Souvenirs Shopping
Introduction
What to Buy in Greece – Greece is gifted with a mild climate bringing a fertile soil rich in nutrients. The cultivation tradition of the country is dating back to ancient years while the knowledge base of production and farming of fermented p roducts is recognized in an international level. Besides, a wide range of Greek products have been privileged with the distinction of Protected Designation of Origin (PDO). More specifically, 101 Greek products have been awarded as Products of Protected Designation of Origin including cheeses, olive oils, vegetables and pulses, sweet beverages, the avgotaraho of Mesolongi (a salted flat-head mullet fish roe), the cherry tomato of Santorini, the crocus of Kozani and the mastic of Chios. The gastronomic spirit of Greece is one of the most healthiest and nutritional in the world and one has to taste the vast variety of fine wines, dairy products, garden vegetables and aromatic fruits to understand the spirit!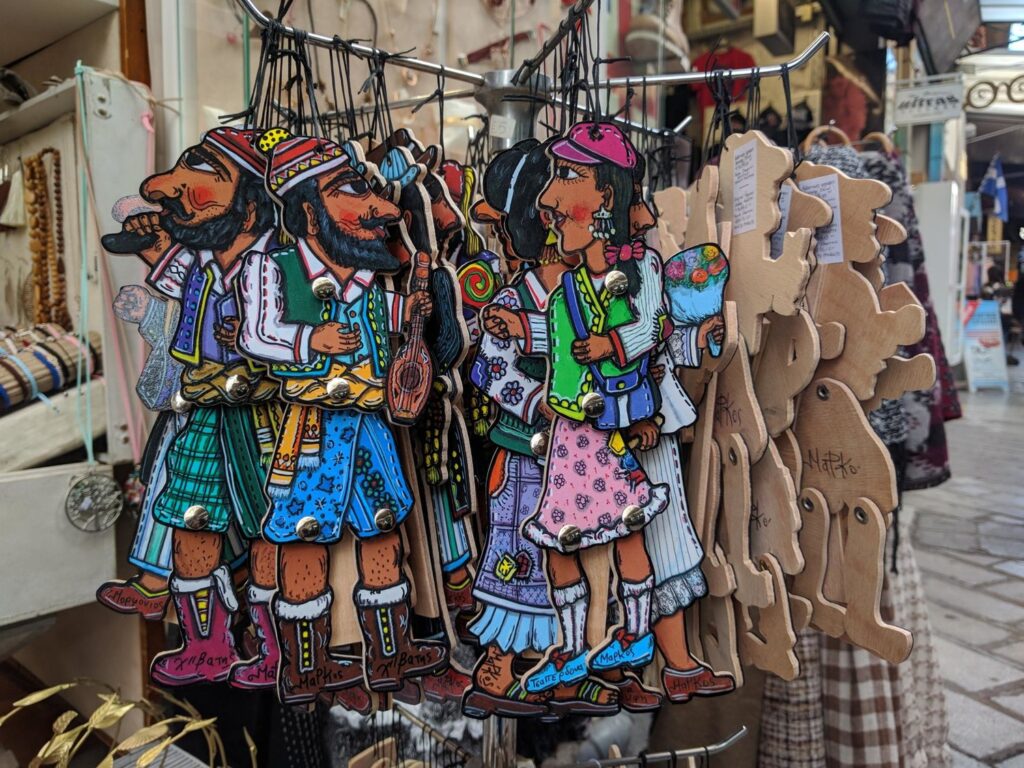 Going to Greece is an experience. No matter where you choose to go and how to spend your vacations, you will have a unique, wonderful time, see amazing things, be surrounded by wondrous history, and sample wonderful dishes from one of the best cuisines in the Mediterranean! When you return, therefore, you should have tokens to show for it! Just like the country, Greek souvenirs are unique and distinctive. What's more, the best things to buy from Greece come in a huge range and diversity, from the utilitarian to the ornamental- some manage to be both! The best Greek souvenirs also make for excellent gifts for your loved ones and your friends, as they often are only found in Greece in their original, pure form, including the ones specifically made for tourists. It's no accident that locals, too, buy Greek souvenirs because they simply are that good, and a great addition to any home, wardrobe, or pantry.
What, then, are the best things to buy in Greece?
Food Products from Greece
Greek Olives and Olive Oil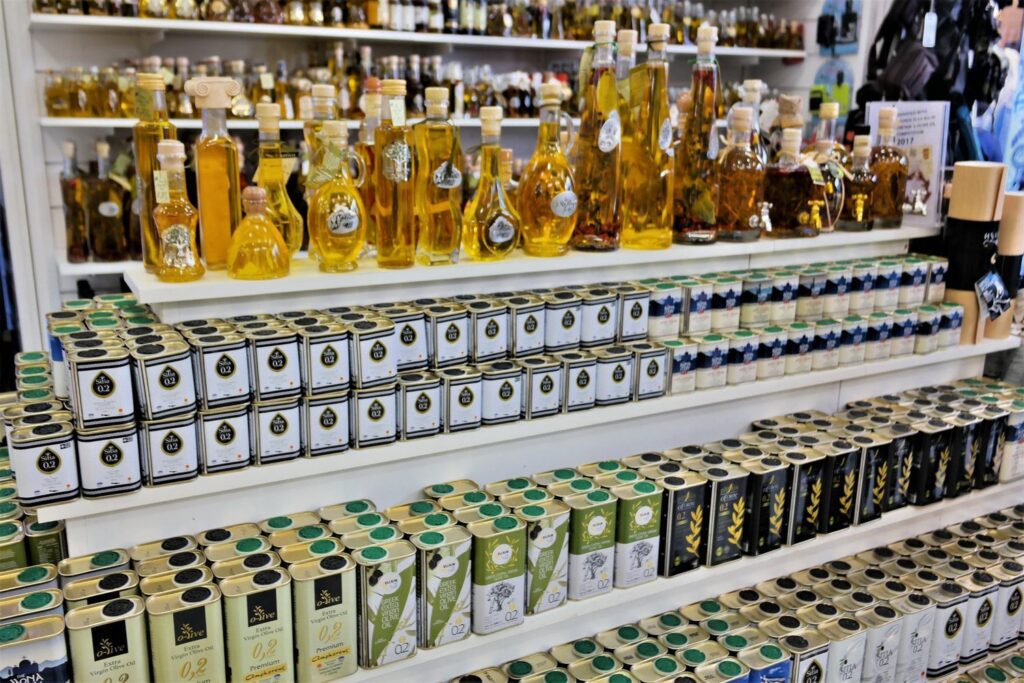 The most characteristic product of Greece is the olive oil, which is being used in all the recipes of the gastronomy of the country, and has gained worldwide recognition as it is considered one of the best olive oils in the world. Numerous labels have awarded as Products of Protected Designation of Origin and as products with Protected Geographic Indication from the regions of Agios Mathaios, Crete, Lakonia, Lesvos, Lygourio, Kefalonia, Olympia, Peloponnese, Preveza, Rhodes, Samos, Zakynthos, Thasos, Thrapsano and Trizinia. Another wonderful delicacy are the Olive Oils of the country which have also been honored with Products of Protected Designation of Origin varying to the color, size, and flavor of each type including the Olives of Kalamata and the Conservolia Olives of the regions of Amfissa, Arta, Atalanti, Chalkidiki, Chios, Crete, Euboea, Stylida, Volos and Thasos. Furthermore, you can buy delicious olives from the market (laiki agora), where you can taste them before you buy, while handmade kitchenware from olive tree wood are an excellent souvenir choice.
Greek  Honey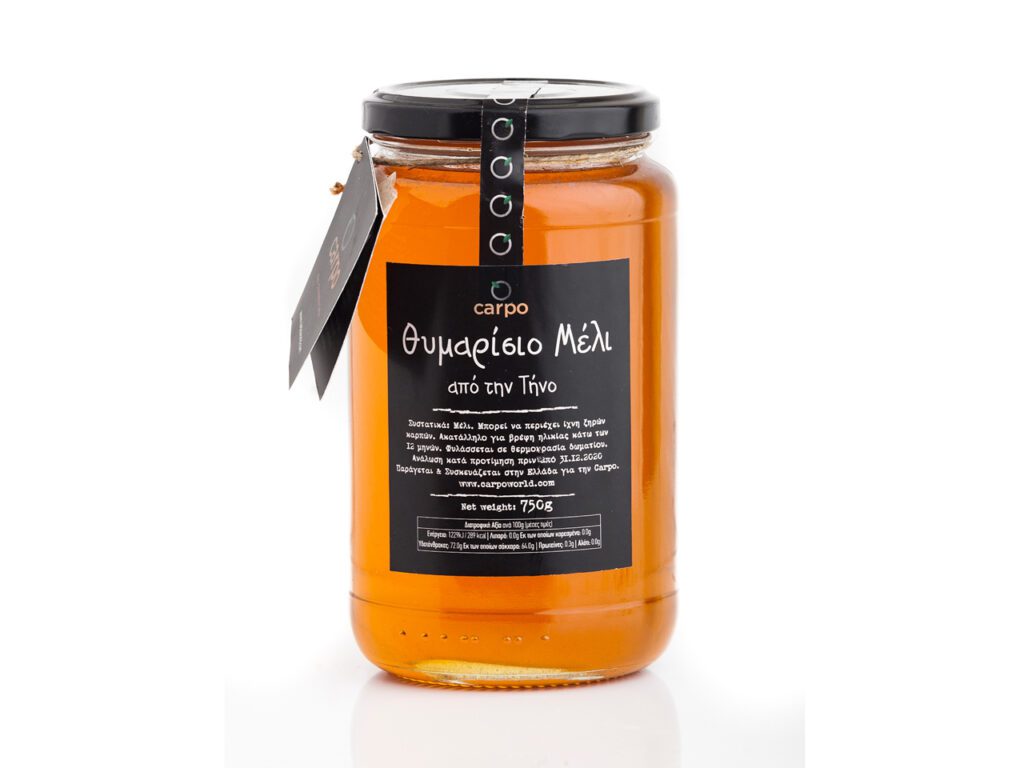 The ancient Greeks called honey "ambrosia"- the food of the gods, such was their admiration for it. The honey of Greece is popular for its irresistible aroma, high quality and outstanding taste deriving from the rich flora of the country comprising from numerous herbs and wild flowers. Among the most tasteful categories of honey are the famous thyme honey, the aromatic orange honey, the chestnut honey, the heather honey and various other types of flower honey, which are collected with aromatic plants including lavender and oregano.  The production of honey is a Greek tradition that dates back to the ancient years as it is the first sweetener of the diet of the Greeks, while the majority of the production involves fir honey, oak honey and pine honey which have high nutritional value. The best honey can be found in mountain villages and the best aromatic honey can be found in the islands! Taste the traditional honey topped sweets including the friend doughnut, called loukoumades, baklava and honey pies! Every year, 12.000 tones of honey are being produced in Greece!
Greek Spoon Sweets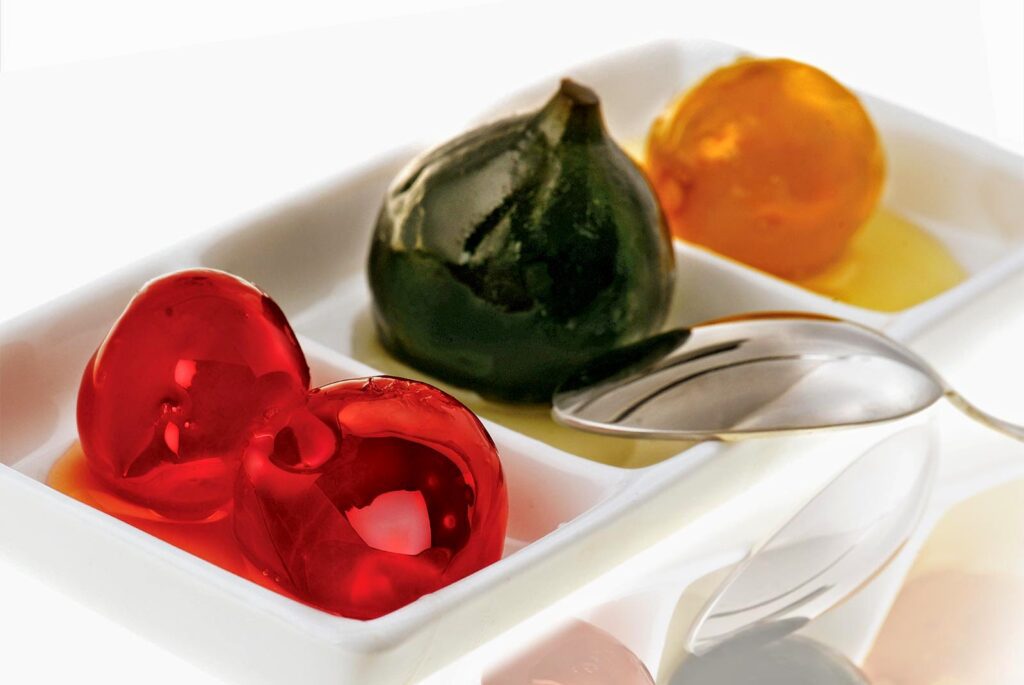 Spoon sweets are the most traditional treat to visitors in the homes of Greece, which is considered as one of the oldest customs of the country, and it is being served in a teaspoon. The sweets are being produced with natural ingredients during the season that every fruit ripens including grapes, figs, apricots, b erries, wild cherries, plums, bergamots, citrons
and quinces. The fruits retain their original taste, color and aroma while these fruits are also used in marmalades, jams and preserved fruits. Women have formed local Women's Agricultural Cooperatives all over Greece in order to preserve the traditional recipes of the country developing new skills and improving the production methods. Offering a spoon sweet to your guests is a wonderful tradition and a sign of hospitality! The island of Chios has specialties of spoon sweets including Lemon, Orange and Tangerine Spoon Sweets and a unique specialty called Ipovrihio (Submarine), in which mastic, a sticky substance, is combined with water, lemon and sugar and it is being served on a spoon in cold water. The island of Crete is known for its Baby Eggplant Spoon Sweet! The island of Ikaria is known for its Walnut and Sour Cherry Spoon Sweets! The island of Aegina is known for its Pistachio Spoon Sweet! T he area of Peloponnese is known for its Citrus and Orange Spoon Sweets! The island of Naxos is known for its Quince Spoon Sweets scented with leaves of lemon or roses! The island of Santorini is known for its Tomato Pomodoro Spoon Sweet seasoned with almonds and cinnamon!
Flowers, Fruits, Nuts and More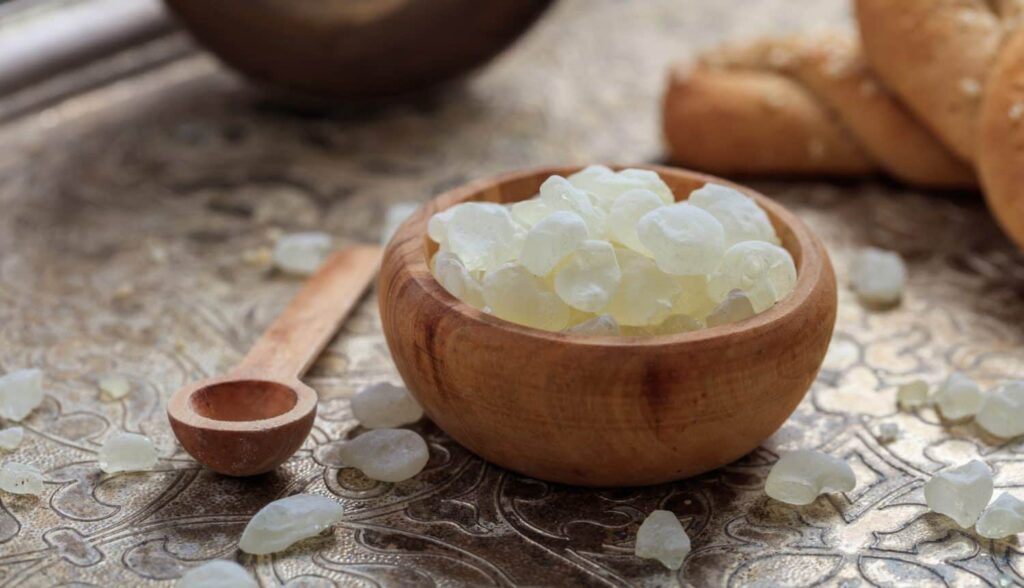 The countryside of Greece is home to s ome of the most exceptional products of great nutritional value. The Crocus of Kozani, a Product of Protected Designation of Origin, is a flower providing the saffron collected from the farmers, which are the stamens with a wonderful aroma, color and flavor with antioxidant properties. Beans are widely cultivated and some varieties have been honored as Products of Protected Designation of Origin and Geographical Indication, including the Legumes of Elephant and Megasperma of Prespa, the Gigantes (big white beans) of Kastoria, the Beans Mesosperma of Kato Nevrokopi, the Potatoes of Nevrokopi and the Fava (split peas) of Santorini. The variety of the Tsakonian Eggplant from Leonidio, a wide variety of f ruits including the Peaches of Naoussa, the Cherries of Rodohorio, the F igs from Kymi and Vravrona, the Pistachio Nuts from Aegina, the Honey from Mountain Mainalo, the Avrotaraho (fish roe) from Mesolongi and the Rusks from Crete are also Products of Protected Designation of Origin. Kiwi from Sperhios and P ieria, Kumquat f rom Corfu, Apples from Zagora, Kastoria and Tripoli, Oranges from Maleme of Chania, Potatoes from Naxos, Tangerines from Chios, Figs from Taxiarchis, Gum from Chios, Lamb and Goat from Elassona.
Pistachios from Aegina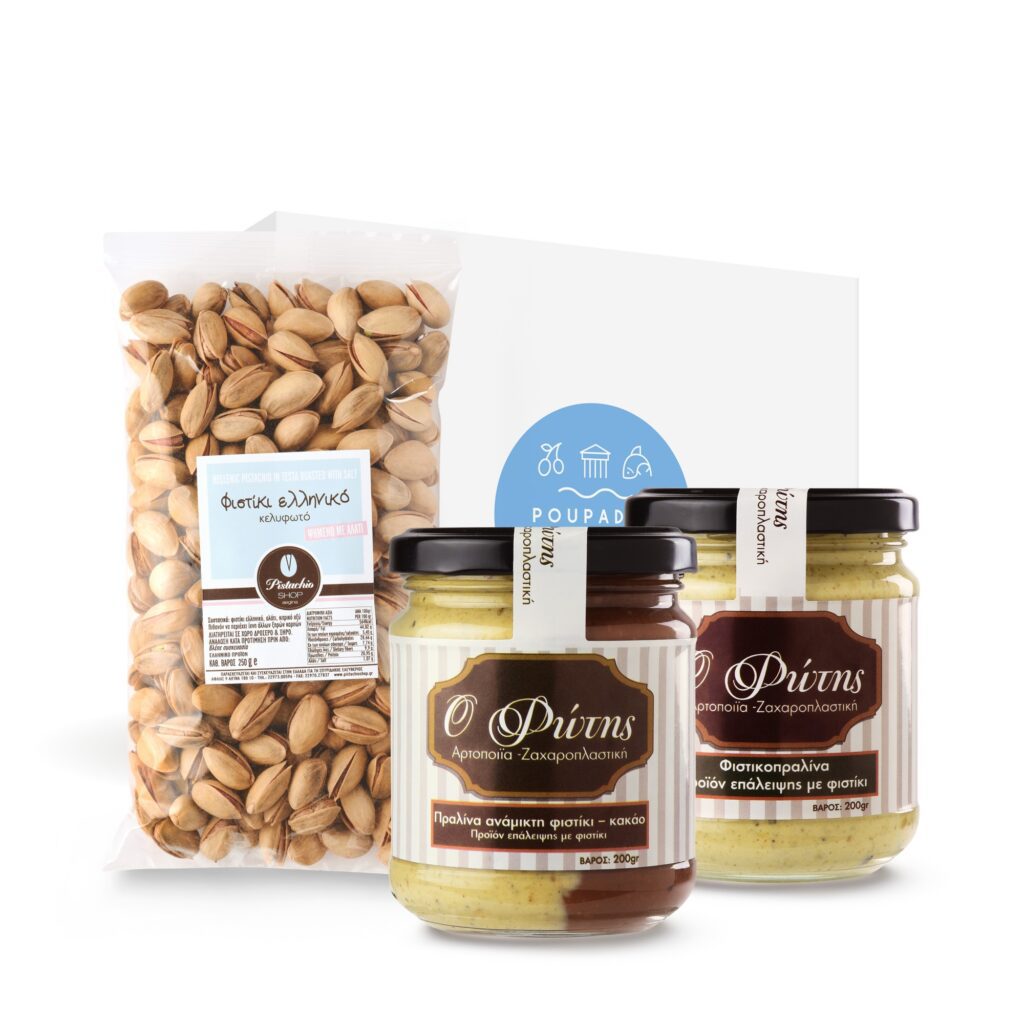 Different cities and region in Greece are known for one thing or another. But Aegina is known for its pistachios. The delicious, nutrient-filled nuts are not just popular in Greece, but in many countries across the world. The proximity of the Aegina land to the sea and its nutrient-filled soil makes it perfect for the cultivation of pistachios. You will find pistachios in small stalls around the country. You can purchase a bag or two, or buy products derived from pistachios like pistachios paste and oils, which make the perfect souvenirs for foodies.
Currants & Grapes & Wines
Greece has a rich tradition in viniculture from ancient times. Wine was a product of supreme importance in Ancient Greece as evidenced from the wine production of the Dionysian orders while the tradition continued through the Byzantine times, becoming a cultural element of great importance of the country. The wine producers and the viticulturists of Greece respect this tradition shown from a large number of Greek wines that have been awarded as protected designation of origin. Liquid treasures of traditional grape varieties can be found in the islands of the Aegean and the Ionian Seas and the regions of Attica, Crete, Epirus, Macedonia, Peloponnese, Thessaly and Thrace, honoring the long-lasting wine tradition of Greece.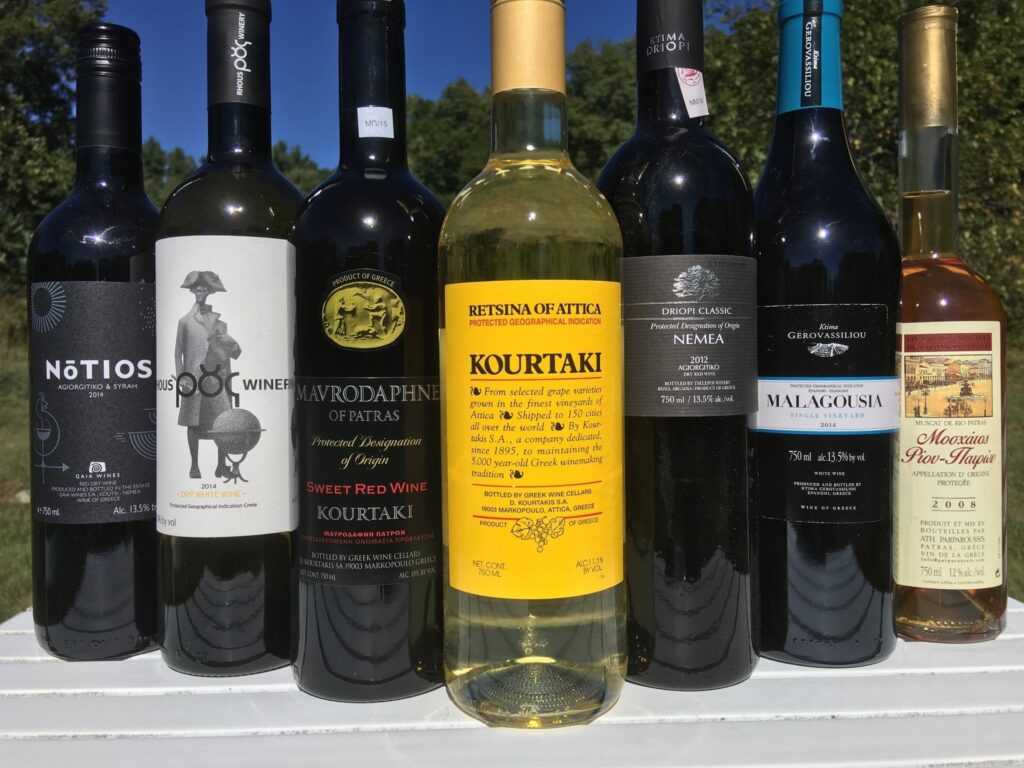 The Sultanas and Currants of Greece are one of the most ancient products of the country with beneficial properties and nutritional value growing in the entire region of  Peloponnese, the birthplace of this sweet product used in traditional cooking. Sultanas are a type of large seedless grapes with a delicate flavor and Currants a re small black sweet seedless grapes. The currants from Zakynthos and Vostitsa, and the Raisings from Corinthia and Ilia are Products of Protected Designation of Origin . Read more on Greek Wine and Wine Routes
Greek Cheese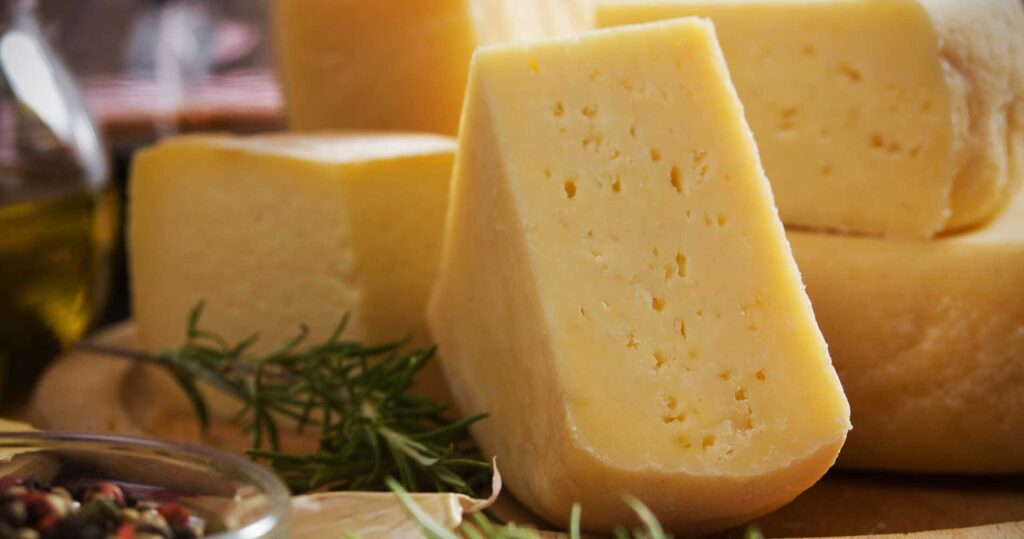 The rich tradition of Greek cheese in Greece in animal husbandry is reflected in the exceptional dairy products  of tasteful cheeses with beautiful aromas. Twenty types of cheeses have been honored as Products of Protected Designation of Origin included Feta, one of the finest cheeses, Graviera (hard yellow round rind) from Agrafa, Crete and Naxos, Xynomizithra (soft white cheese) from Crete, Katiki ( low fat soft white cheese) from Domokos, Sfela (a strong tasting white cheese) from Mani, Formaela (a hard hellow cheese) from Arachova , San Michael (a yellow cheese) from Syros, Ladotiri (olive cheese) from Mytilene, Kalathaki (brine white cheese) from Limnos, Anevato (soft white cheese), Galotiri (milky type of cheese), Kaseri (medium-hard pale yellow cheese) , Kefalograviera (hard and salty yellow cheese) Kopanisti (salty, spicy cheese) , Manouri (mi-soft fresh white cheese) and Metsovone (semi-hard smoked cheese). Read more about Greek Cheese.
Greek Spirits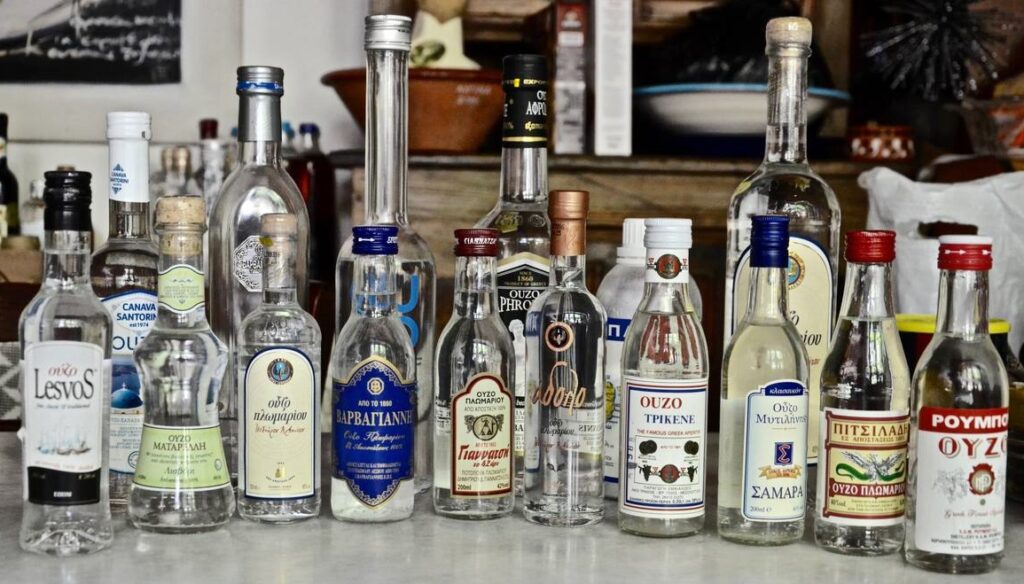 Owing to the extensive knowledge of wine in Greece, there is a long tradition in the distillation of traditional spirits of Ouzo (an a nise-flavored spirit), Raki (an unsweetened, anise flavored alcoholic spirit) Tsipouro (pomace brandy) the trademark of Greek celebrations, which continue to be manufactured in traditional distilleries. Another unique product of Greece are the local liquors which are produced with natural products of cranberries, mastic, mint, plus and walnuts, that lend their aromas to unique alcoholic spirits. Liquid treasures of spirits are the Ouzo of Mytilene, the Raki of Crete, the Ouzo and Tsipouro of Tyrnavos, the Ouzo of Macedonia, the Koumkouat of Corfu and the Kitro of Naxos showcasing an excellent taste. Koum Kouat of Corfu is a traditional liquor of Corfu, which is produced from kumquat fruits with an exquisite aroma and taste resembling strawberries and flowers. The product is exclusively produced in the island of Corfu. Kitro of Naxos is a traditional liquor of Naxos, which is produced from the citron leaves of the island of Naxos. This elegant aromatic spirit aids digestion with its sweet citrus fruits aromas.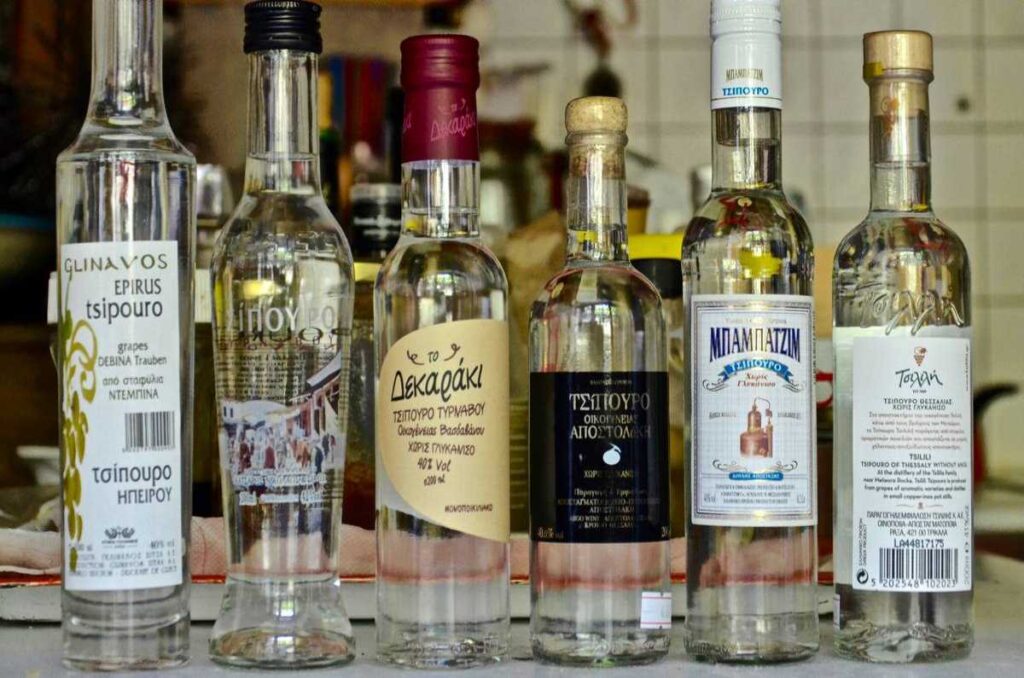 Mastic is a traditional liquor of Chios, which is produced with the resin of the Mastic trees that are solely grown in the island of Chios. It is usually enjoyed untreated. According to Hippocrates, mastic has therapeutic properties for stomach disorders.  Ouzo is a traditional alcoholic spirit of Greece, which is produced from distilled alcohol, aromatic ingredients and water with aniseed prevailing. It is usually enjoyed either neat or with added ice or water served with mezedes (appetizers). The islands of Lesvos and Chios are renowned for their ouzo! And remember to drink ouzo with everything that comes from the sea!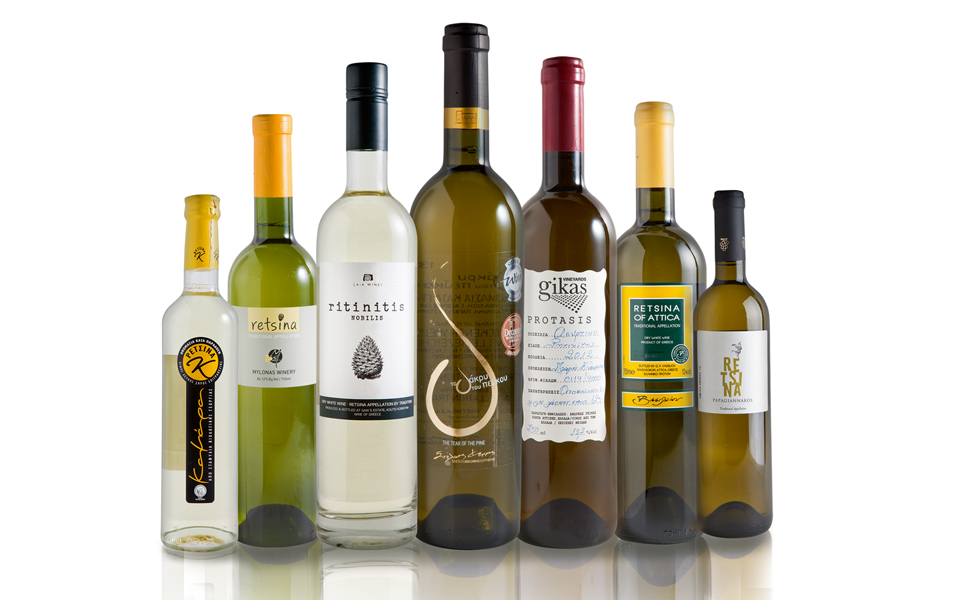 Retsina is a traditional alcoholic spirit of Greece, which is produced from the resinated white or rose wine flavored with pine resin. The regions of Attica, Voiotia, and Euboea are known for their Retsina! Tsipouro is a traditional pomace brandy of Greece, a strong distilled alcoholic spirit which is produced from the residue of wine press, the pomace, and it is enjoyed either pure or anise flavored. However, the spirit is called raki or tsikoudia in Crete owing to its stronger aroma! The regions of Epirus, Macedonia, Mani, Thessaly and the island of Crete are renowned for their tsipouro! And remember to drink tsipouro with everything that comes from the mountain!
Herbs and Spices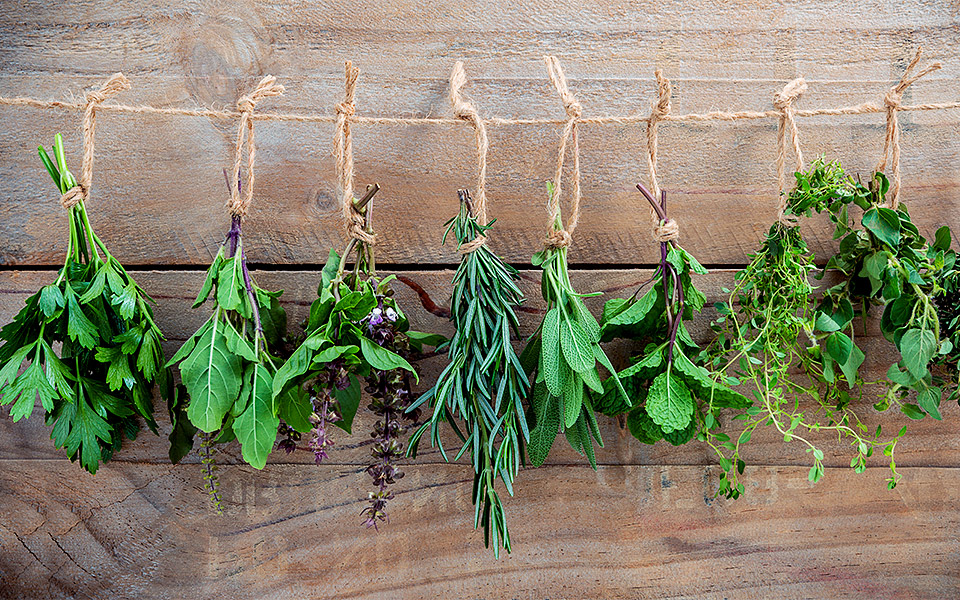 Rigani (oregano) is used a lot in Greek cooking appearing in most meat dishes, baked vegetables, sauces and of course on Greek salads. This is the most widely used herb. Among the other herbs which grow on the hillsides of the Greek mainland and the islands dendrolivano (rosemary) is used sparingly, in fact I can think of only two recipes. One is a vinegar sauce for fish that my mother used to make and the other is with lamb and roast potatoes though this may be more common among the Greeks I know than those of the general population. Thymari (thyme) is used in some meat dishes and for flavoring some olives as well as some of the best Greek honey. Faskomilo (sage) can be smelled all over the mountains and is used in a tea. Diosmos (mint) is used to flavor keftedes (meatballs) and in some pies and salads. Vassilikos (basil) which is one of my favorite herbs is actually not eaten in Greece though you will see it grown ornamentally or for good luck in gardens, apartments, rooftops, restaurants and even on boats. Anitho (dill) is used in pitas (pies), salads and dolmadas. Maidanos (parsley) is used as a garnish as well as in some meat and vegetable dishes. Dafnofila (bay leaves) are used in some soups and stews. Selino is actually wild celery and is used in some stews, particularly the hirino me selino which is served in the winter. Garifalo (cloves) are an important ingredient in stifado and is also used in breads and sweets. Kumino (cumin) is used in soutzoukakia, the spicey meatballs served in tomato sauce. Sousami (sesame seeds) are used on breads and in halva and with honey to make a sweet called pasteli. Kanela (cinnamon) is used in many sauces and deserts and is sprinkled on apples for a desert after a big meal.
Traditional Goods from Greece
Bouzouki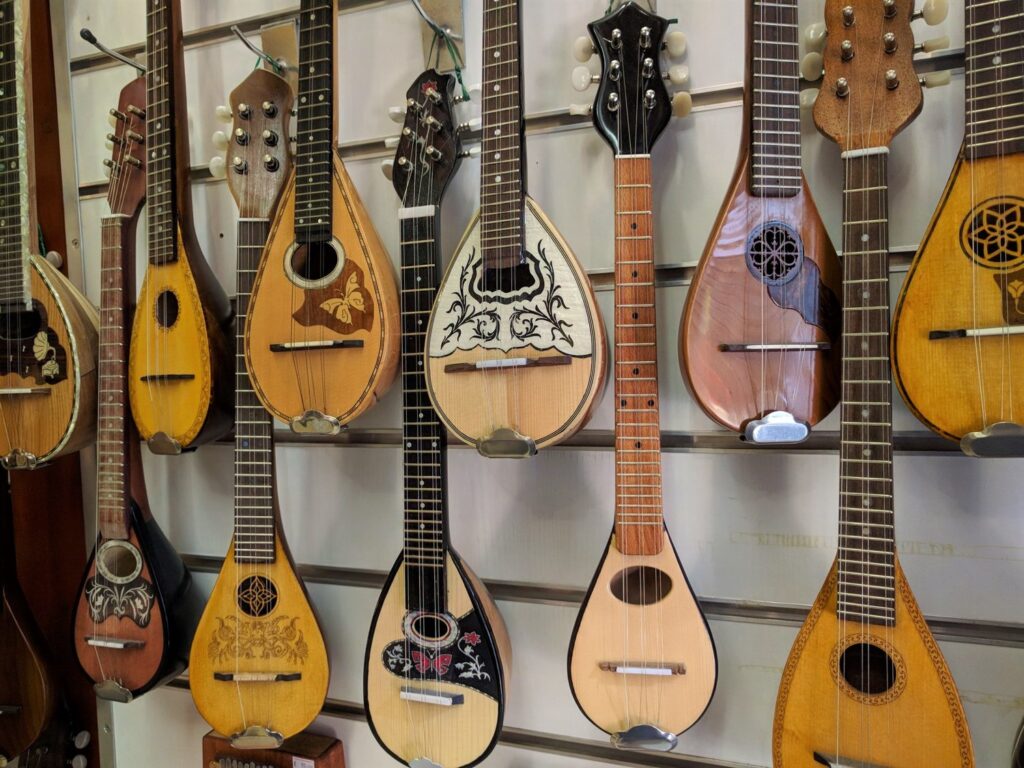 If you are or know a music lover and want to get something different, you may want to consider a bouzouki, a musical instrument that has a very special place in the hearts of Greeks. Bouzouki's ancestor is pandura, which has been in use in ancient Greece since 4th century BC. Bouzouki itself became popular after the 1919-1922 war in Asia Minor between Greece and Turkey, from the waves of immigrants that fled to Greece. Soon it became popular and the main instrument in the rebetiko subculture. If you want a smaller and less expensive option they also have miniature ones!
Traditional Clothing
Greek fashion is distinct, informed by the millennia of history and various powerful moments in it that defined who the Greeks are. So you can preserve that and take it home in the form of various types of traditional clothing.  You can buy a Greek fez, a fustanella or gold-embroidered jacket with wide lush sleeves, traditional flowy shirts, and embroidered aprons and skirts, and of course, you can buy the iconic tsarouhia: the shoes with pompoms, made of heavy leather and nails which the Evzones still wear when they guard the Tomb of the Unknown Soldier. They are legendary shoes that made it onto the feet of soldiers as recently as even WWI! Of course, you can also go for the ancient fashions, and buy yourself a tunic or a dress in archaic styles, with the matching accessories.
Leather sandals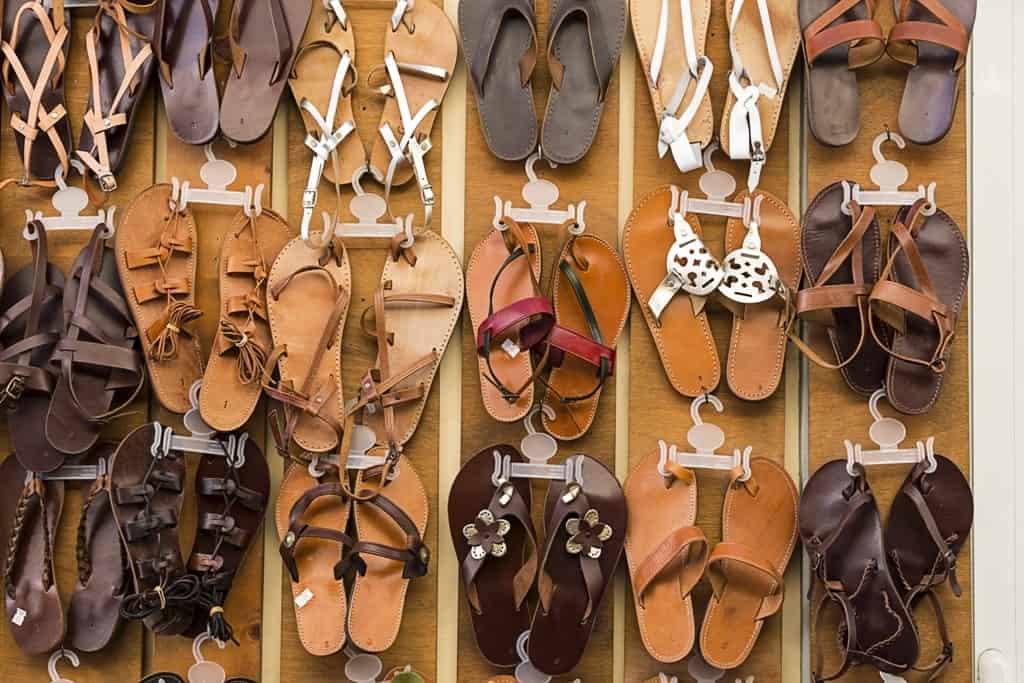 Wear the footwear the ancient Greeks and Romans, and even Byzantines would wear as the norm! In Greece you can find an astounding variety of historically accurate replicas of sandals from all historical periods, ready to wear. You can also find new, modern interpretations of various sandal designs, perfect for walking around the streets of Athens, at the islands, or the mountains in the heat of summer while your feet comfortably breathe.
A mati talisman for the evil eye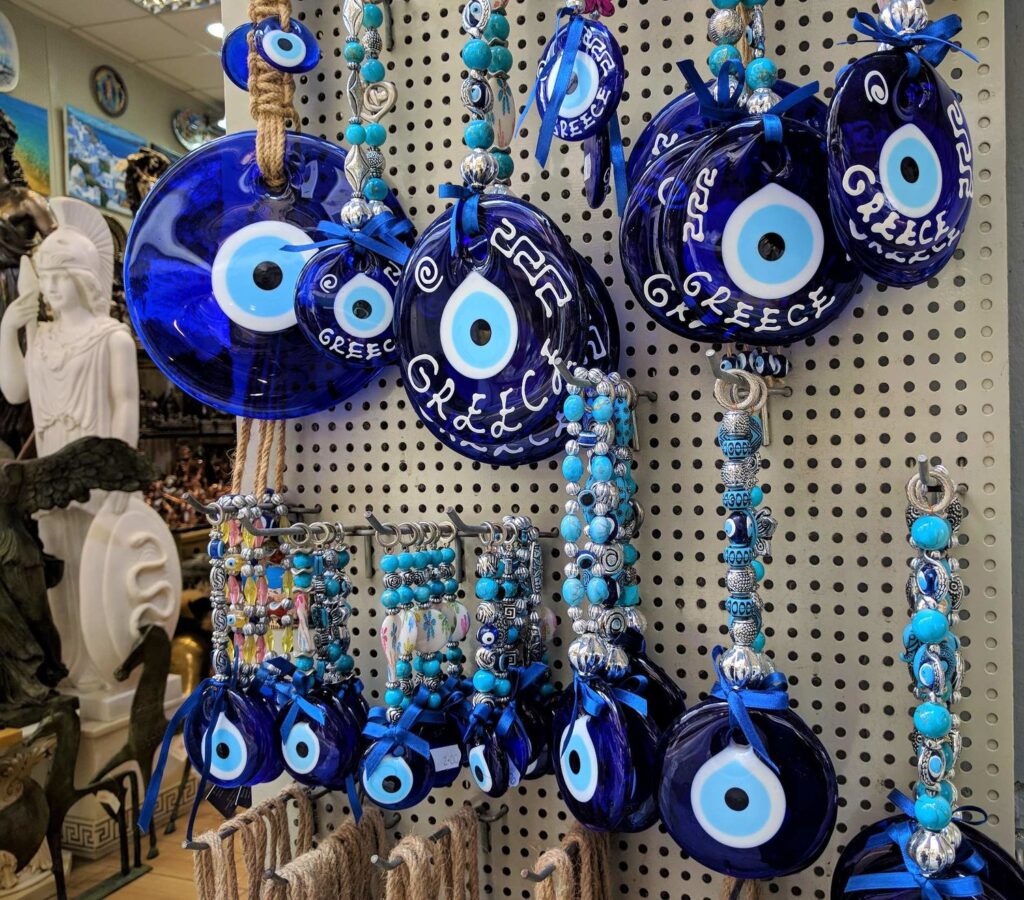 During your stay in Greece you will most likely notice this peculiar blue talisman that resembles an eye, in different shapes and sizes, usually on jewelery. The mati (eye) is considered to protect the user from the evil eye and is extremely popular in Greek folklore. The evil eye is generally a curse given to someone by a malevolent glare, due to feelings of anger or jealousy or even admiration, and it is believed to bring misfortune to the person receiving the curse. Belief in the evil eye goes back to at least the 6th century BC. It has been mentioned in the writings of Hesiod, Plato and Plutarch, among others, and during classical antiquity it was often depicted in ceramic drinking vessels. The mati-charm, according to Greek tradition, will protect you and your beloved ones from any bad glares and send the evil thoughts back to the onlooker.
Religious icons and items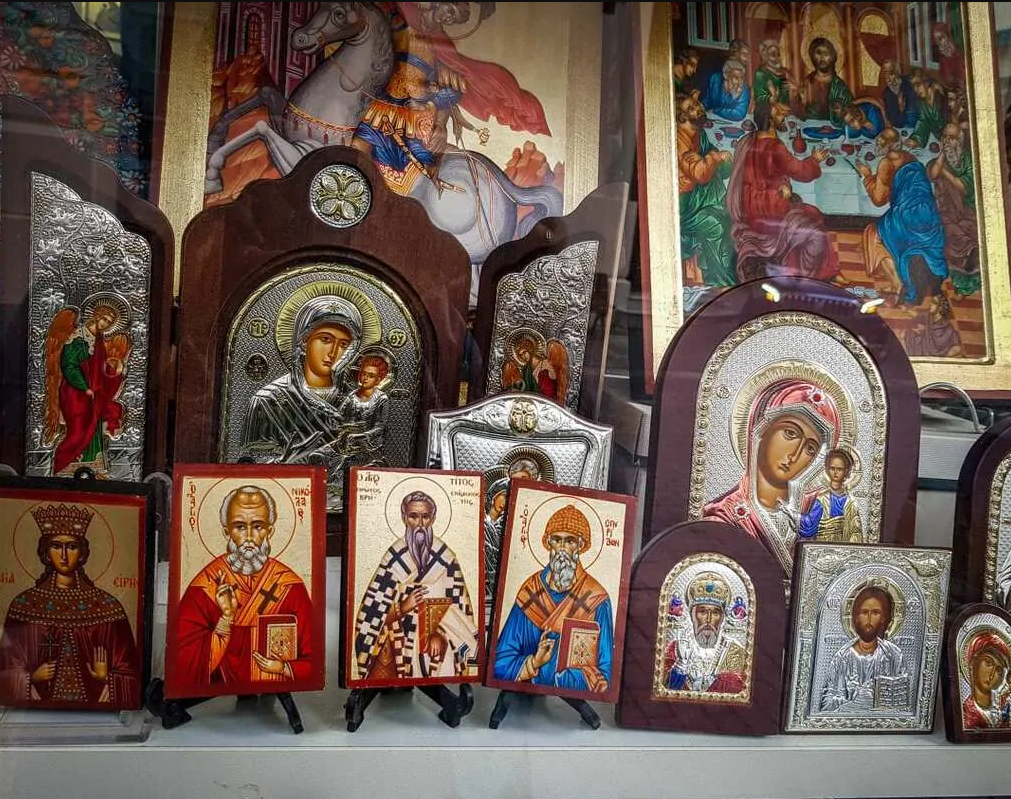 Greece is highly known for the religiosity of its people. The sheer art that can be found in the form of religious icons and other religiously themed artifacts is simply astounding. Especially when it comes to Byzantine iconography and silver work, you have the chance to take with you a token of Greece's heritage and soul. Most of the religious icons and other items are handmade, and often the artist has made them while deep in prayer (especially in traditional gold-coated and silver icons).
Komboloi – Worry Beads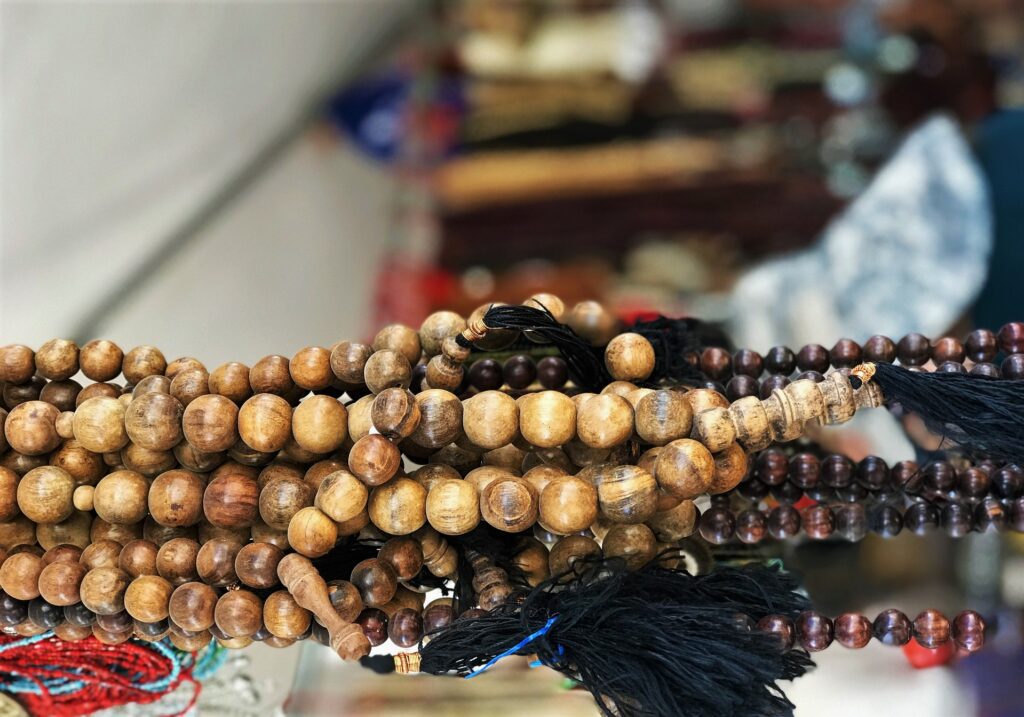 Komboloi or Worry Beads were an old and simple stress-release device used by men in the past. They kept short strains of the beads in their pockets, and played with them, passing them around their fingers. These old-style beads are made of wood, amber or glass, which makes them pleasant to touch, definitely different then plastic items we use nowadays. If your friends stress easily – you know what to give them.
Replicas of ancient artifacts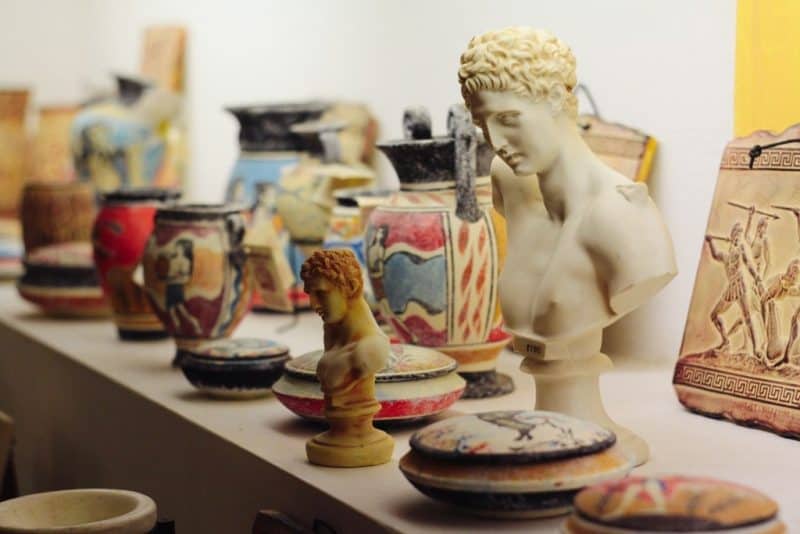 Another great souvenir to bring from Greece is, of course, a faithful replica of some of the most famous ancient statues, urns, reliefs, and even friezes that we associate with Greece. There are several beautiful replicas, some to scale, others in smaller or bigger sizes, which you can take home with you of gorgeous artwork you saw in various museums and at archaeological sites. You will find several types, with more or less accuracy, with the best ones being available in the various museum shops and those bearing similar certifications. You can even have elaborate chess pieces and chess board sets, with representations of the Greek gods and heroes, and a lot more!