Honeymoons in Turkey : Find your romantic escape
Best Honeymoons in Turkey
Numerous factors play a role in determining the ideal honeymoon destination. The perfect location includes some picturesque backdrops, plenty of attractions, shopping venues and definitely a luxurious place to just relax in a loved up bubble of peace.  At Eskapas, we believe that Turkey is just the place for a honeymoons. This beautiful country is ideal for destination weddings and just as perfect for honeymoons.  With turquoise waters, colorful bazaars, hundreds of historical sites and unforgettable landscapes, Turkey is a dream destination.
Turkey's spectacular coastlines, magnificent landscapes and exotic cities make it the perfect backdrop for your special occasion, whether it's a wedding, blessing or honeymoon. The breath taking scenery and warm climate, coupled with a rapidly improving infrastructure and tourism centers means organizing a wedding in Turkey is no longer the difficulty it once was. Even so, organising a wedding abroad can still be quite daunting, especially if you're not familiar with the language, culture and the local bureaucracy. That's why we recommend that you choose one of the many tour operators that now specialise in weddings to Turkey or honeymoon in Turkey, making the process simple and stress-free – some companies will even tailor your weddings to suit your personal preferences and budgets. Whether it's a fairy-tale wedding in the enchanting and exotic Istanbul, a honeymoon aboard a traditional sailing boat or a blissfully tranquil blessing in one of Turkey's many secluded coves or castles, Turkey offers endless ideas for a truly unforgettable wedding experience.
Marriage Formalities in Turkey
According to Turkish Marriage Legislation and regulations, a Turkish national and a foreigner or two foreigners with different nationalities can get married in Turkey, only before the competent Turkish authorities. Two foreigners from the same nationality can marry either in the offices of their own Country's Embassy or Consulate or before the Turkish Marriage Offices.
All the marriages to be conducted by the Turkish authorities should be regulated according to the merits and procedural provisions of the Turkish Civil Code and its related regulations.
Amazing  Honeymoons in Turkey
Aegean Coast: There are lots of lovely honeymoon destinations to list, check out some of our favourite honeymoon spots on the Aegean coast of Turkey:  Bodrum, Marmaris, Cesme, Alacati, Oludeniz, Fethiye, Ayvalik, Kusadasi, Datca.
Mediterranean Coast: Check out just a small fraction of some of the most beautiful locations for your honeymoon on the Mediterranean coast of Turkey: Antalya, Kas, Kemer, Side, Belek, Alanya, Lara, Konakli, Kalkan, Demre.
Romantic Spots: Turkey is the perfect romantic getaway to celebrate honeymoon for couples. Feel the love and enjoy your honeymoon in the diverse and exciting land of Turkey: Istanbul, Pamukkale, Cappadocia, Bozcaada Island, Bodrum, Princes' Islands,
Turkish Honeymoons
Weddings can be a stressful time for all those involved. Planning can take up to a year and all the details can leave you and your families feeling exhausted. There are so many choices to be made such as finding the perfect venue to selecting the most beautiful dress in the world. All of this can leave you feeling burnt out after the wedding. That's why the honeymoon is so important.  After all the planning, it's time for you and your partner to relax and bond. What better way than to do it than with a romantic honeymoon at a picture-perfect destination?
Consider your honeymoon in Turkey with Eskapas!
Honeymoon in Istanbul : Romance on the Silk Road
Magical, mystical, exotic and enchanting, Istanbul is undoubtedly one of the most romantic cities in the world. Spanning two continents, Istanbul displays a fascinating blend of east and west, as well as ancient and modern. Wander through the meandering streets of Istanbul, and you will find there is something to surprise you at every turn. Whether it's impressive historical sites such as the Blue Mosque or Topkapi Palace, the spectacular scenery of the Bosphorus, or the tantalizing colours and aromas of the Bazaars and markets, Istanbul is an enchanting fusion of romance and adventure that makes it an ideal venue for weddings, honeymoons and blessings.
Honeymoon equals romance, and Istanbul drips with passionate memories waiting to be had. Istanbul offers a stunning array of venues for blessings and ceremonies for the renewal of vows, for all denominations of faith, including Christian, Islamic and Jewish. Christian couples may choose from a wide selection of ancient churches. For a unique Jewish ceremony, synagogues such as the Ahrida, one of the oldest and most significant in Istanbul's long history, offer a magical setting for a blessing.
With a delightful abundance of both unique historical sites and sophisticated hotels, you will be spoilt for choice regarding venues for your special occasion. For a more comprehensive selection and full list of the hotel venues and Ottoman style mansions, please contact us for our tailor-made solutions
Istanbul is known as the imperial city and the official point where the eastern world meets the western world. As a result, this city is a feast for the senses as the opposing cultures combine in a spectacular way. In Istanbul, you can experience wonderful cuisine, extraordinary cultural experiences, amazing architecture, natural beauty, and lively nightlife in a way that can't be found anywhere else in the world. September and November are the best months for visiting, but it is a worthwhile destination regardless of the season.
What to do & Where to Stay
Take a romantic cruise along the Bosphorus to see both the Asian and European sides of the city. There are also religious sites such as the Hagia Sophia, the Blue Mosque and the Suleymaniye Mosque. Galata Bridge is a great stop to watch the sunset and enjoy a romantic dinner at a local cafe. The Grand Bazaar in the city is one of the largest markets in the world where you can find great deals. The Hamams (Turkish Baths) of Istanbul is also a popular way to unwind and relax. Accommodation in Istanbul is excellent. Consider staying at the palatial Ciragan Palace Kempinski which is the only Ottoman Imperial Palace a on the Bosphorus – a honeymoon fit for royalty.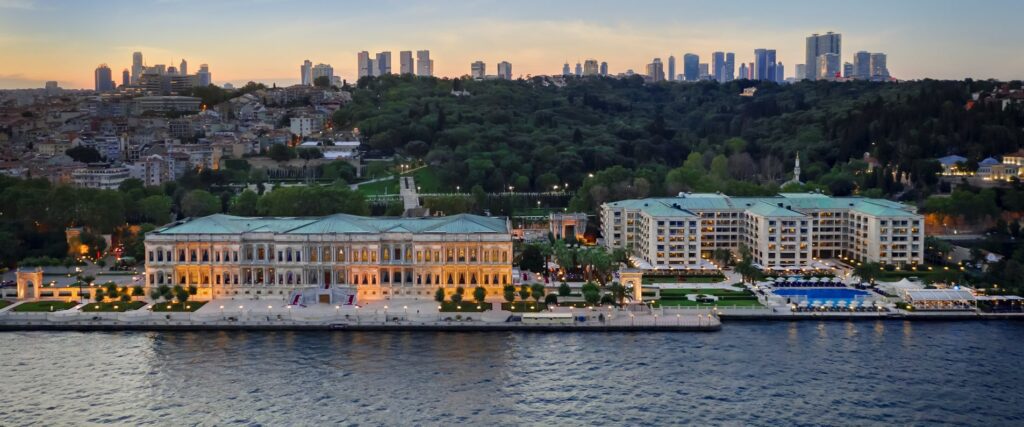 Majestic only begins to describe this magnificent, sprawling palace. Balconies overlooking the massive grounds and the Bosphorus allow you to enjoy the sights and sounds of this magical place. Spend at least a half-day, in the incredible spa, and then leisurely stroll the grounds until you are ready to dine in one of the superb restaurants, all with spectacular views.
The sprawling city has countless views from which couples can have their photo snapped or profess their love for one another. Climb to the top of one of many rooftop terraces for a sunset beverage while soaking the scene. Recommended viewing stops are the Ararat Hotel and 5kat, two spectacular hotel terraces with completely different panoramas. If you want a lovely view of the Old City and its playful seagulls while sharing a romantic dinner, try La Mouette, a restaurant that blends French and Turkish cuisine for an unforgettable dining experience.
Another superb hotel is Les Ottomans Istanbul located on the Bosphorus along the main intersections of the city. Les Ottoman offers unrivaled luxury and personal services like nowhere else on earth!
The Four Seasons brand is the pinnacle of luxury. A honeymoon at a Four Seasons resort is what many newlyweds and engaged couples dream of. The beautiful locations, exquisite taste, and top-notch customer service make the Four Seasons a great choice for a honeymoon no matter where you go. The one in Istanbul is really exceptional.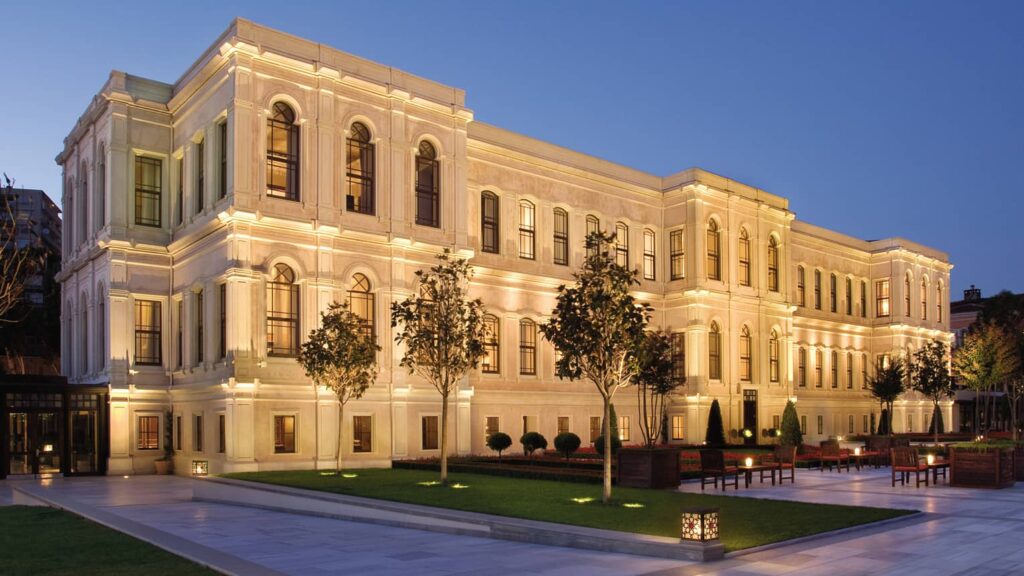 Turkish Islands Honeymoons
These islands are perfect for strolling with their quiet cobblestone streets lined with charming houses and immaculate gardens. Many of these islands are so alluring that it is often difficult for visitors to choose which ones to explore.  Some islands are destinations within themselves for summer breaks, while others make interesting day trips while on your travels. Even the sprawling metropolis of Istanbul has an island group just a ferry ride away for those who need a breather from city slicker life. Read more on Turkish Islands.
Bozcaada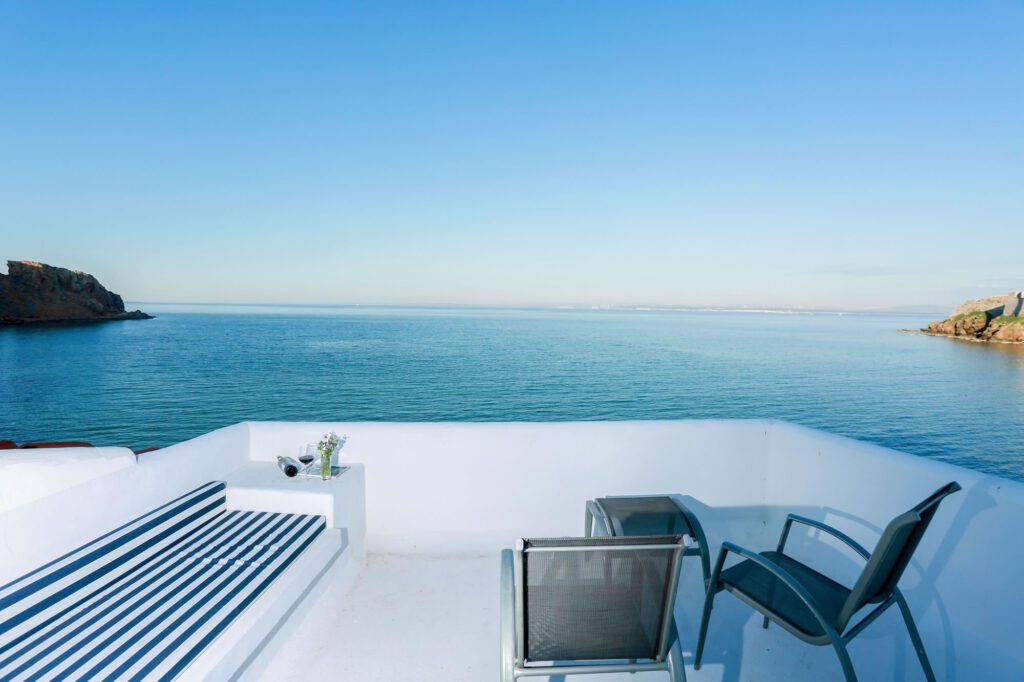 Bozcaada is a favorite Turkish island escape, and its beaches and relaxed vacation attitude make it a top honeymooning choice. While more active couples can windsurf and kitesurf off the beaches here, Bozcaada's real charm lies in there being little to do except slow down and simply enjoy the tranquil pace of Aegean island life. Take a drive trip through the island's interior, where vine-draped fields stretch across the hills, before soaking up the sun on one of the island's beaches. Spend an afternoon exploring the cute old-town district of Bozcaada Town, which has held onto its vernacular Aegean architecture, and then dine on fresh seafood while enjoying the views as the sun sets over the Aegean Sea. Bozcaada's boutique hotels are made for stylish romantic breaks, and many have terraces with sea views. If you do feel like doing some more sightseeing while here, you can easily visit the archaeological site of Troy while based on Bozcaada Island, or even tag a road-trip along the nearby Biga Peninsula onto your honeymoon after your island stay
Alaçatı Honeymoons
For a fashionable seaside honeymoon escape, head to Alaçatı. This old fishing village, now turned chi-chi beach resort is Turkey's Aegean Coast hot-ticket destination. Today, this small seafront town, on the Çesme Peninsula, throngs with a high-class Istanbul crowd throughout the summer months. Alaçatı is full of preserved old fishermen's cottages, and some grander mansions, which have been painstakingly restored to home intimate, high-end boutique hotels; quirky cafés; and smart restaurants that highlight the Aegean's regional cuisine.
Active couples will want to get out onto the water, as Alaçatı is known for being Turkey's top windsurfing destination. For those who want a more relaxed experience, it's all about lazing on the beach, lapping up Alaçatı's sophisticated café scene, and feasting on some of the best food you'll find along the Aegean Coast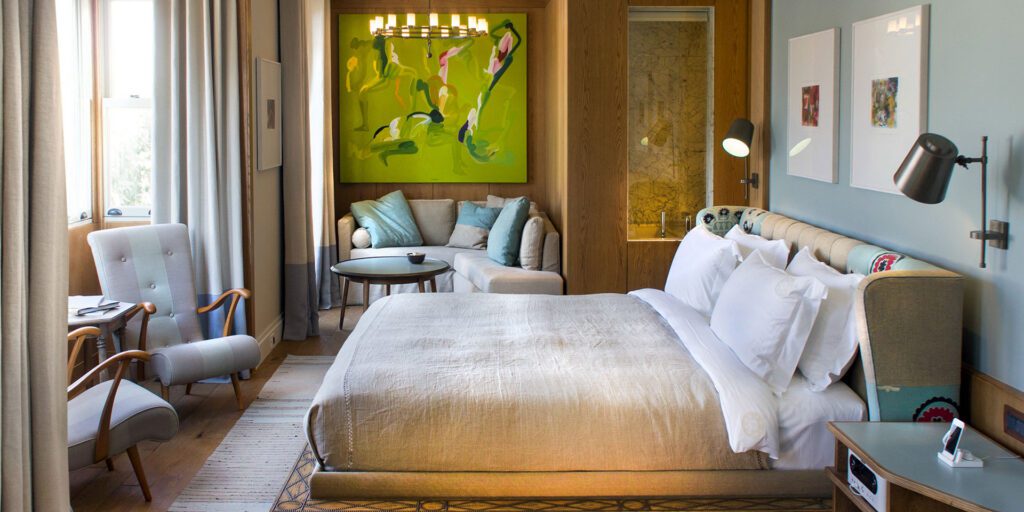 The city is known as the Land of Beautiful Horses and is one of the most spectacular honeymoon destinations in Turkey. With exquisite rock formations and impressive valleys, Cappadocia is one of the most enchanting places in the world. The area is popular for its hot air balloons which give a breathtaking scenic view. Travelers can enjoy this region at its best from April to May or from September to November. Close by is the town of Goreme which is known for its air chimneys, antiques and carpet shops. Goreme even offers visitors an opportunity to stay in a cave hotel.
What to do & Where to Stay
You can choose to see the magnificent landscape from above by booking a hot air balloon experience. Alternatively, you can marvel at the scene by watching from a rooftop with some tasty refreshments. In Goreme, you can also explore the cave formations and visit the delightful open-air museum with its beautiful paintings and cave churches. Additionally, you can explore the underground cities of Kaymakli and Derinkuyu for a completely unique experience that can't be found anywhere else. This truly is a destination for couples who are nature lovers, as there are many great hikes in the valleys of Cappadocia. A honeymoon here will be both enlightening and exciting. While wandering around Cappadocia, we suggest staying at Argos in Cappadocia. The hillside setting has rooms that are built into the caves. Plus their sun-soaked terraces are the perfect spots from which to watch the hot air balloons soar over the valley. Honeymoons in Turkey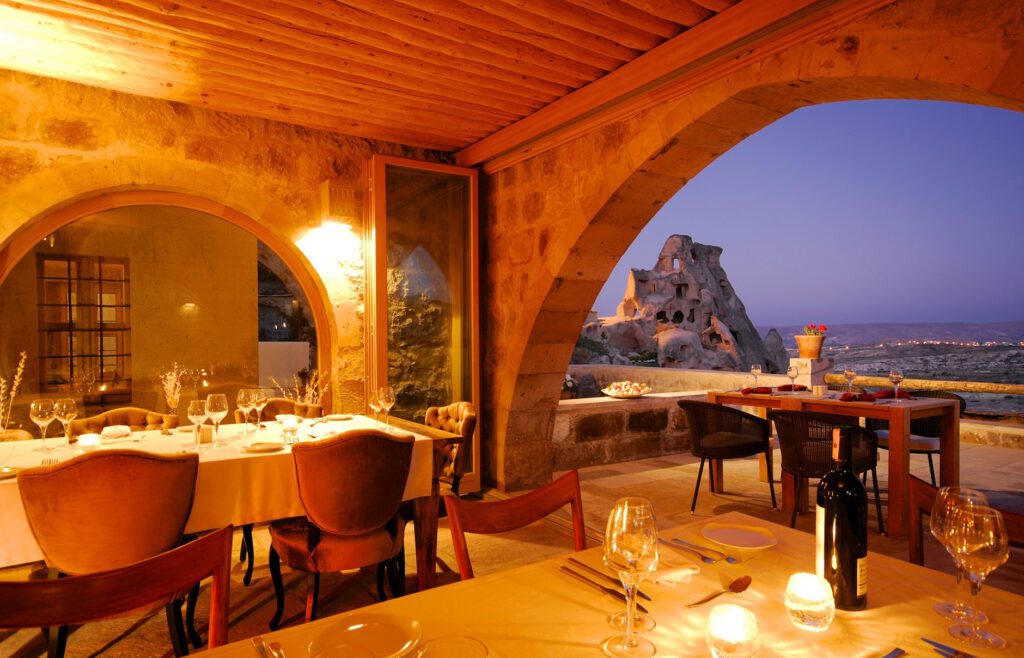 Bodrum is known as the amazing ancient city located on a crystal clear stretch of the Aegean Sea. This is one of the best vacation spots in Turkey and offers something of a European feeling. The city has stunning beaches which are perfect for any couple on their honeymoon. The waters are picturesque and it is the ultimate destination for a laidback and relaxing trip. Bodrum's landscape is particularly striking due to serene Azure bays along the peninsula. While Bodrum is the perfect beach honeymoon location, it also has a rich archaeological heritage.
Couples who marry in Bodrum also gain the benefit of already being in a seaside paradise for their honeymoon, so they do not have to run off and whisk themselves away to another destination after exchanging vows. Whereas the peninsula has been a popular area for Turks to get married for some time, many foreigners also choose it for their destination weddings after falling in love with its beauty and atmosphere. Here are some of the best options from what Bodrum has on offer.
What to do & Where to Stay
You can easily explore the cultural side of Bodrum in-between days of lounging by the pool. Some of these fascinating attractions are the Mausoleum of Halicarnassus, which is one of the 7 Wonders of the World. For museum buffs, the Bodrum Castle houses the Museum of Underwater Archeology. While the beaches are memorable, you can even opt for a boat trip. There are several options for day-long boat trips which are affordable and give travelers a wonderful perspective of the beauty of the Aegean. You may also be interested in taking a swim in the healing springs of Kara Ada for some added luxurious pampering. While in Bodrum for a honeymoon, we recommend staying at Macakizi Hotel Bodrum. The modern hotel has a gorgeous setting on the northern hills of the peninsula and uninterrupted views out over the Aegean Sea. Honeymoons in Turkey
Kempinski Bodrum Five-star luxury
For many people, their nuptials are the perfect excuse to indulge in a five-star luxury experience. For the ultimate in opulence, plan your wedding at Kempinski Hotel Barbaros Bay, whose name is synonymous with luxury. The hotel benefits from a very dramatic setting with sweeping views over Barbaros Bay, and its stylish and serene environment makes for a tasteful and memorable wedding. Kempinski Hotel Barbaros Bay offers special wedding packages that include all the details necessary for a perfect wedding. Depending on the size and type of your event, you can choose from one of many beautiful areas, including the Gazebo Terrace, Barbarossa Beach, or poolside. Whichever you choose, the hotel's wedding planners will help you with every single detail so that you can relax and enjoy your special day.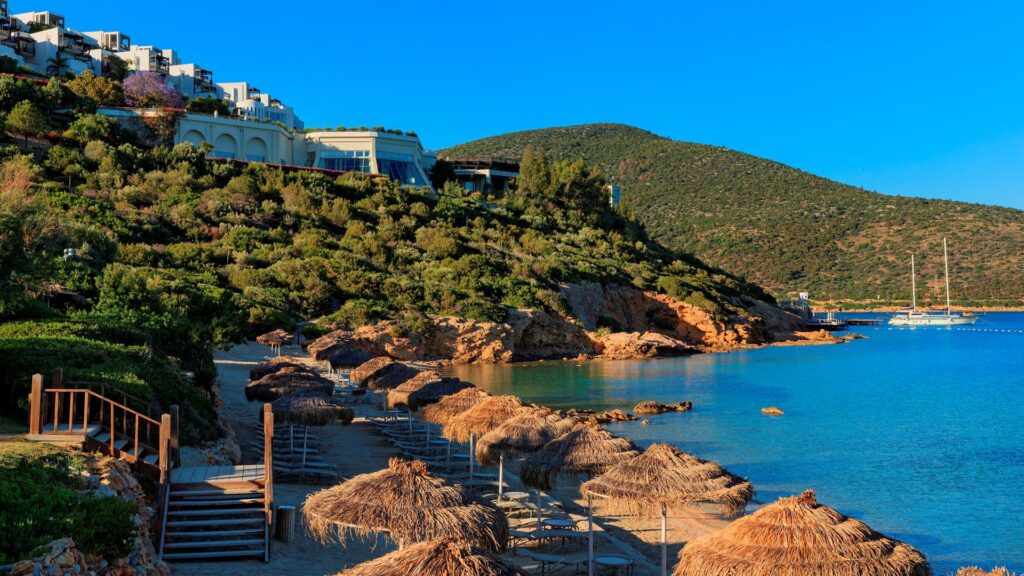 Apart from the breathtaking beauty of the bay and hotel, many couples choose to have their wedding at Kempinski for the delicious food and famous spa. The executive chef has an extensive repertoire, and he and his staff can accommodate a range of requests, whether you want traditional Turkish, classic French, or Asian fusion dishes on your wedding day. At the Sanitas Spa, complete with traditional hammam, you and your partner, as well as all your guests, can feel like royalty for a day amid the preparations. In fact, the spa is so popular that even if the wedding is being held at another venue, many bridal parties choose to come here to treat themselves to a spa day and get pampered in preparation for the big event. To top it all off, the Kempinski staff will even plan your honeymoon in one of the many luxury hotels the company operates around the world. Kızılagaç Köyü, Gerenkuyu Mevkii, Yaliçiftlik; T: 0252 311 03 03
Xuma Village
For some, the entire point of a wedding in Bodrum is to tie the knot right on the beach, shoeless, with sand beneath their feet. For those in search of a simple, casual, seaside wedding, Xuma Village in Yalıkavak is the ideal location. Situated on a beautiful private bay at the edge of a nature preserve and surrounded by lush greenery and citrus trees, this is an ideal setting for a low-key wedding. The beach club can fully reserved for private weddings during June and September. These months are also preferred for their slightly cooler evenings. While couples are welcome to bring in outside planners and caterers, Xuma has its own restaurant serving up tasty Mediterranean meals. If you want a simple beach wedding amid stunning natural beauty, Xuma Village is an ideal venue. Yalıkavak Mahallesi, Küdür Caddesi No.81; T: 0252 385 47 75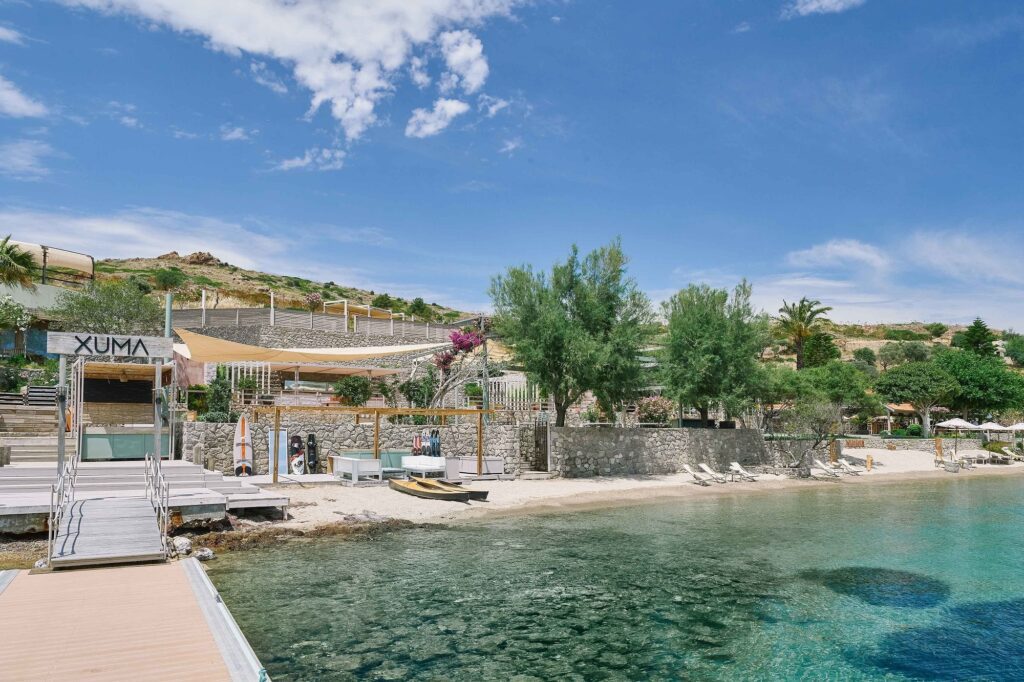 Sianji Well-Being Resort
In addition to the health focus of this resort, it also offers full wedding services and has multiple areas to hold the special event. If you are looking to add some heavenly brilliance to a beach wedding—more than already surrounds you at every turn—the Sianji Wellbeing Resort's beach faces west and provides the most gorgeous Mediterranean sunsets, bathing an evening ceremony in the warmth of fading pinks and oranges over the Aegean. For those who would rather show off their wedding shoes than feel the sand between their toes while saying their vows, the resort also has a grass yard just above the beach that looks out on the same breathtaking view. Even though the resort itself is devoted to health foods, its multiple dining options can also offer a special menu for any taste. Peskimet Mahallesi, Kadıkalesi Mevkii; T: 0252 382 82 17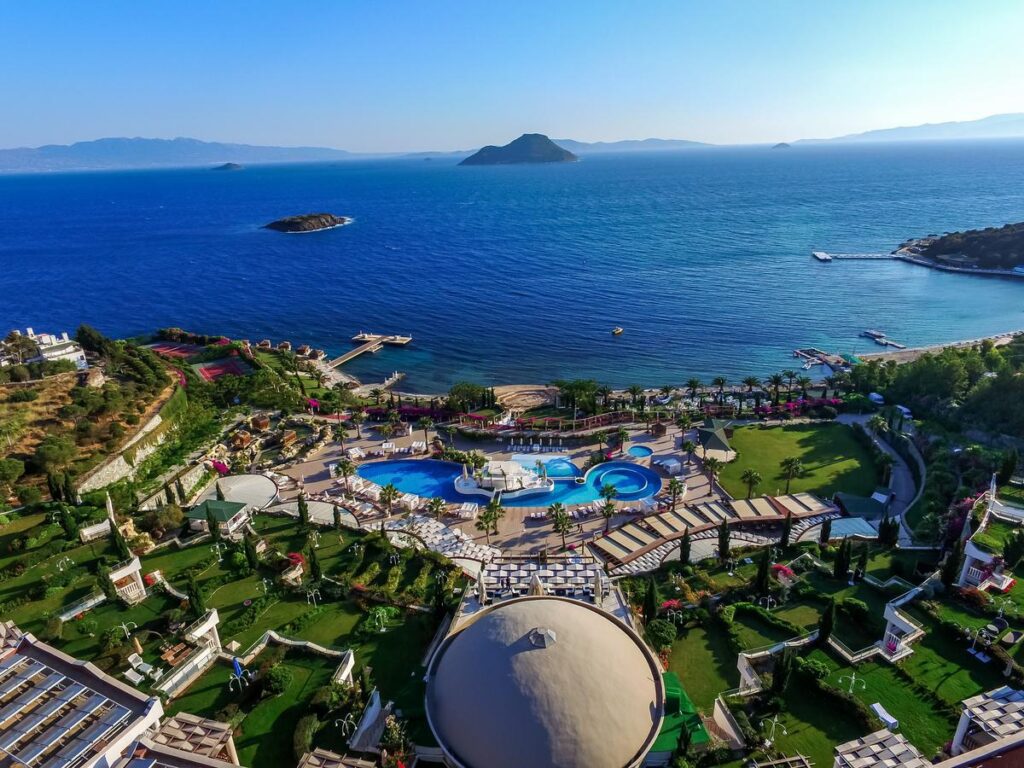 Flamm
A vibrant, boutique experience in the Gölköy fishing village on the shining Aegean waters of the northern Bodrum peninsula is what Flamm has to offer. If what you want is an intimate ceremony with your closest friends and family, then this hotel has all you could ask for. It only has 14 rooms, all of which open out to the sea and private beach. The hotel offers full wedding services and is ready to make all the preparations for your ceremony and celebrations. The setting, even though it is only a 20-minute drive from the Bodrum city center, is surrounded by the stunning beauty the area is known for and feels as if it is completely isolated, and with a pier extending out over the water and a warm and light Mediterranean breeze caressing the beach, tying the knot here adds an extra slice of heaven to your wedding away from home. Yalı Mahallesi, 30. Sokak No.3, Göltürkbükü; T: 0252 357 76 00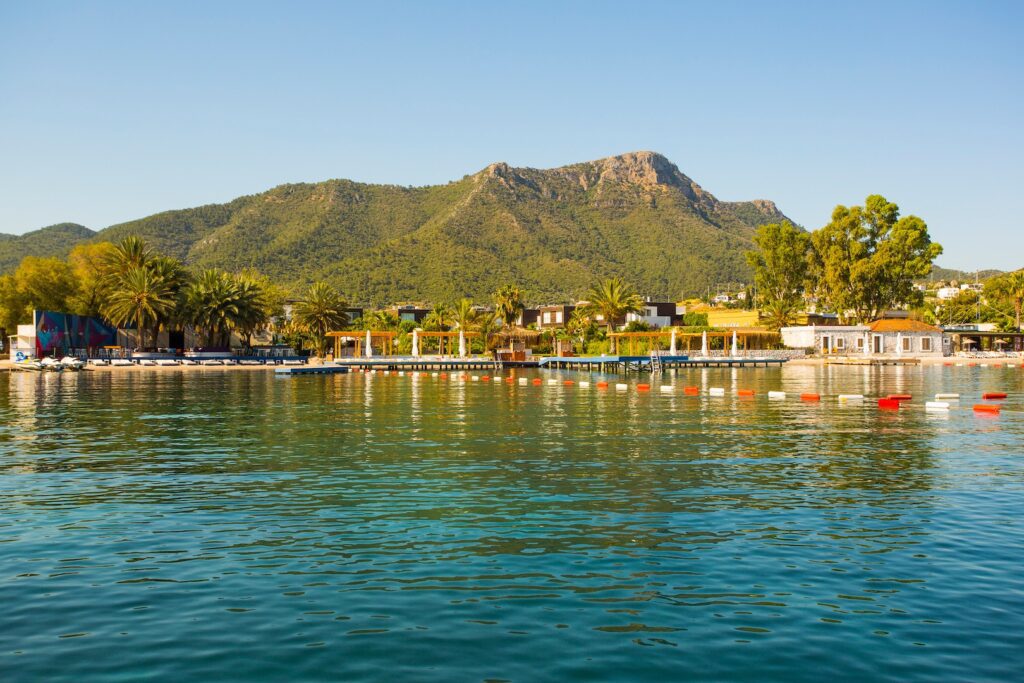 Caresse Resort & Spa
If you have high expectations then you will not be disappointed at Caresse Resort & Spa on the southern coast of the Bodrum peninsula. Their full-service wedding specialists' attention to detail allow you to kick back and prepare for your special day while enjoying the beauty of the cove on which the resort is located. Rest assured that it is not a situation where one size fits all, and they specifically work with you to personalize your wedding, from flower arrangements to theme and specially crafted menus and live entertainment to luxury yachts. Able to accommodate anything from the most intimate affair to the grandest matrimonial event, the resort's white sand beach, infinity pool, and beachfront restaurant allow you to soak in the idyllic Aegean atmosphere on Bodrum Bay with stellar service and the usual stress of wedding planning completely removed. Adnan Menderes Caddesi No.89, Asarlik Mevkii; T: 0252 311 36 36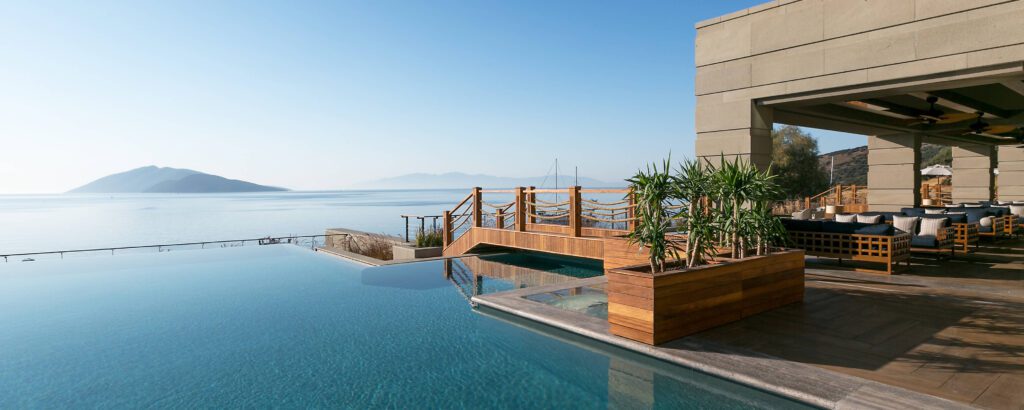 The Bodrum EDITION
Located within a natural cove overlooking the Turkish Riviera, The Bodrum EDITION is an ideal setting for a dreamy wedding. Set across 22,000 square meters of tranquil gardens and a magnificent white beach, couples can chose from intimate barefoot ceremonies on the sand to lavish celebrations on the Sunset Terrace or beside the Infinity Pool. With the customized, individual approach, you can plan a package with the wedding planner for up to 300 guests. Package options include a wedding choir trio, bridal flowers, a romantic wedding night stay in a private pool suite and special room rates for the wedding party. Wedding menus are carefully curated by the Peruvian chef Diego Muñoz. There are different menu options to choose. Dirmil Mahallesi, Balyek Caddesi No.5A, Yalikavak; T: 0252 311 31 31
Turquoise Coast Yachting
The Turkish coast's dramatic vistas of coastal cliffs and hazy mountains beyond are best viewed from the sea. So for the ultimate idea in glamorous Mediterranean honeymooning, replete with lazy, sun-soaked days watching lush scenery pass by, charter a traditional Turkish wooden yacht (called a gulet) and set sail. Major destinations along the coast for hiring a gület with crew for a multi-day trip are Bodrum, Göçek (27 kilometers northwest of Fethiye), and Fethiye.
The two most favored itineraries for sailing trips, both offering gorgeous coastal scenery all along the route, are either between Bodrum to Marmaris , Gokova Gulf , or Antalya to Kas Lycian Gulet Cruise. The route between Bodrum and marmaris, though, is less busy, so you can easily find yourself anchoring off islands for swim-stops with no other boat in sight
Marmaris is a Mediterranean resort town located on the lively Turkish Riviera. This vibrant town is well-known for its buzzing nightlife all year round. Surrounded by pine-forested mountains on the side and the crystal clear ocean on the other, this is an ideal honeymoon destination. Marmaris is definitely for active young couples who enjoy fun-filled days on the beach and crazy events or parties at night. It is best to visit Marmaris from April to June or September to October.
What to do & Where to Stay
There is much to do in this region and you can opt for a boat ride to Dalyan which offers a view of the Sea turtles, the beach of Iztuzu and the ancient Kaunos city. For more scenic ruins, you can take a trip to Cleopatra Island to see the ancient theater ruins. The Marmaris Castle also has an intriguing museum inside. You may even want to explore further by heading to the nearby village of Turunc. This picturesque village has plenty of lush forests and quiet azure sea to swim in. We recommend staying at D Maris Bay while in Marmaris. This luxurious hotel has a beautiful location, offers the finest luxury facilities and has plenty of activities in the surrounding area. Honeymoons in Turkey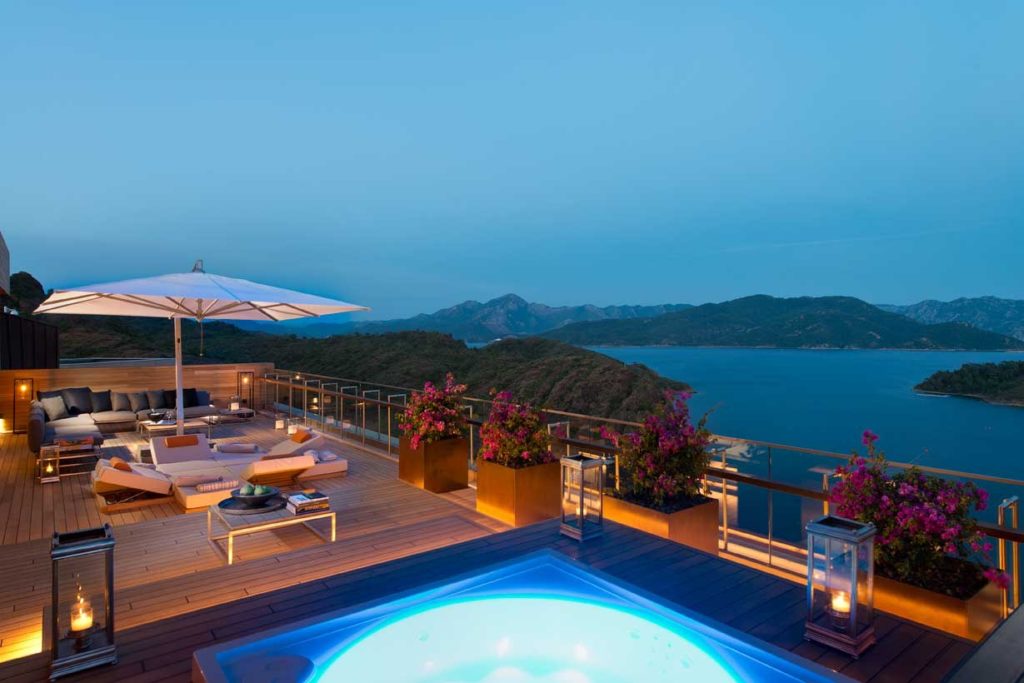 Tucked away from the city of Istanbul, Antalya is the next best spot for honeymooners. The silky sand and crystal clear water are enough to lure you in this populous destination. Besides the rich history, Antalya offers more than you can imagine/ See best beaches/ For beachfront resort living beeline to the coastline radiating both north and south of the Mediterranean city of Antalya. This is where you'll find plenty of big-name local and international brand resorts that have snagged prime strips of sand. Honeymoons along this stretch of coast are all about lolling on the beach with full facilities at your fingertips on an all-inclusive resort deal.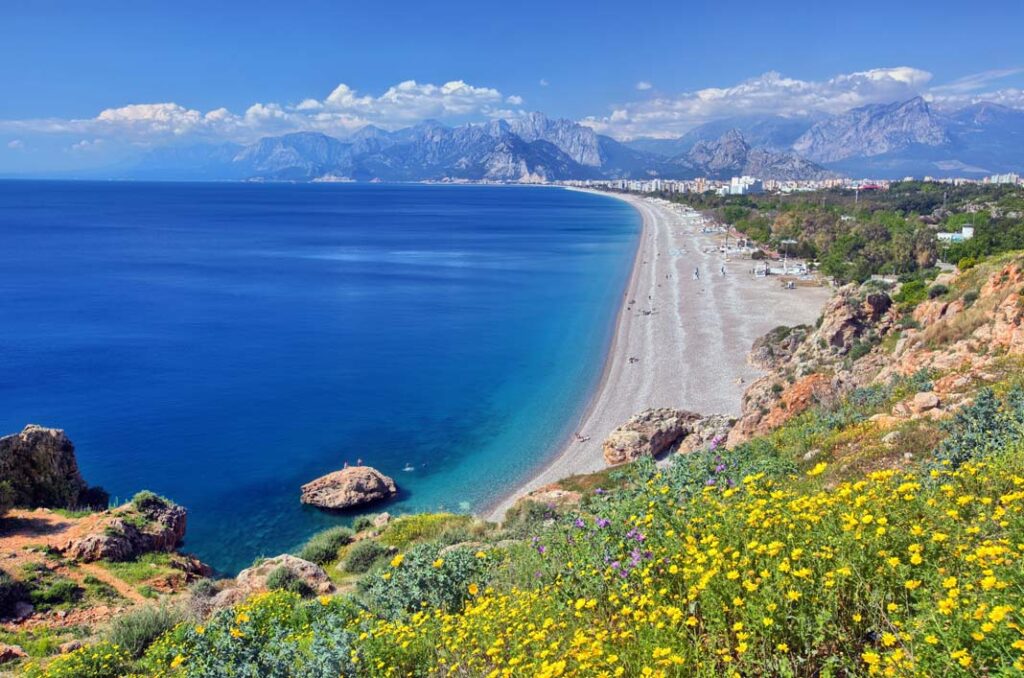 In Antalya city itself, the old town district is full of charming boutique hotels and upscale guesthouses that are set in heritage buildings dating from the Ottoman era. These are a great option for honeymooners who want a more independent experience. With its cobblestone lanes, Roman-era wall relics, and Ottoman architecture, the old town district is a thoroughly charming destination for a romantic stay.  Whether you choose to stay on the beach or in the city, the Antalya region offers plenty of things to do. Adding on day trips to historical sites, such as the grand Roman Theater at Aspendos or the Roman-era remnants of Side, is easy to do, so Antalya works as a honeymoon destination for both active couples and those who just want to relax.
Affordable All-Inclusive Resorts in Antalya
Rixos Premium Belek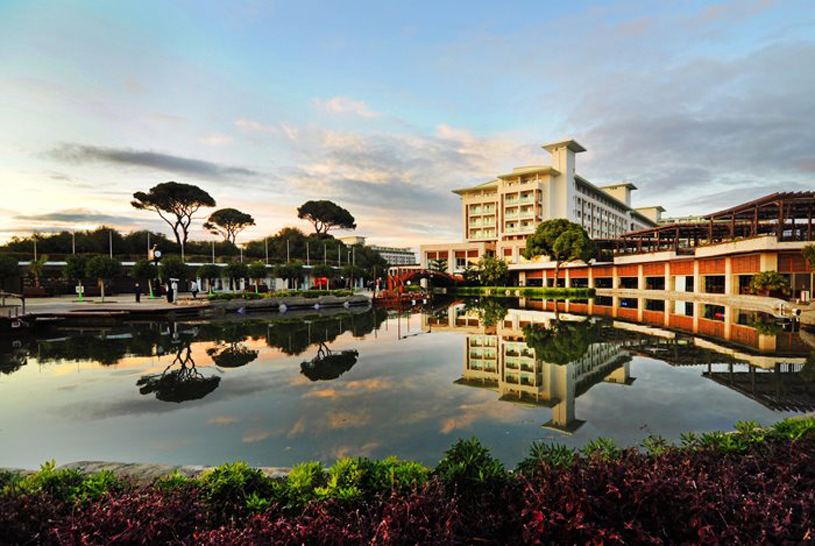 This five-star resort on Belek Beach has beach vacations wrapped up. The wide stretch of private sand here rambles for 700 meters, while the resort grounds encompass thick pine forests, giving guests the feeling they're stepping inside a hidden, exclusive world. Families love it here for the kids-stay-free policy and the resort's dedication to family-friendly activities and entertainment. Child-focused facilities include a kids' pool and playground areas, while the kids' club works hard to keep younger guests happy with a wide program of things to do, shows, and classes. The Rixos Premium Belek is particularly good for active guests who itch to get off the sand, and it's a favorite with golfers. As well as five swimming pools (the biggest spanning 2,000 square meters), the resort's Exclusive Sports Club can organize everything from jet skiing to tennis (there are seven tennis courts on-site), as well as setting up your golfing needs at the Gloria Golf Club just behind the resort. For guests here to simply chill out, the Anjana Spa provides a sumptuous palatial environment, inspired by Ottoman palace interiors, to indulge in a hammam (Turkish bath), facial, or body treatment. In the evening, seven restaurants mean dining never gets boring, with everything on offer from traditional Ottoman cuisine at A La Turca Restaurant to Italian classics at La Rosetta Restaurant.
Nirvana Mediterranean Excellence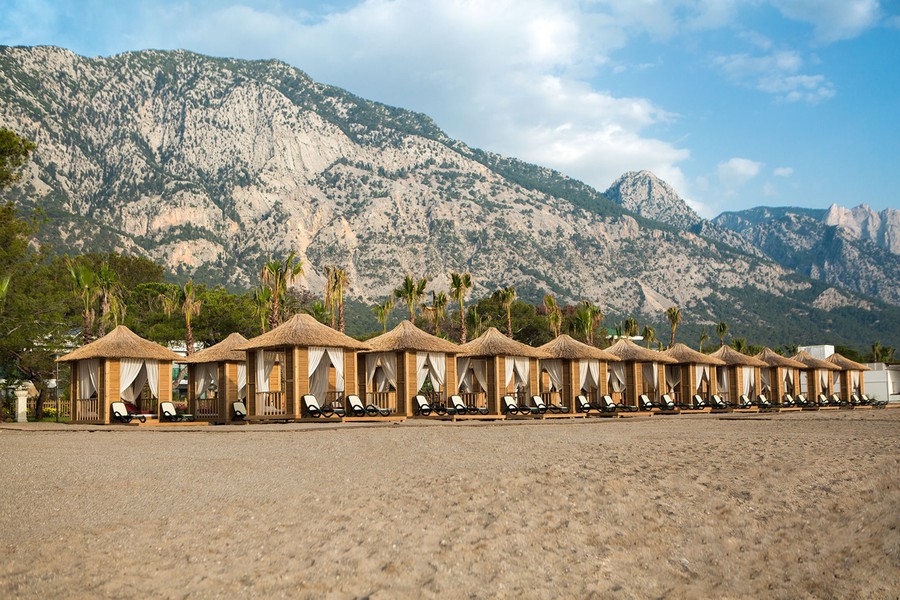 Calista Luxury Resort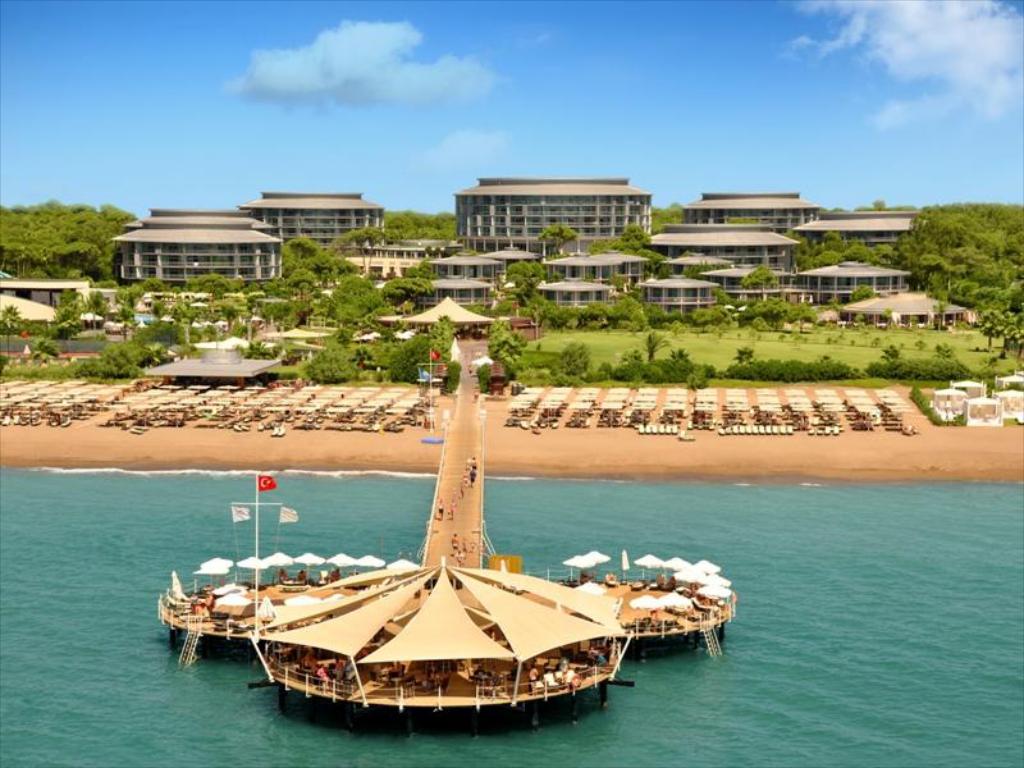 This five-star resort in Beldibi is known for its long beach, which stretches for 900 meters along the coast and is studded with three long piers stretching into the sea, where cabanas provide an exclusive sunbathing experience. The central swimming pool offers more chilling-out areas, while a good-sized separate aqua park, set snug amid the trees, will keep the kids happy. For something less active, head to the spa with its multitude of body treatments and Thai massages. Rooms are modern and minimally styled in beige tones, all either with balconies or opening out onto a ground-floor seating area. The dining here is excellent, with eight restaurants that provide a range of international menus. As popular with couples seeking an easygoing, romantic break as families with little ones in tow, the Calista Luxury Resort fronts a large, private swath of Belek Beach's white sand. The 600 rooms here are some of Belek's best. All are large and light-filled, with good-sized balconies and sophisticated contemporary décor in soothing neutral tones of cream, rust, and bronze. With 10 restaurants on-site, this is one of the best places to visit for guests seeking a good range of evening dining choice. Four huge swimming pools sit within gardens of mature trees, which lead down to the sand. On the beach, the resort's Surf & Sailing School keeps active guests occupied with water sports, while there are also five tennis courts and a bowling alley for those that tire of sunbathing. The Callos Spa is a major resort highlight, offering a host of treatments and beauty therapies, from traditional hammam (Turkish bath) to Ayurveda massage, as well as a mud bath and snow bath.
Let us tailor-made your honeymoon in Turkey