Why Visit Greece in 2021
Visit Greece : In southern Europe, the mainland of Greece crumbles into thousands of different islands across the Aegean and Ionian seas. Holidaymakers travel to the nation every year to island-hop and experience the ancient history, traditional cuisine and Mediterranean weather – it's the perfect destination to visit later this year and unwind post-lockdown. Here's our inspiration on where to visit, along with a selection of the best places to stay, discounted on our best selection tour packages for families and solo travelers
Relaxation takes precedence in Greece. Dining on fresh olives and feta, sweet peach nectar and hearty moussaka under the warm sun in the sea breeze is exactly the medicine we prescribe after being cooped up for so long. If you have any intention of leaving your sun lounger, there are plenty of options for the culturally curious – from the Acropolis in the Greek capital, Athens, to the ancient city of Mycenae, as well as sights in Olympia, Delphi, Epidaurus and the isolated temple of Apollo Epicurius. If adventure calls, the Vikos Gorge, with its Dragon Lakes, are a great spot for hiking. Maybe try climbing up Mount Olympus or snowboarding in the Falakro mountains.
There's such a huge range of holiday apartments, ecofriendly hotels and luxurious resorts on offer when you're Greece. We've helped narrow your options with some brilliant bargains in our best selection tour packages to visit Greece.
10 reasons to visit Greece in 2021
1. The Mediterranean climate
If you're a sun-worshipper, you're in luck, as Greece basks in sunshine most of the year. The summers are hot, and the winters mild. Even if you travel in January, you can expect average temperatures of 10 degrees Celsius, which isn't too chilly.
2. Plenty for culture vultures
Greece is steeped in history and culture, from the ancient ruins dotted around the city, to its fascinating museums. You'll never be stuck for things to see and do, whether you're exploring the winding streets of Plaka or admiring the grand Temple of Olympian Zeus. Many people headed to Athens should also make time for a day trip to Delphi, site of the oracle and heart of the classical Greek world.
3. Mouth-watering cuisine
The food alone is reason enough to book a trip to Greece. With succulent souvlaki, fresh Greek salads, and moussaka on the menu, it's a foodie's paradise. If you're after traditional Greek cuisine, Klimataria is well worth a visit. This is one of the oldest taverns in the city, serving up authentic local dishes, with a side of Greek music and dancing. Read more on Greek Gastronomy , Gastronomy in Greece , Greek Cheese , Greek Wine , Santorini Wine Tours ,
4. Bustling nightlife
https://eskapas.com/tour/ionian-islands-corfu-cruise-8-days/
One thing's for sure, when the sun goes down , you won't get bored, as the nightlife is legendary in Athens and on the islands. But be prepared for a long night, as the bars don't get going before 10pm. Once they do, the options are endless. Why not stroll on over to the 360 Cocktail Bar above Monastiraki square for a tipple? As the name suggests, you'll enjoy some fantastic 360-degree views of the city here. Then for a taste of traditional culture, catch some Rembetika (Greek blues music) at Kavouras. And if you're still in the party mood, you can continue your night at one of Athens' party spots, such as Island, in the trendy Riviera area.
5. Wonderful markets
The saying, 'one man's trash is another man's treasure' rings true when it comes to Athens' flea markets. One of the most popular is the Monastiraki market in Ifestou. Every Sunday, people come from far and wide to sell their knick-knacks. You can find everything from old paintings and tea sets to second-hand books and musical instruments here. It's the perfect opportunity to put your bargaining skills to the test and stock up on souvenirs.
6. Cracking calendar of events
Athens is a city that rarely sleeps. Every month, there's something happening somewhere, whether it's a festival, show or exhibition. One of the highlights is the Athens and Epidaurus arts festival (June to August), which comprises an open-air theatre, opera, classical music and dance performances, at various locations around Athens. An equally impressive festival is the Apokries Carnival. Translating as 'no more meat', the carnival is celebrated in the three weeks leading up to Lent. Similar to other carnivals in Europe, the Apokries is basically a massive street party. People dress up, dance on the streets and feast. What's not to like?
7. Beautiful beaches
Even in Athens  there are plenty of sandy spots to top up your tan. Few visitors realise that less than 14 km south of the city centre lies a stunning stretch of sandy beaches with blue-flag certified clean waters. The best place to catch some rays is Skalakia Agias Marinas, a picturesque cove with golden sand and turquoise waters.If you're into water sports, a day trip to Vouliagmeni beach is a must. As well as being one of the Attica coastline's most glorious beaches, it has everything you need to enjoy a day on the water, from windsurfing and paddle boarding to boat hire.
8. Sights off the beaten track
If you want to do something a bit different, a hike up Mount Lycabettus is just the ticket. Situated 277 metres above sea level, it's the tallest point in Athens and offers incredible views over the city. Although it can be enjoyed at any time, it's most magical at sunrise or sunset, when the city is illuminated with twinkling lights. Talking of sunset, a 2-hour guided sunset tour  is a great way to learn about this fascinating city from the locals. Listen to street musicians and enjoy the cooler air of the evening as you admire the historic monuments by twilight. 
9. It's wallet-friendly 
Due to Greece's recent financial difficulties, the prices of food, drinks and alcohol have remained relatively low, so you'll be pleasantly surprised when the bill arrives. Local wines are very cheap and equally as delicious as their imported counterparts. There's plenty to see and do without breaking the bank, too. If you're lucky enough to be in the city on the first Sunday of the month, between November and March, you could see many of the major Greek archaeological landmarks like the Acropolis and the National Archaeological Museum for free.
10. Island-hopping
If you fancy making a city break in Athens a simple stop-off before doing some island-hopping, then you'll have plenty of options close to you. There are many picturesque islands less than a couple of hours' boat ride from Athens. You could enjoy diving and snorkelling in the pristine waters of Agistri, lounge in the natural hot springs of Kythnos, or hike your way around the hills of Anthos – and that's just to name a few.
Where to Visit in Greece 2021?
Athens
Can't decide where to go on your next holiday? We've got the perfect destination for you: Athens.  This ancient Greek metropolis has a lot going for it. Yes, it's renowned for its rich history and archaeological ruins, but there's so much more to this amazing city. With pristine beaches, stunning landscapes, a vibrant nightlife and mouth-watering cuisine, there's something for everyone, making it the ideal place for a getaway.
Greece welcomes millions of visitors each year at airports across the country, with direct flights to many of the islands as well as Athens International on the mainland. "Dance, drink, never sleep" is the slogan plastered on souvenir T-shirts on the island of Mykonos. However, behind the crazy parties, the expensive restaurants and five-star hotels, the island still features charming traditions and hidden spots to enjoy. Enjoy a movie under the stars at Cine Manto, sip afternoon ouzo – the traditional Greek aniseed drink – with locals at the Old Port, or dance by the sea at the local festival of Panigiri.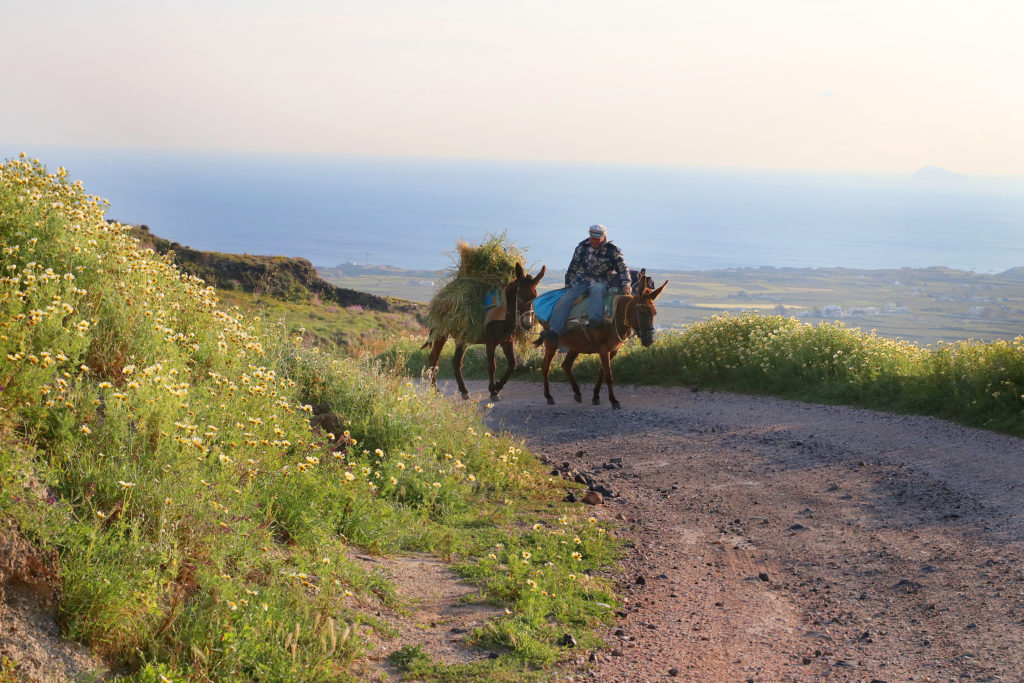 Santorini, also known as Thera, is one of the best-loved Greek islands. Once devastated by a volcanic eruption, the island's history is evident all around, but so is its beauty. Take in the classic whitewashed Cycladic splendour of Imerovigli and other charming villages, spend a day at black-sand volcanic beaches such as Monolithos, and watch the panoramic sunset at Oia – just some of Santorini's highlights.
Crete's ancient archeology
As the largest island in Greece, Crete is definitely a stop to add to your list. From exploring the Knossos Palace to hiking Samariá Gorge and swimming in crystal-clear waters, there's no shortage of activities to help you enjoy your time here. There's also a lesser-known side of the island that's worth exploring. Experience traditional weaving, visit a former leper colony and join a raki distillation feast.